About the Author
Onika Amell was born in farmer's family in Cape Town, South Africa, and always had a keen interest in gardening. She has been a globe-trotter for many years, traveling along with her husband, an engineer, and her life is worth a novel. In Cape Town she worked in groups "Soil for Life and Work for Love", teaching people how to grow their own food, improve their health, and protect the environment. Onika lived in Galilee, Israel, skydiving over 500 jumps and working on the fields planting, harvesting and caring for various crops (Lychee, Avocado, Bananas, etc), helping out in community gardens... In SE Asia, she taught English at business centers... Upon finally settling in SW Florida, she joined the ECHO Global Farms project on teaching farmers/families around the world about effective crop production... Now as a part of Top Tropicals Team, Onika is our plant expert and a columnist. Onika's biggest passions are plants and... of course – cats, who are her children! She has six of them: Itembi, Freddie Mercury, Donald Trump (he is the difficult one), Tigerlilly, Sweetie, and Jaxson.
---
If you happen to love Easter Lilies, let us introduce you to a very beautiful and hard-to-find vine here at Top Tropicals. The magnificent Easter Lily Vine (Beaumontia grandiflora), is not sold at most nurseries and is not widely grown for this very reason. We certainly feel it should be, as this woody vine is a tremendous climber which rewards the gardener with large clusters of white flowers resembling Easter Lilies, during early spring to late fall. The flowers are sweetly scented and make excellent cut flowers, which last for at least a week! An added bonus is the twining ends, which makes a very unusual and interesting addition to floral arrangements.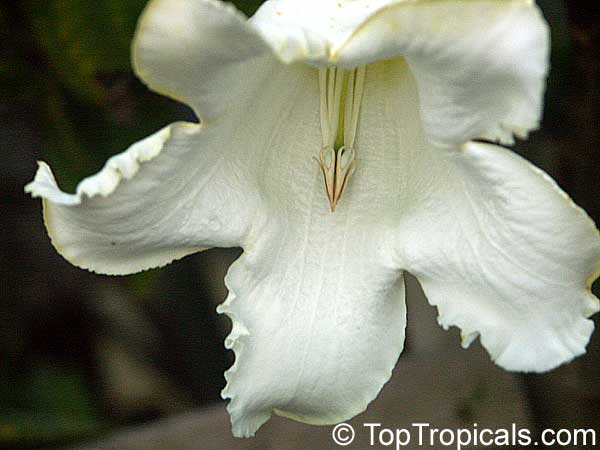 Its native habitat ranges from Nepal and Southeast Tibet and Yunnan south through Assam, Myanmar and Southeast Asia, hence the common name Nepal trumpet flower. It is also called Heralds Trumpet.
This lovely vine is clean and tidy with very attractive foliage. This makes it perfect for planting near a pool as there is very little mess. It is also beautiful against any building. This is an easy to grow winner that requires very little care.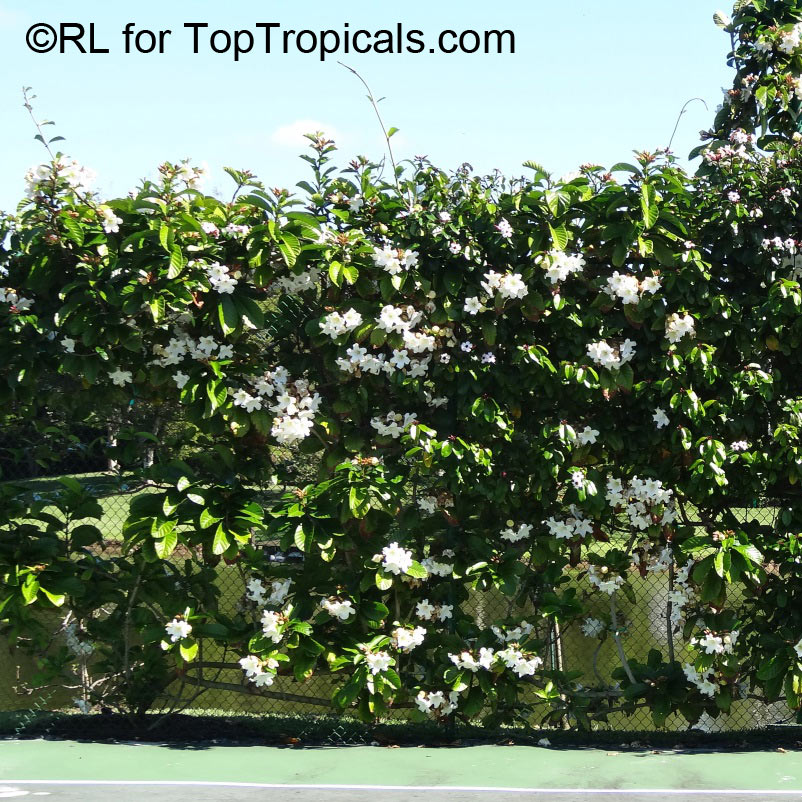 It is happy in full sun or light shade but needs rich, well-drained soil and a lot of water, though care must be taken to not overwater in the winter months. It is cold hardy to 28 degrees F.
This is a robust vine that will require a lot of space. It will climb from 15 to 30 feet, but can be controlled easily by pruning. Prune after blooming to stimulate lateral growth and encourage more flowers the following year. Read how to create a fragrant privacy fence of virtually unlimited size.
Fertilize in early spring. We recommend:
SUNSHINE Pikake - Fragrant Flower Booster
Plumeria Top Dress - Smart-Release Booster (for in-ground plants)