About the Author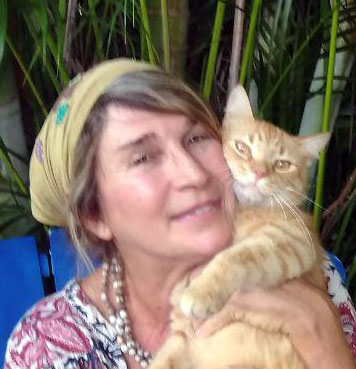 Onika Amell was born in farmer's family in Cape Town, South Africa, and always had a keen interest in gardening. She has been a globe-trotter for many years, traveling along with her husband, an engineer, and her life is worth a novel. In Cape Town she worked in groups "Soil for Life and Work for Love", teaching people how to grow their own food, improve their health, and protect the environment. Onika lived in Galilee, Israel, skydiving over 500 jumps and working on the fields planting, harvesting and caring for various crops (Lychee, Avocado, Bananas, etc), helping out in community gardens... In SE Asia, she taught English at business centers... Upon finally settling in SW Florida, she joined the ECHO Global Farms project on teaching farmers/families around the world about effective crop production... Now as a part of Top Tropicals Team, Onika is our plant expert and a columnist. Onika's biggest passions are plants and... of course – cats, who are her children! She has six of them: Itembi, Freddie Mercury, Donald Trump (he is the difficult one), Tigerlilly, Sweetie, and Jaxson.
---
Musa ensete Maurelli - Red Abyssinian Banana
Q: I am looking for a colorful, tropical plant with in particular, coarser texture, to add to planting beds next to my decks and around my swimming pool. Any suggestions? I am located in St. Petersburg, FL.
A: Consider incorporating some fast growing Red Abyssinian Banana, also known as wild banana or Ethiopian banana.
(Other scientific names include: Ensete ventricosum, Musa arnoldiana, Musa ensete Maurelii)
This is a fantastic ornamental banana from East Africa and an excellent choice to create a tropical feel and to add coarse-textured foliage. This plant is not a true banana and therefore does not produce any edible fruit. American gardeners were rather slow to discover this enormous perennial, but finally woke up to them over the last decade to a point where they now are considered to be one the most beautiful ornamental banana plants for the landscape and for good reason.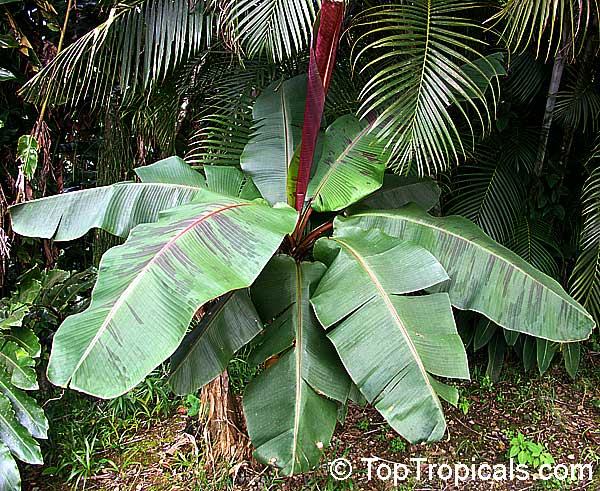 What makes Musa ensete maurelii so exciting? The very unique coloring of the foliage. The large and glossy leaves are green in color with very showy burgundy variegation throughout the year, creating a stunning contrast. Coloring are especially concentrated as new growth appears. Each leaf can reach gigantic proportions of 10 feet long and 4 feet wide!
This banana also has a thick trunk and a beautiful upright growth habit that can easily reach up to twenty feet tall in tropical climates (and up to ten feet in more temperate areas). With this impressive size and beautiful coarseness they almost behave as small trees in the landscape. They can also be grown very successfully in large containers as this particular banana plant never form pups (suckers). We have seen gardeners over the years growing them in large containers to great effect. A couple of large potted Ensete maurelii, with their bold and beautiful foliage, can effortlessly become the focus of an entire courtyard, large deck or swimming pool area.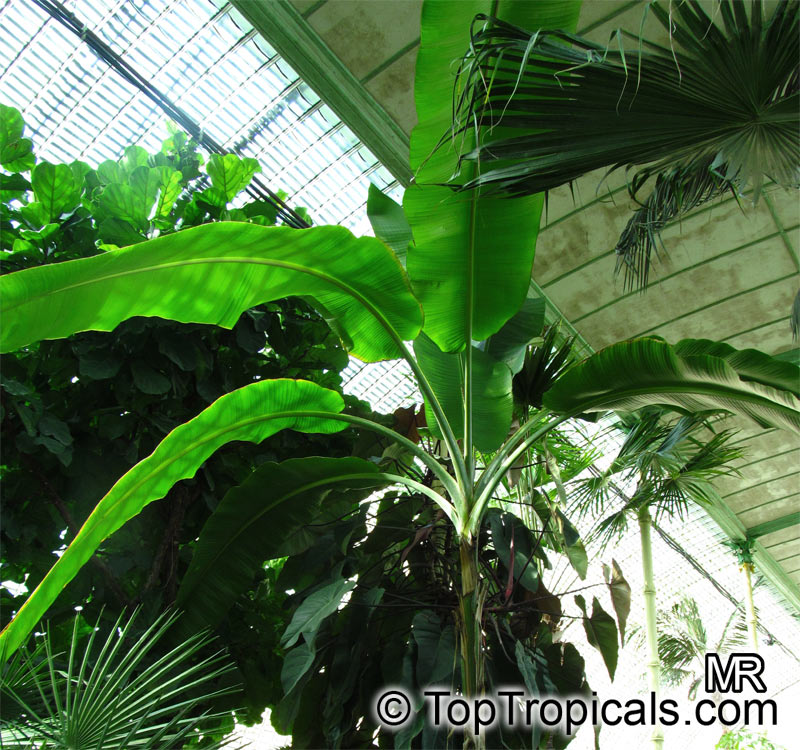 Growing Tips:
Abyssinian Red Banana wants rich soil. Be sure to add abundant compost. They are happy in full sun or semi shade. Too much shade will stunt their growth. Definitely provide some shelter as the large leaves of this plant can be seriously damaged by the wind.
It needs plenty of water, especially in the dryer months. Take care to not let it dry out between watering. It will not tolerate standing water though. Established plants will become more drought tolerant.
Gardeners in colder climates can also give them a try. Though hardy only to Zones 8-10, overwintering is possible if you have a frost free greenhouse.
Fertilizing Needs:
This plant is a heavy feeder. Fertilize every 14 days with a balanced liquid fertilizer. We recommend our Rapid Growth Booster Sunshine Robusta.
We have long been impressed with this show stopping banana. This is a great ornamental plant. The stunning green and burgundy-red variegated foliage never disappoints. Grow it together with other tropical plants or as a single specimen. Either way you will have a winner! We know you are just going to love this beauty.