The rarity of African gingers is only matched by their beauty. The rarest, and most costly is the remarkable blue flowered, Siphonchilus beachystemon. It was discovered in Kenya in 1957 by an English tourist. It reminded her of the beautiful blue Himalayan poppy, Meconopsis grandis, she often admired at the Edinburgh Botanical Garden so she had her guide collect a plant or two that she took back to Edinburgh. The few plants available in horticulture today come from that original collection over 50 years ago.
Fortunately there are about 15 species of Siphonchilus found in Africa and some of most outstanding ones make grand additions to our gardens. Listed in order of their vigor and availability they are:
Siphonochilus decorus
The large butter yellow flowers only last for a day but they continue to develop for weeks. In Zimbabwe it is considered one of the outstanding native plants. It is closely related to the next ginger and forms hybrids with it that are usually sterile.
Siphonochilus kirkii
Named in honor of Sir John Kirk, an accomplished botanist and a companion to the famous African explorer, Dr David Livingstone. This species has a number of color forms (yellow- decorus); (pink – roseus); (Pink with a spotted labellum – carsonii) .
All of these color forms produce hybrids that result in a whole range of colors from paper white through many pastels. A wonderful botanical adventure awaits some ambitious grower.
Last but not least is
Siphonochilus aethiopicus, a rare plant to obtain because it produces the largest flowers in the gunus almost 4 inches (10 centimeters) across.
---
In Loving Memory of John Banta
- a Botanist, a Scientist and a Friend -

With a heavy heart we are sad to announce the passing of John Banta, a great botanist, horticulturist and scientist of the Florida tropical plant world.
John left us on March 13, 2021, at the age of 88. Until his last day he was full of energy, ideas, and dreams - how to make the plant world even better and more enjoyable to all of us plant lovers.
John Banta was a phenomenal plantsman who had explored almost every continent in search of new and interesting plants. When he wasn't traveling the globe, he was hybridizing plants in his garden in Alva, Florida. Over the last decades John has brought into cultivation a number of plants from his travels and his own hybridizing program. His travels to Central and South America, as well as to Southeast Asia have produced such plants as Kaempferia grande, Zingiber sp. nov. Midnight, and even a plant named in his honor, Calathea bantae.
John was our partner in TT Laboratories, which later evolved into into the Sunshine Boosters project. He generated many amazing ideas on plant hormones, and how to make new interesting varieties. For example, some of his last projects were: creating seedless Raspberry, seedless Pomegranate, and variegated Peppers (shown on photo below).
John left for TopTropicals some rare collectable plants, books, shared his priceless knowledge and Love for Life. He will always stay in our hearts and in every plant whisper.


Banta's plantation of variegated peppers

Photo above: John Banta (left) visiting with John Mood, ethnobotanist and Zingiberaceae taxonomist. 2013.
From the International Aroid Society:
...John was a firm believer that new plant introductions do not require worldly travels. Breeding plants in your own backyard can be most productive. One of many hybrids that may already be growing in your garden that John made many years ago is Hedychium Golden Butterfly, the gold flowered butterfly ginger... For John, the only thing more exciting than discovering a new plant is to convert a plant collector into a plant breeder. The joy of seeing new genetic combinations reveal their beauty in your hybrids is like hearing the great organ in Saint Paul's Cathedral...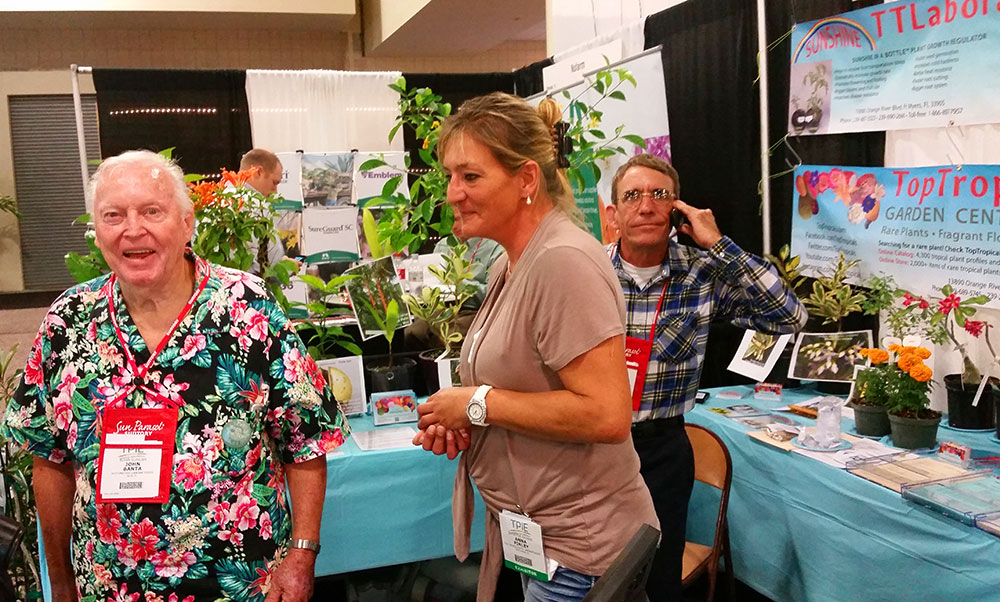 TPIE - 1-19-2017