These are stories about the most special plants that we have available at the moment of publication (see the date of publication, this is when the picture of actual plant for sale was taken) - in beautiful shape, in bloom or in fruit, great looking and thriving. These updates are available from our regular newsletter (mail-list), just get a free subscription.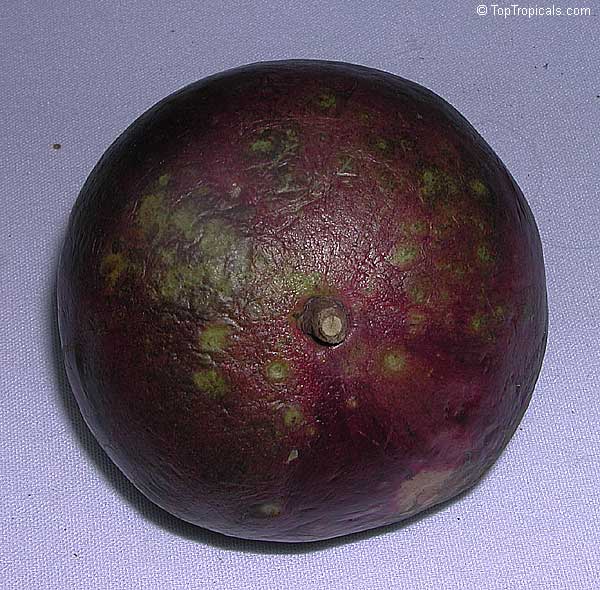 11/20/08
Chrysophyllum cainito - exotic fruit with grape flavor
This beautiful shade tree has glossy dark green leaves with a silky bronze color underneath. It is one of the most attractive tropical fruit trees for its foliage. The common name of this fruit is derived from the star-like appearance of the core when the fruit is cut in cross section. Caimito is a favorite in the Caribbean and Central America as well as Southeast Asia. The fruit has a mild grape-like flavor, and is best eaten fresh. It is one of the few trees that grows well in highly alkaline soils. it has very few problems and produces quantities of delicious fruit each year for one to enjoy.
Plants are in 3 gal containers, about 3-4 ft tall, air-layered.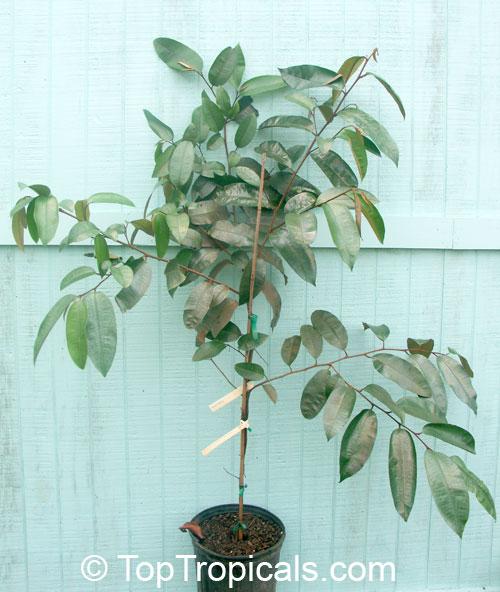 Actual plant for sale
11/20/08
---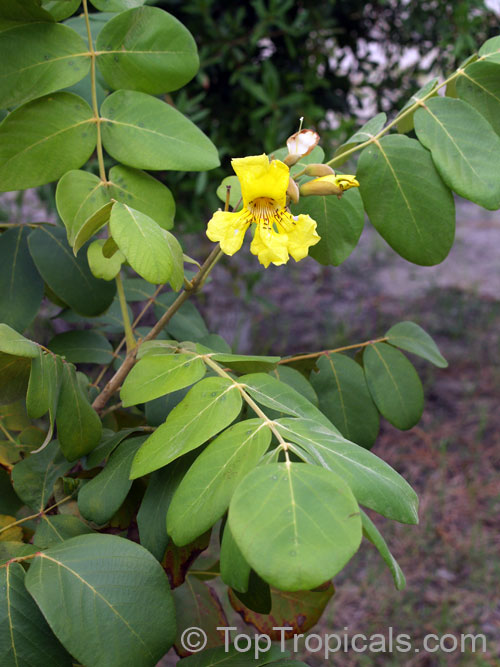 08/26/08
Markhamia - a rare find beauty from Africa
This beautiful ornamental from Tanzania is very rare in cultivation, while it deserves more attention among gardeners with tropical and subtropical plant collections. The lush foliage with large leaves over 1 ft long, creates a wonderful tropical atmosphere. Flowers look stunning on dark green background. Markhamia is Tree of the Year for 2008. The plant will tolerate mild frost and brief periods of cold. It is relatively slow growing and its small size makes it suitable for small gardens and courtyards, and a good potential for containers. The tree will take both sun or shade, grows well even in poor soils.
Plants are in 3 gal containers, about 2-3 ft tall, nice and full.
Actual plant for sale
08/26/08
---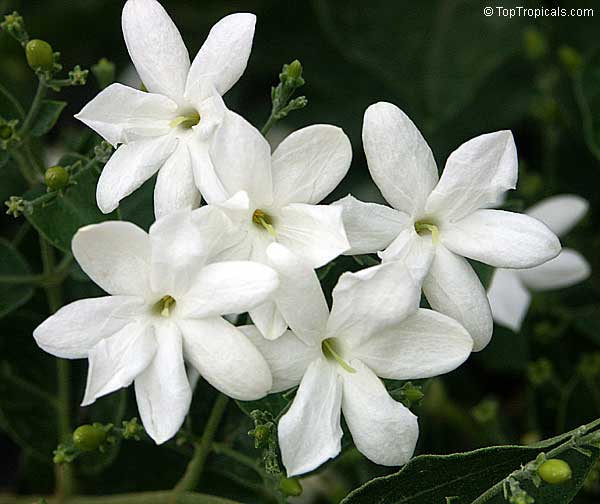 07/03/08
Jasminum molle - sacred Jui Jasmine with the strongest aroma
This plant is a must for everyone who appreciates fragrant flowers. Flowers of Jasmie Molle have as srong fragrance as world-famous Jasmine Sambac, while the plant itself has many advantages comparing with King of the Jasmines. It is a dense, naturally bushy, fast-growing medium-size shrub that responds well to pruning and can be used both for potting culture and garden specimen, as well as wonderful fragrant hedge. Flowers have extremely heavy gardenia type scent. Easy to grow, takes both sun and shade, dry and moist conditions. In India, the flower of Jasmine Molle is held sacred to all forms of Goddess Devi and is used as sacred offerings during Hindu religious ceremonies. Highly recommended jasmine for scented garden or as indoor plant.
Plants are in 1 gal containers, about 1 ft tall, with flowers and/or buds.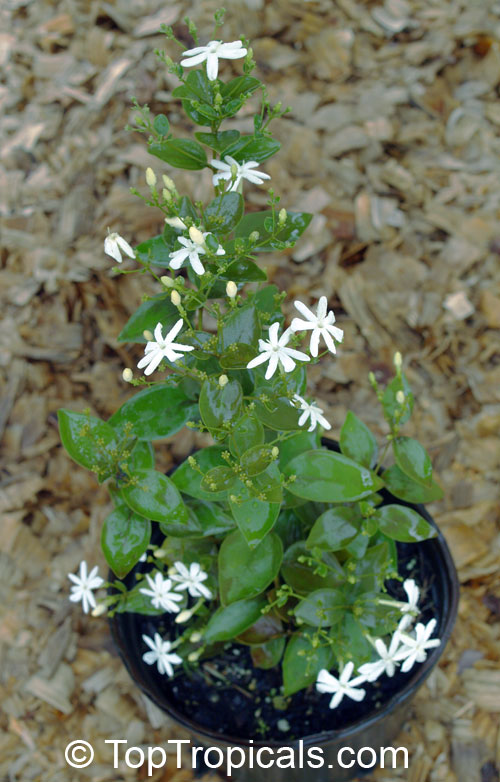 Actual plant for sale
07/03/08
---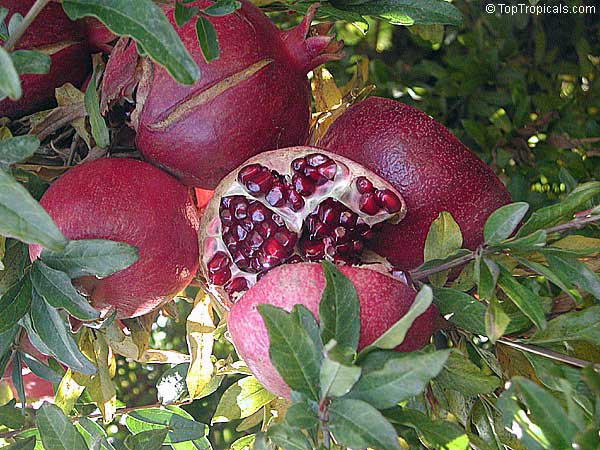 04/12/08
Punica granatum - the Drops of Blood from Garden of Eden...
According to Asian legend, the Pomegranate was the 'tree of life' in the Garden of Eden. Its irresistible appeal, color and legendary medicinal properties have been the object of great fascination. The tiny beads of fruit, full of precious oil and juice, are brilliant as drops of blood or rubies. These "drops of blood" from the pomegranate will help to build healthy red blood cells. The fruit have been consumed by man since before recorded history. There is a saying in Hindi: One pomegranate can serve one hundred sick people. It is a good antioxidant, enriches blood (red blood cells count, haemoglobin), good for heart and blood circulation. The beautiful flowers occur for several months. Cold hardy to 15F, drought-, salt- and poor-soil-tolerant, pomegranates are grown as dense shrubs, popular container plants and bonsai.
Plants are in 3 gal containers, 3-4 ft tall, very nice, full and bushy.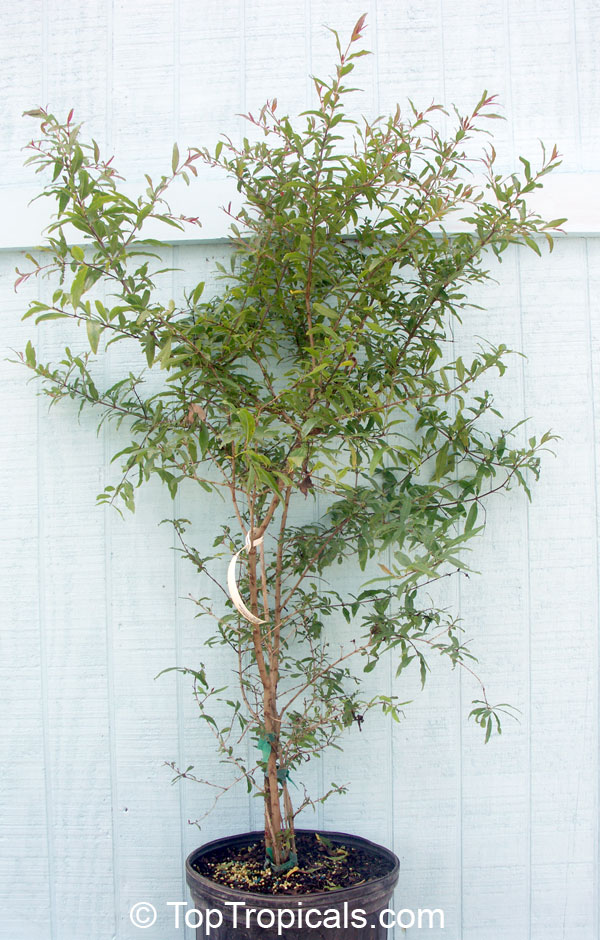 Actual plant for sale
04/12/08
---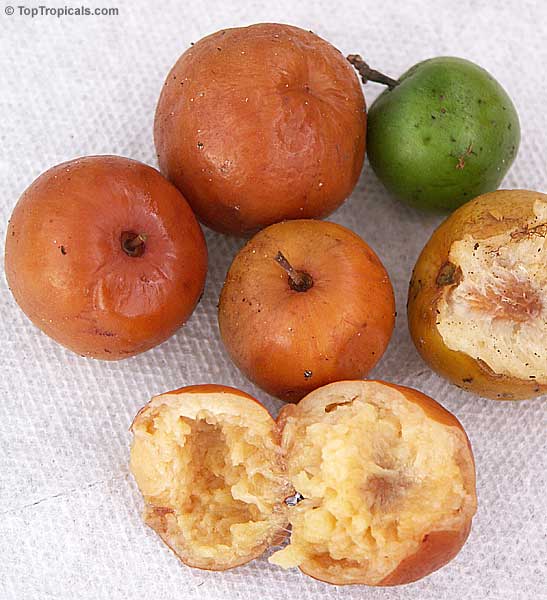 04/03/08
Ziziphus jujuba - a tree which removes sorrow...
These small acid fruits are liked by children as well as by adults. A small spreading tree, with drooping branches grows readily and quickly on poor ground. Even moderately saline soils are tolerated. The tree will thrive without any special care. All parts of the plant have medicinal uses. Jujube is widely cultivated China and India. The Chinese have been growing and eating jujubes for more than four thousand years and have more jujube trees than any other type of fruit tree. From Indian legends, the tree is hard because it's blessed with a boon that no matter how badly it was cut, it will not die, and even if a single root of it was left, it will spring up again... In India, the tree is held sacred: fruits are offered to Siva, and the plant is known as the "Tree which removes sorrow". Cold hardy, mature plants withstand hard freeze.
The plants for sale are grafted, "Thornless" variety, in 3 gal containers, 3 ft tall, fruiting size.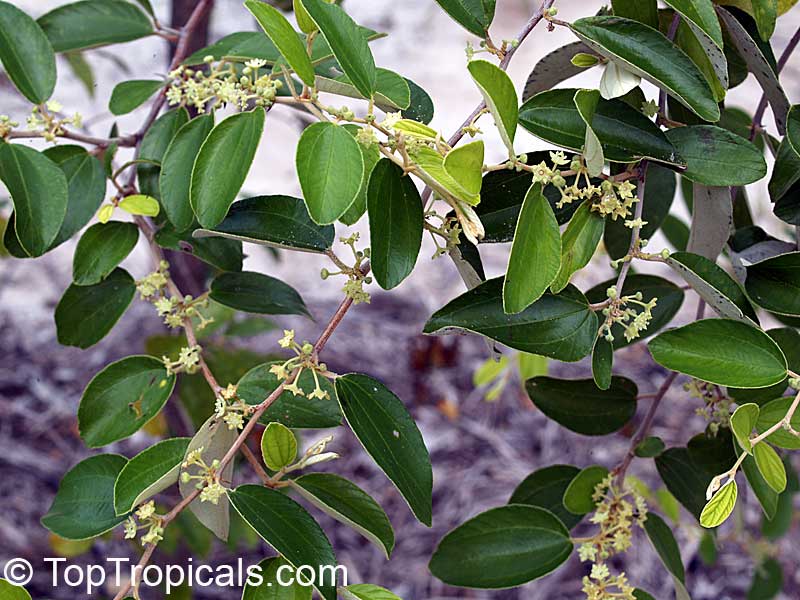 Actual plant for sale
03/01/08
---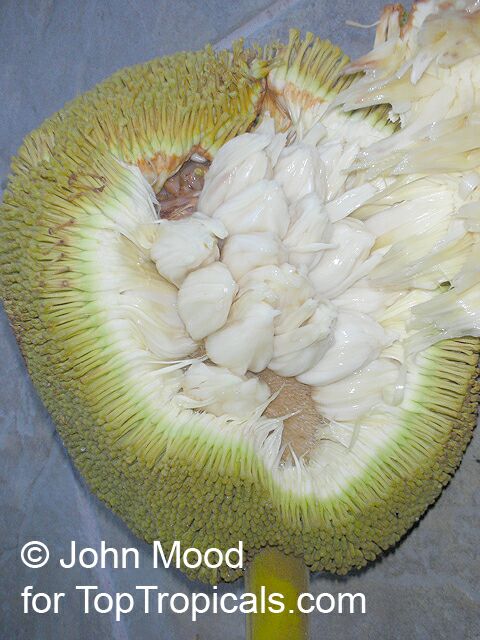 03/01/08
Artocarpus odoratissimus - heavenly delicious fruit...
Marang, or Tarap, is one of the most delicious tropical fruit and beautiful exotic tree with large lobed leaves. The fruit is as big as 10-12", soft flavored, can be appreciated from the first bite and considered superior in flavor to both Jackfruit or Chempedak. Being a cold sensitive plant, Marang can be grown in container inside a greenhouse, where it will enjoy high humidity. The seedlings grow rapidly, first fruit can be expected within 3-4 years.
The plants for sale are in 1 gal containers, 1 year old, 1-2 ft tall, with large leaves.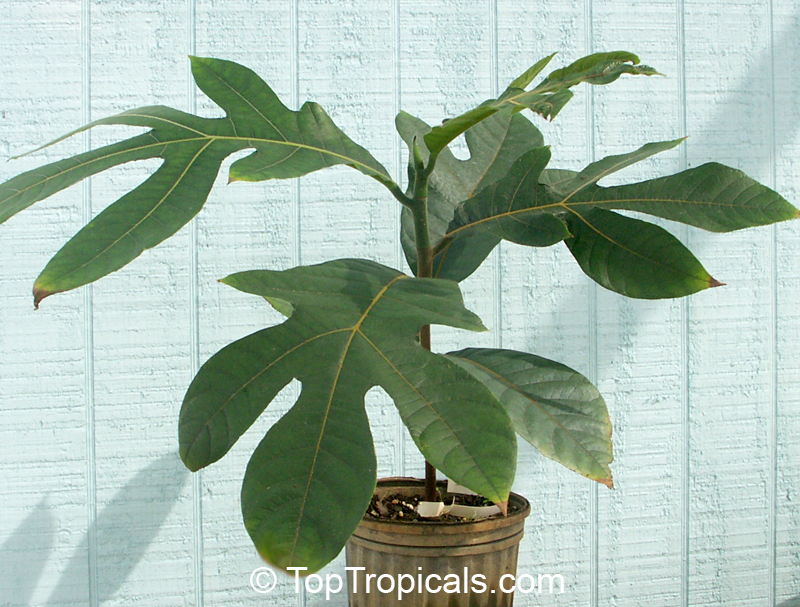 Actual plant for sale
03/01/08
---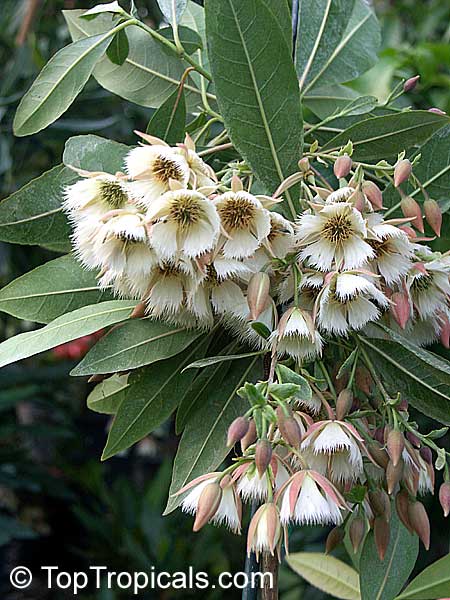 02/10/08
Elaeocarpus angustifolius - Fairy Petticoats and Shiva's tears...
The masses of white to pinkish flowers with unusual liquorice scent are hanging downwards, like those of lily-of-the-valley, with cup-shaped feathery petals and fringed edge, recemble small hanging skirts, hence the attractive common name of 'Fairy Petticoats'.
The flowers are followed by shiny cobalt blue fruit with elegantly tuberculed stone. The stones are used in India as necklaces, stained or set in gold. They are particularly important in rosaries worn by Hindu mendicants, followers of Shiva, as they afford assistance to the attainment of Heaven and Shiva's company. Another name - Rudraksha tree - has been given a very special place and it is credited with mystical and divine properties. It is said that the seed contains the secrets of entire evolution of the cosmos within it (beads are generally used with Shiva mantra) and the plant is originated from the tear drops of Lord Shiva...
The plants in stock are in 2-3 gal containers, 2-3 ft tall,bushy, some with buds or flowers.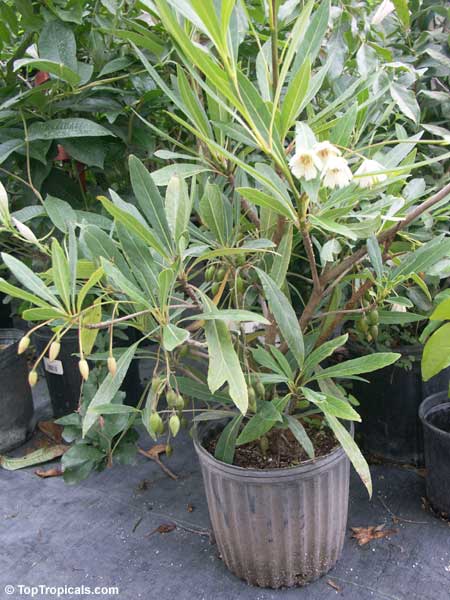 Actual plant for sale
02/10/08
---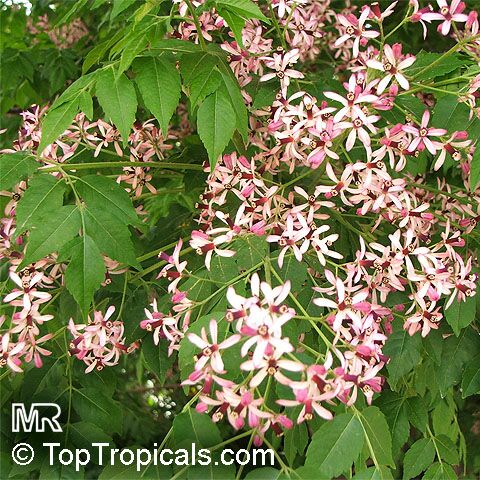 01/13/08
Melia azedarach - Bead Tree...
This graceful, fast growing and hardy tree combines a great number of wonderful qualities - beautiful fragrant lilac flowers, fancy foliage, landscape and and medicinal use. Striking and colorful, it is a good choice for those who are looking a for a fast growing, nicely blooming shade tree. Only within 1-2 seasons it can reach a considerable size so you can have a nice landscape specimen in no time. Considering its hardiness (the plant can take hard freeze, reported to thrive as far north as Virginia and Oklahoma), it is a good choice for creating a wind-protection canopy for other, more sensitive plants.
The plants in stock are in 1-3 gal containers, 2-3 ft tall, with nice developed branches and lush foliage.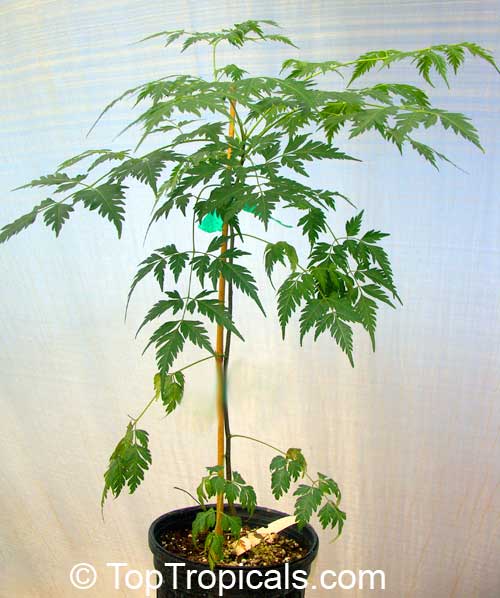 Actual plant for sale
01/13/08
---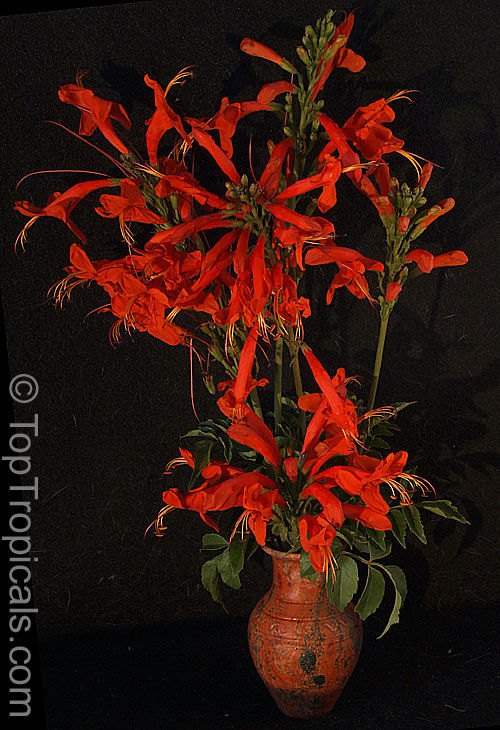 12/03/07
Attention - Red Flower Lovers! Passionate African Tecomaria...
Many gardeners are in love with red flowers - blossoms of pure passion and love. One of those flowers is Tecomaria - Cape Honeysuckle from the Cape of Good Hope, a wonderful winter bloomer and hummingbird attractor. A fast grower, it can create a privacy hedge within very short time, especially attractive cascading over walls or planters, if clipped - used as a low hedge, can be trained to a garden arch or as an espalier; creates tropical effect for pools and oasis zones. Low maintainance and free of pests, cold hardy to 26° F.
The plants in stock are in 1-3 gal containers, with flowers and/or buds.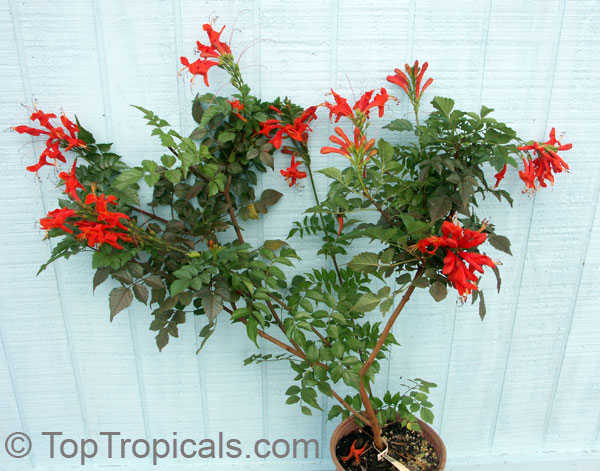 Actual plant for sale
12/03/07
---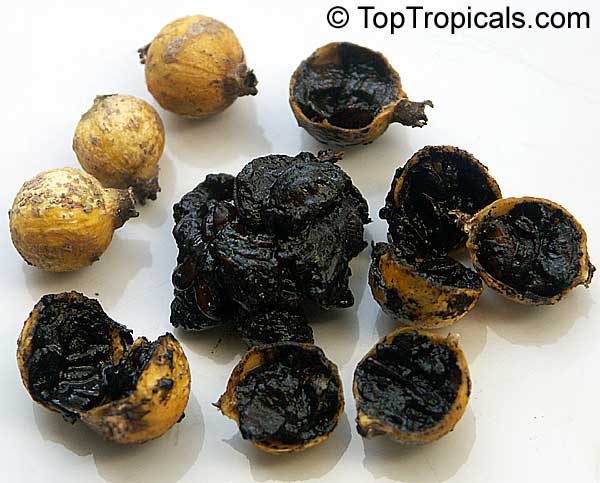 11/15/07
Randia formosa - Fragrance and fresh Blackberry Jam. You don't have to make a preserve with this fruit - the fresh pulp tastes exactly like Blackberry Jam. Yet it's not too sweet and actually tastes even better than any preserve. When you see the shrub all covered by yellow fruit, you are anxious to pick, crack open all of them, and suck out the sweet and tasty exotic pulp... This is one of those fun rare fruits than one never gets tired of! Takes sun or shade, compact growth (3-4ft), gardenia-like fragrant flowers, easy and perfect container plant.
The plants in stock are large and developed, in 1 gal containers, fruiting size (see photo on the right).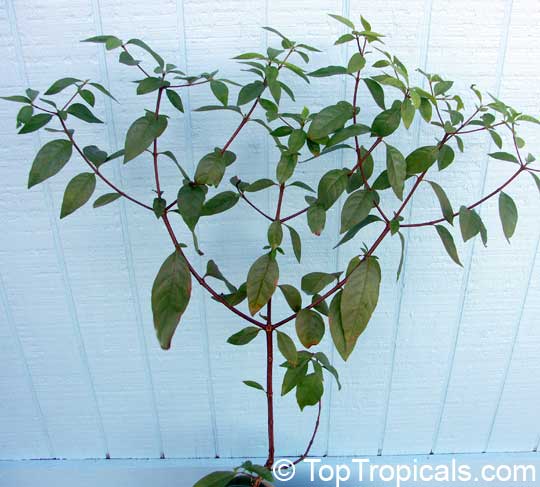 Actual plant for sale
11/15/07
---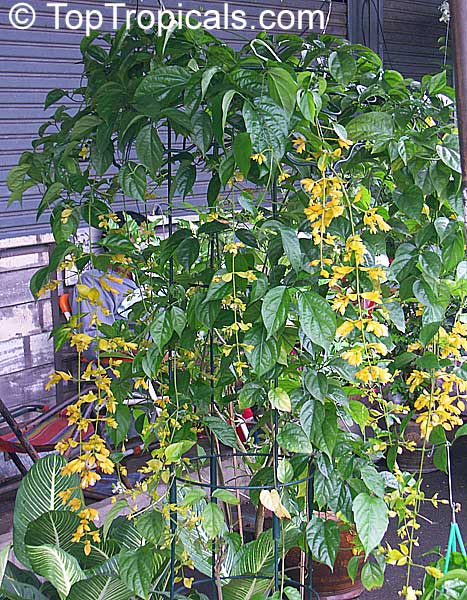 11/08/07
Petraeovitex, Nong Nooch Vine - cascades of gold. This stunning Thai climber is so rare in cultivation that one can hardly find enough information about it in existing sources. Flowering from spring through fall, the inflorescence opens over many weeks, the blooms form on the tips of its vining stems and pendulate down with soft yellow bracts and creamy white flowers. The vine brings ease of culture, vigorous growth and stunning floral form to the container gardener.
The plants in stock are large and developed, in 1 gal containers, on trellises, blooming size (see photo on the right).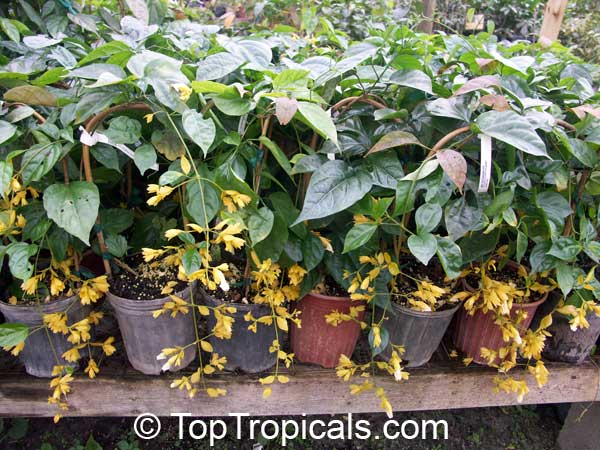 Actual plants for sale
11/08/07
---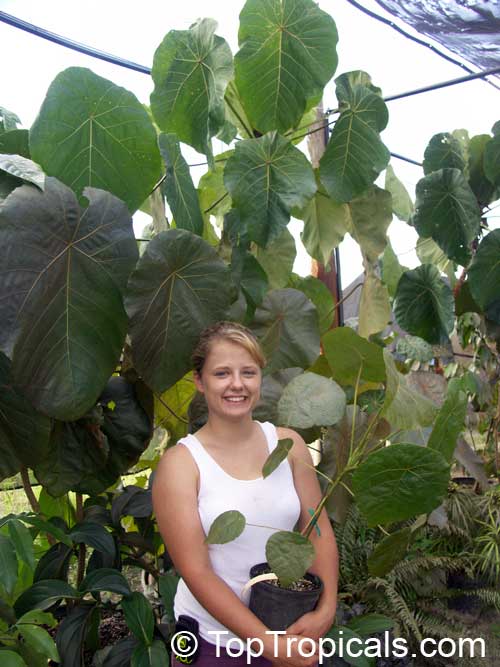 10/22/07
Macaranga extraordinary grandiose leaves. Macaranga grandifolia is a spectacular plant with large showy leaves, tough by touch, resembling in shape nasturtium leaves. It is Philippines endemic and has become very popular in Hawaii for the extraordinary grandiose leaves with prominent, reddish veins and the stem attached towards the center of the leaf blade. The red flowers are held in coral-like inflorescences. Originally tropical species, Macaranga shows some hardiness at least to zone 9b. The tree has compact nature, can be easily kept in a large pot for many years. It creates comforting shade and effective wind protection for other plants in tropical collection. An excellent specimen for a greenhouse outside tropical areas, or bizarre indoor plant.
The plants in stock are well-developed, 2-3 ft tall, in 1 gal containers, with large leaves (see photo on the right).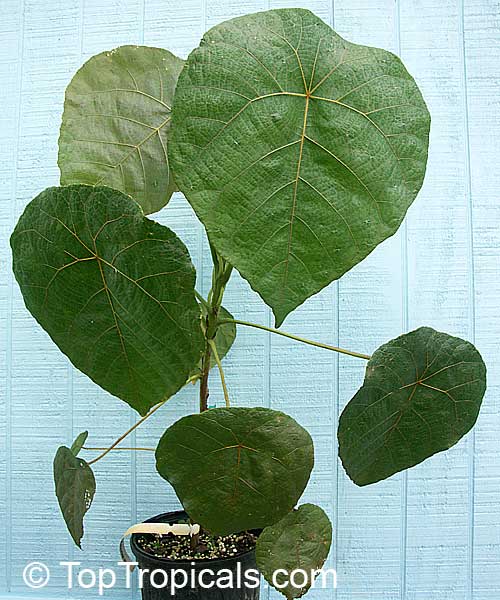 Actual plant for sale
10/22/07
---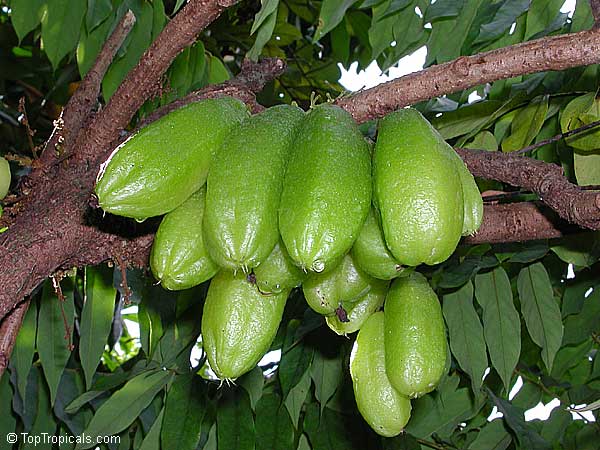 10/04/07
Bilimbi - a curious Cucumber Tree. An eye-stopper spesimen, Bilimbi is hard to find plant, very few growers produce them, although it is not so hard in cultivation. The tree produces clusters of curious fruits resembling small cucumbers that grow on trunk and stems. The flesh is green, jelly-like, juicy and extremely acidic. They prepared as a relish, added to curries or used in place of mango to make chutney, boiled with sugar to make a jam or an acid jelly. It also has medicinal value.
The trees in stock are well-developed, 3 ft tall, in 1 gal containers, nice and full.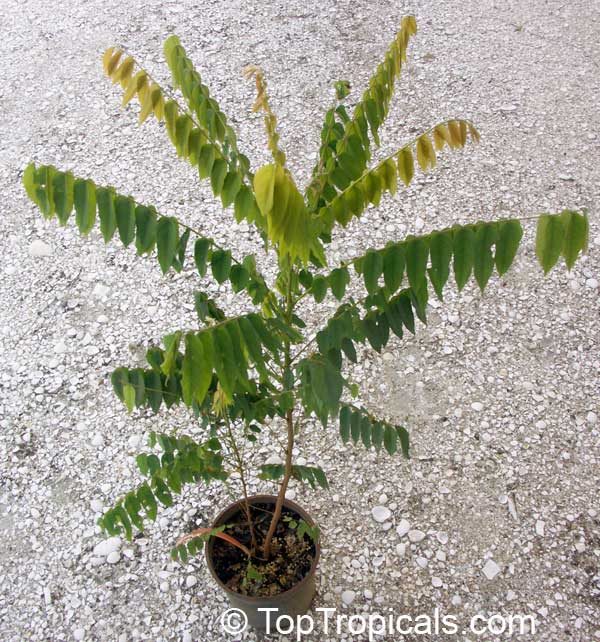 Actual plant for sale
10/04/07
---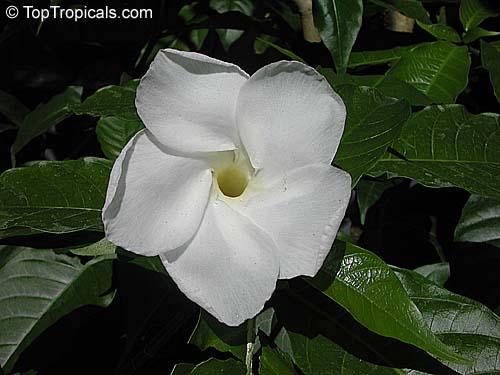 9/17/07
Stemmadenia - Perfumed Milky Way. Stemmadenia, or Milky Way, is considered to be one of the most beautiful tropical ornamental trees in the world. The fragrance of abundant flowers is outstanding. Not every gardener knows about this tree since it's so rare. Its large white fragrant flowers of unusual shape are super-fragrant. When in full bloom, perfume fills the area with a soft, very pleasant, musky sweetness, somewhat resembling carnations mixed with cinnamon.
The trees in stock are large and developed, 4 ft tall, in 3 gal containers, blooming size.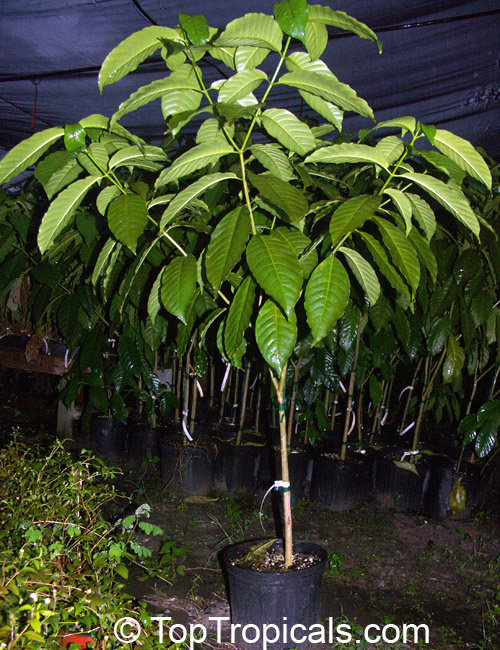 Actual plant for sale
9/17/07
---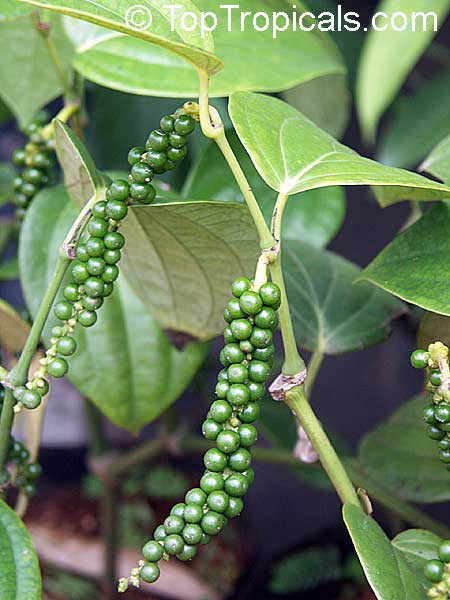 8/23/07
Black Pepper Vine - grow a real spice at home! Pungent and aromatic Pepper is grown in Southern India since more than two thousand years, has always been much valued all over the world. Along with other spices from India and lands farther east, it changed the course of world history. Depending on harvest time and processing, peppercorns can be black, white, green and red (reddish-brown). So, the same fruit is also used to produce white pepper, red/pink pepper, and green pepper. The pungency is strongest in white pepper and weakest in green pepper, while black and green pepper are more aromatic than the white one. The vine can be easilly grown in a pot on a trellis, in mild climates it can be grown in the ground providing a tree support. Try growing this legendary plant and taste the real spice!
The plants in stock are large and developed, in 1 gal containers, with many leaves, will fruit soon.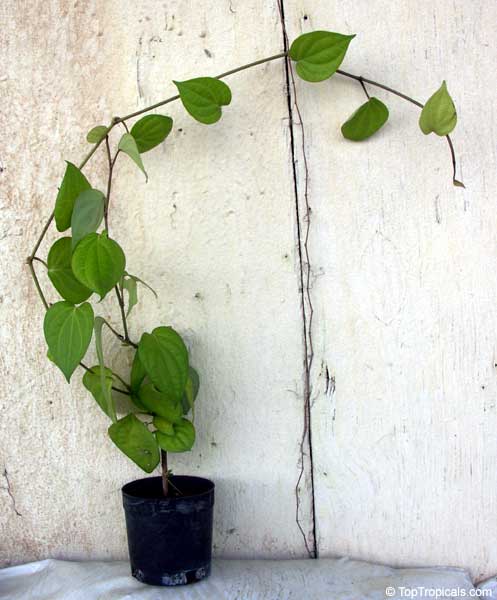 Actual plant for sale
8/23/07
---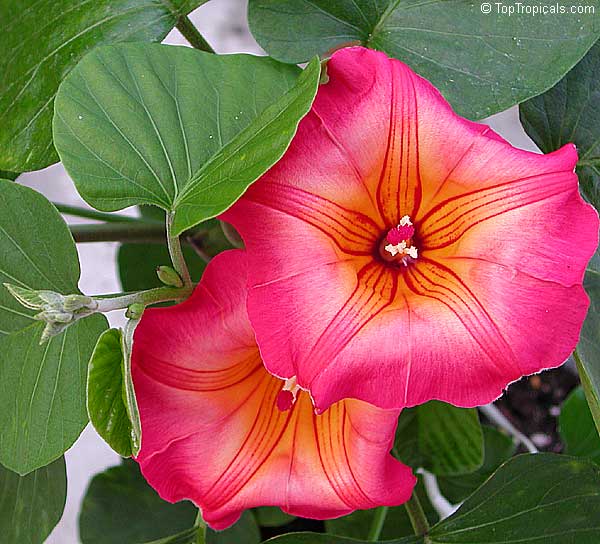 7/19/07
Stictocardia beraviensis - Stunning Hawaiian Sunset. The stunning flower has splendid rich tones that are a marvel to see! This tropical vine is definitely a must in any tropical collection since it has so many great features: fast growing, takes from fun sun to deep shade, beautiful tri-color sunset-bright scented flowers, large tropical-looking velvet leaves, blooms sporadically year round, relatively cold hardy, can be grown in container and easily controlled. You can have an outstanding specimen even if you have a limited space!
The plants in stock are large and developed, in 3 gal containers, with many leaves, will bloom soon.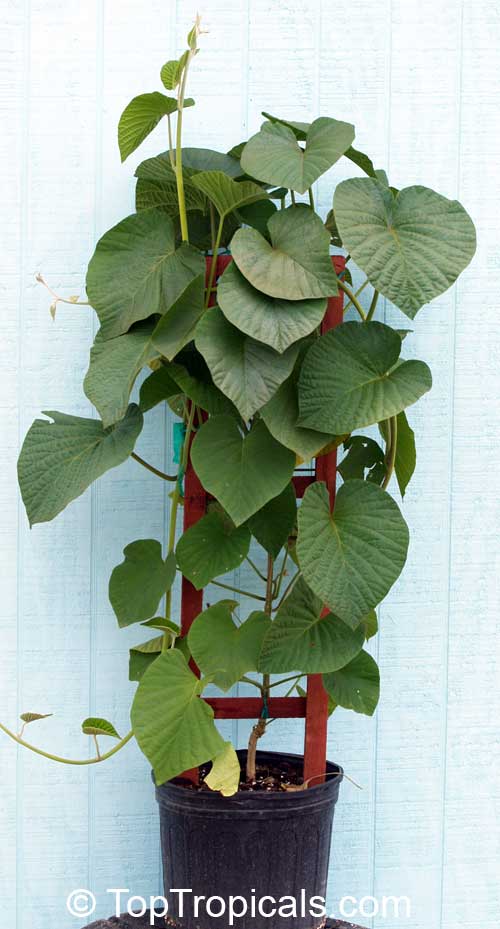 Actual plant for sale
7/19/07
---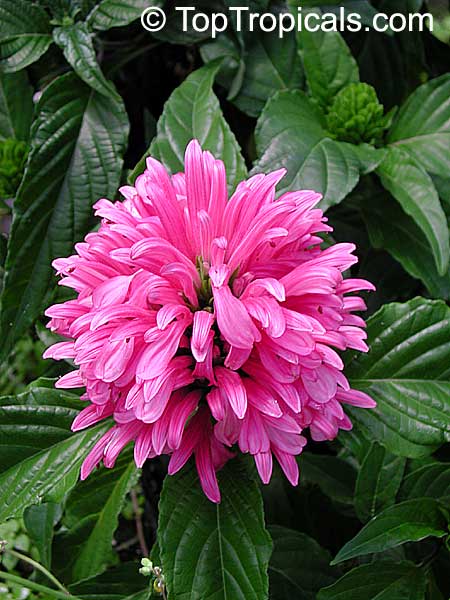 6/19/07
Justicia Shrimp Rainbow. Justicias are garden favorites. They take sun and shade, not fussy about conditions and will bring butterflies in your yard. These low-growing herbacious shrubs have tropical looking, pretty dark green leaves and cheerful "Shrimp" flowers of any colors you like!
Order the plants with flowers and/or buds: Justicia collection - 6 plants for the price of 3!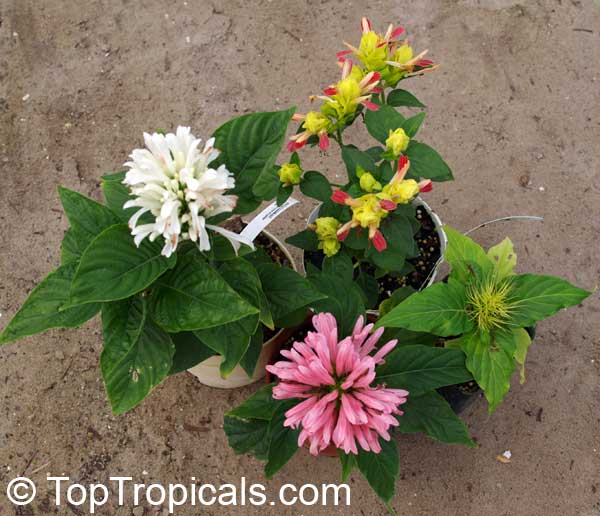 Actual plants for sale
6/19/07
---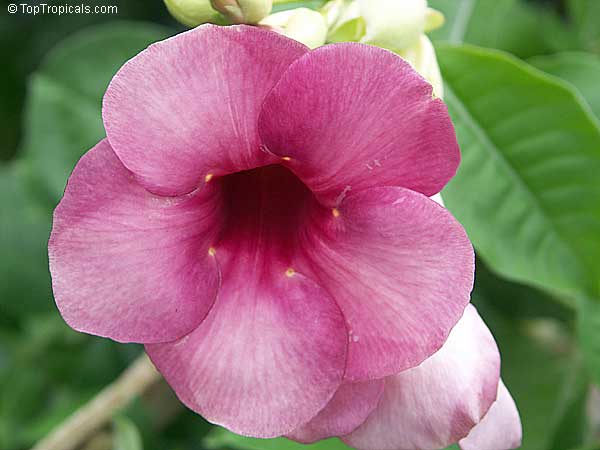 6/13/07
Allamanda - a Queen of every blooming garden, in Her diversity... Summer season is coming, with all its colors and beauty. There are not so many plants as popular in warm climate gardens as Allamanda with its beautiful trumpets covering the entire plant year around. It is easy in cultivation, fast growing and will add color and sunshine in any landscape in no time. Not everyone knows that this plant comes in so many varieties, shapes and colors of flowers...
The plants in stock are with buds and/or flowers, well-developed, in 1 gal containers. We are also offering Allamanda collection - 5 plants of different varieties for the price of 3!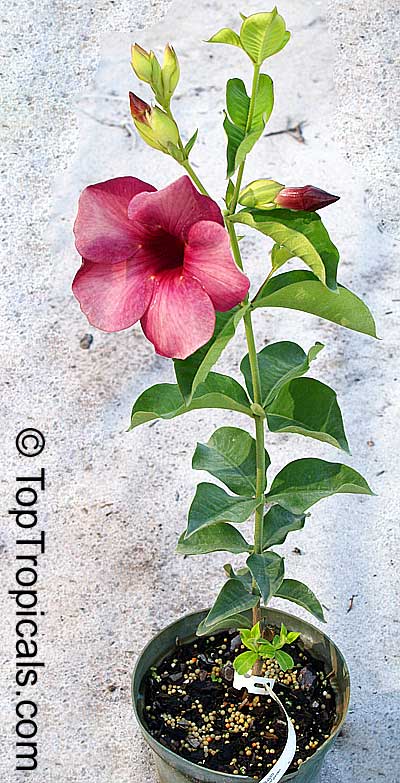 Actual plant for sale
6/13/07
---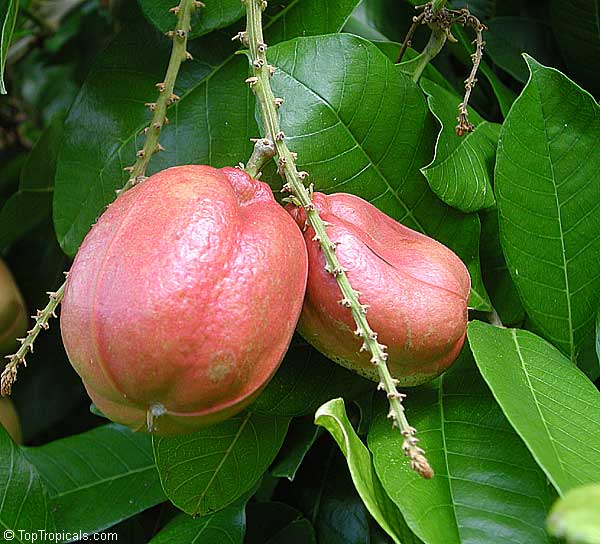 5/22/07
Blighia sapida (Akee) - Jamaican National Fruit. Akee is widely cultivated in tropical and subtropical regions for its fragrant flowers and colorful fruits. It was originally introduced in Jamaica and named by Captain William Bligh, it has become the main ingredient to many popular dishes there and the national fruit.
Mature trees survive temperatures to the upper 20's. It seems to grow a bit better in areas that cool during the winter, rather than intense humid, tropical climates. The tree does very well on poor soils, even on limestone and sand. Nice shade and ornamental tree.
The plants in stock are well-developed, in 1 gal containers, with many leaves.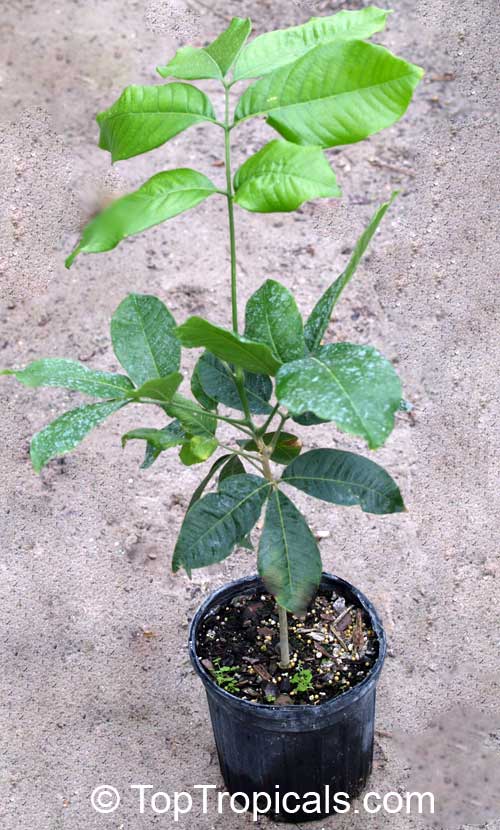 Actual plant for sale
5/22/07
---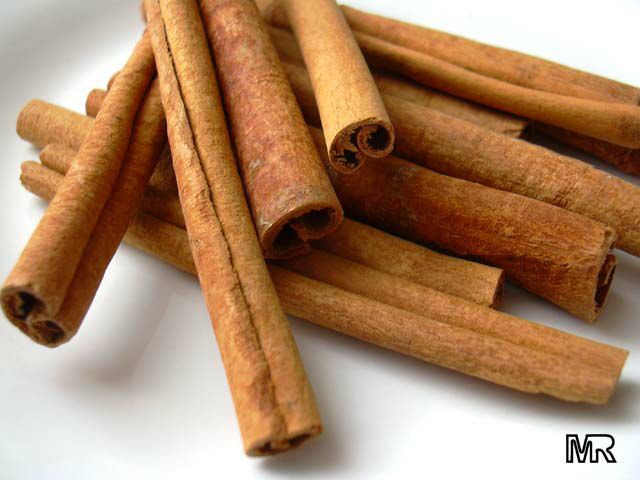 4/15/07
Cinnamomum zeylanicum - a legendary commodity and culinary spice. "Only one out of five ships from Magellan's fleet returned - the "Victoria". However, the hold carried 26 tons of spices, sufficient to cover the losses of the expedition and to actually make a profit for the investors..."
An exciting story of Cinnamon - the most famous world's spice... This historical plant can be easily grown in your garden. Enjoy the story and brew some cinnamon tea!..
The plants in stock are well-developed, in 3 gal containers, with many leaves.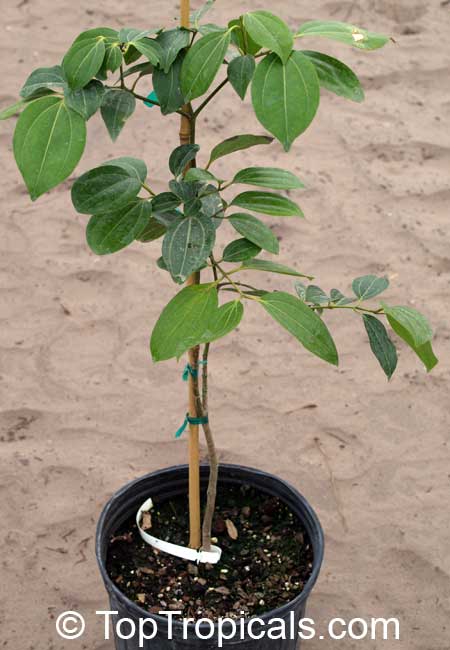 Actual plant for sale
4/15/07
---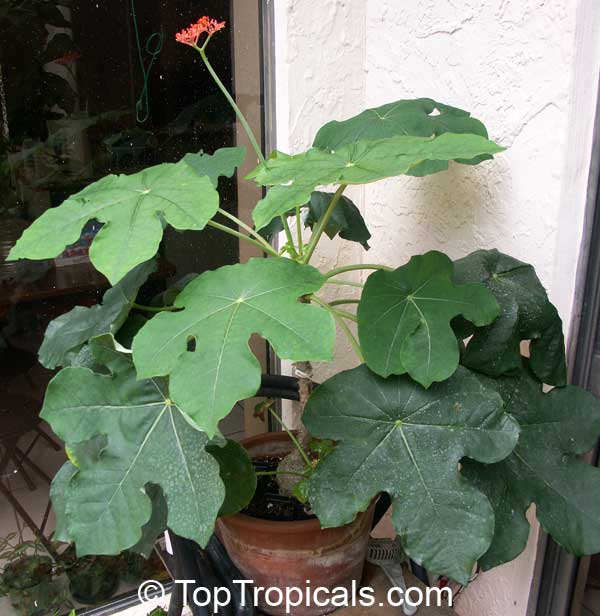 3/29/07
Jatropha podagrica, Gout plant - the coolest plant anyone can grow! This is one of the most exotic and weird looking tropical plants treasured for its swollen "belly", it is a great natural bonsai. It has huge three-lobed smooth waxy leaves up to 10-12 inches in diameter and pretty, brilliant scarlet coral-like flowers year round that will attract butterflies, too! A superb and rarely obtainable succulent, it can l be of great interest both to succulent lovers and those looking for a very different house plant. Gout plant is an attention grabber and can become a centerpiece of a small garden. Besides its cool looks, the great feature is - anyone can grow it! Very easy to take care of, it requires well-drained soil, very little water and a sunny to filtered light location. However, the less sun, the bigger the leaves will grow.
The plants in stock are well-developed, couple years old, in 1 gal containers, with large "bellies", flowers and/or buds, new leaves coming.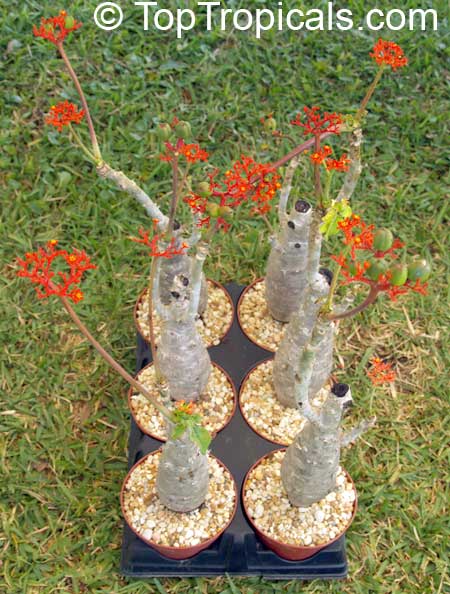 Actual plants for sale
3/29/07
---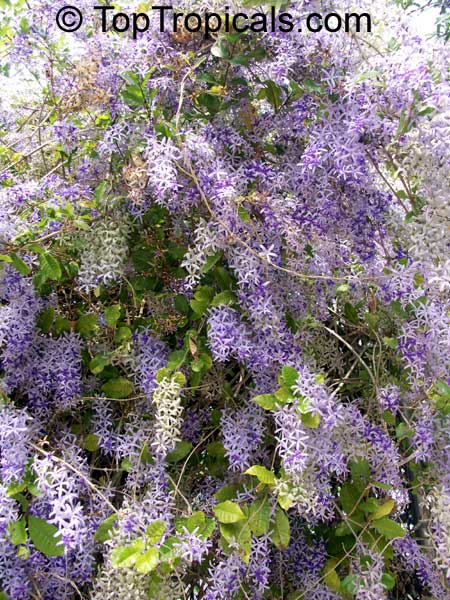 3/15/07
Petrea volubilis, Queen's Wreath - stunning purple profusion from a Caribbean Garden. Such a sharp contrast between the soft, delicate flowers and the harsh, crisp leaves of the Purple Wreath is most unexpected! Even the new leaves are stiff and papery. This is is a twining vine with rough green leaves and spectacular clusters of purple flowers that come in raceme reaching over 1 foot long. The blue calices, with 15-30 flowers per raceme, remain for many days, slowly turning gray, looking terrific on dark green leaves background...
The vines in stock are well-developed, in 3 gal containers on trellises, large and vigorous, ready to bloom.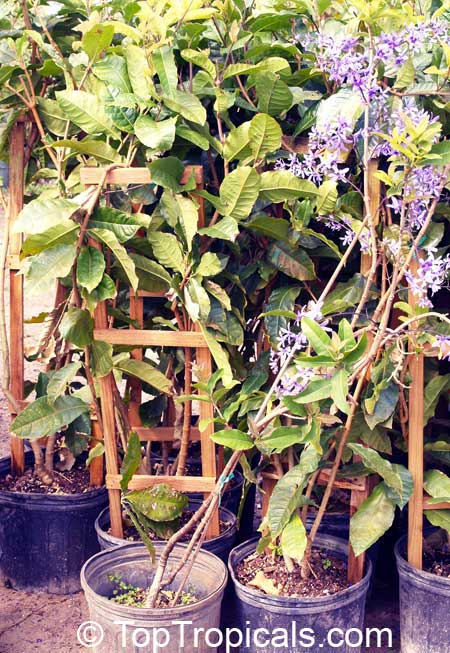 Actual plants for sale
3/15/07
---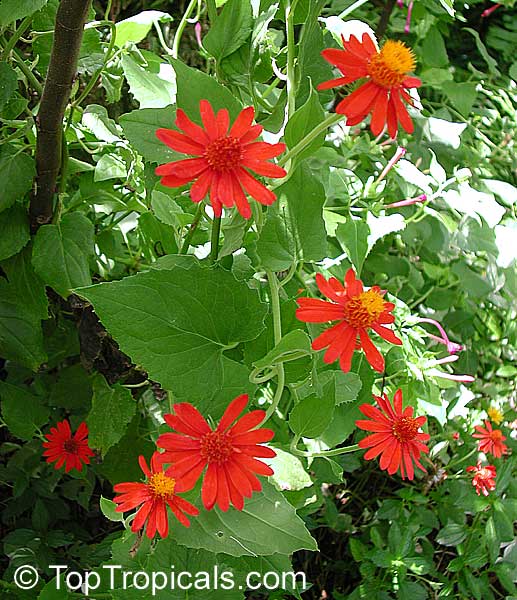 2/28/07
Senecio confusus - a Fiesta of Mexican Flowers for beginners and butterflies... For sheer beauty, this flowering vine is hard to beat. A great fast-growing everbloomer and butterfly attractor, the plant is good for beginners since it is drought resistant and hardly bothered by any pests. Minimum care is rewarded with impressive floral displays. It is a vigorous climber with thick evergreen leaves which deep green color provides a rich background for brilliant bright orange daisy-like flowers, borne in clusters. Blooms almost year round, from November through Spring when it is fully covered with gorgeous flowers, then blooms sporadically for the rest of the year.
The vines in stock are well-developed, bushy and in full bloom, 2 ft and more, in 1 gal pots.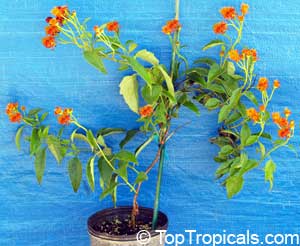 Actual plant for sale
2/28/07
---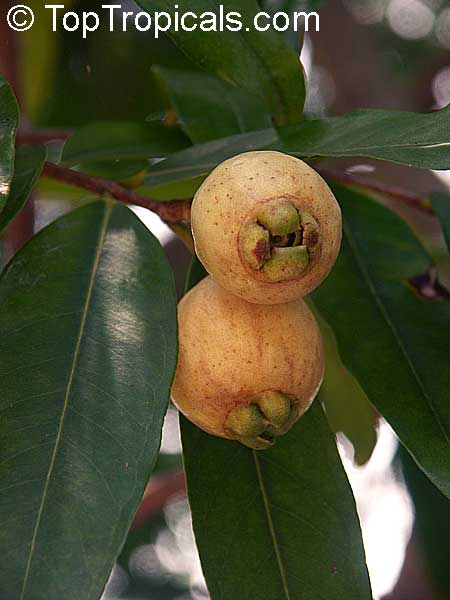 2/24/07
Syzygium jambos, Rose Apple - a Sacred Tree of Enlightenment from the Land of Jambudvipa. Rose apple is a popular fruit native to Southeast Asia. The beautiful blossoms contain hundreds of showy stamens. The crisp and juicy fruits are very distinctly rose scented and highly prized for jellies and confections. The plant is easy to grow, moderately cold hardy and tolerates poor soils. Makes an attractive, wide-spreading shade tree as well as compact and bushy contaner fruiting plant.
Rose Apple Tree is sacred to Buddhism. Buddha sat under the Rose Apple Tree and got an enlightenment experience seing his previous births and realized that people are born and reborn into different states according to their deeds.
The trees in stock are nice and bushy, 1-2 ft tall, in 1 gal pots.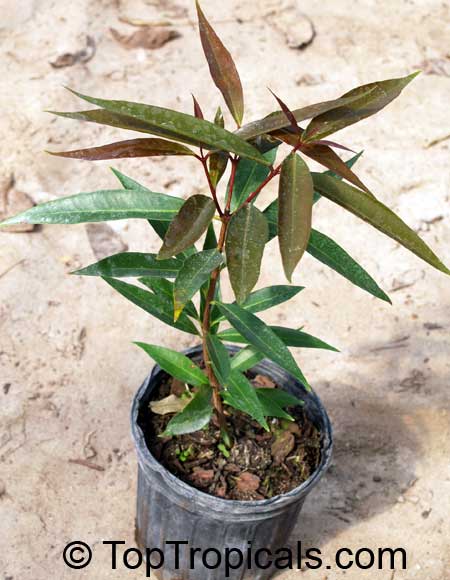 Actual plant for sale
2/24/07
---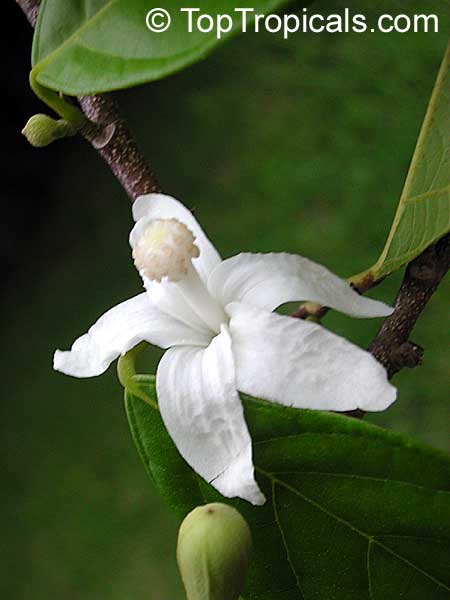 2/16/07
Quararibea funebris - Rosita de Cacao and Drink of the Gods. Quararibea funebris is a beautiful, rare aromatic tree from Mexico and is considered an obscure spice. It is known for its fragrant white flowers that are closely associated with traditional cacao use. The flowers are mixed with chocolate and other ingredients to concoct Oaxacan cacao drink tejate, a spicy beverage with medicinal and religious significance. This energy drink, "the drink of the gods" was originally served only to the ruling elite of Aztecs as Exotic Aphrodisiac Beverage.
This flowers can be eaten raw as a tasty popcorn-like snack, grounded down or blended and added to home-made chocolate bars, cacao (chocolate) drinks, desserts, guacamole and even smoked with tobacco.
The tree is somewhat hardy and able to survive brief temperature drops to the 30s. It has a relatively slow growth rate, and a round crown shape, doesn't require much pruning and looks nice and neat as a landscape centerpiece or specimen plant. The plant can be easily grown in container, where it doesn't grow very tall.
The trees in stock are large and bushy, with a thick trunk, 3 ft tall or taller, in 3 gal pots.
Actual plant for sale
2/16/07
---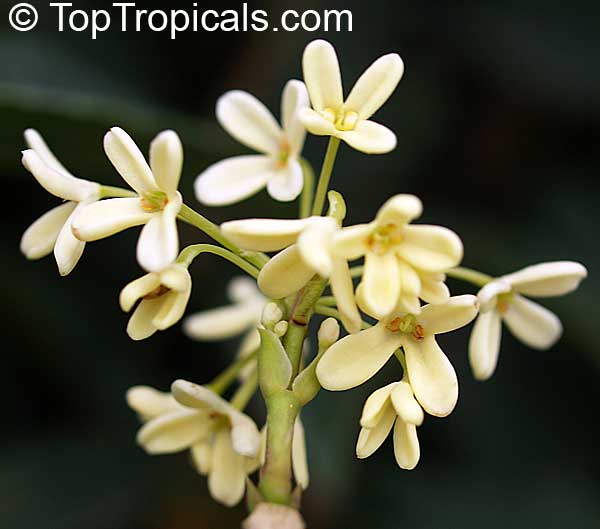 2/05/07
Osmanthus fragrans or Sweet Olive - Romance Perfume. Small creamy-whte flowers of this delightful legendary plant from China fill the air with a rare perfume that surrounds you and penetrates deep into your heart, bringing a touch of floral mystery. The allure of tea made with Osmanthus blossoms is perfect for those times when you want something seductive yet satisfying... Osmanthus is one of the 10 famous flowers in China and Taiwan. A traditional symbol of Love and Romance in Taiwan. The blossoms are used in the production of some of the world's rarest and most expensive perfumes.
Slow growing and easy in cultivation, Osmanthus makes a good container plant. In the ground it can grow into a small tree or shrub that will take a wide range of conditions, from full sun to shade, requires minimum care and is relatively cold hardy at least to zones 8-9.
The plants are in bloom (with flowers and/or buds), large and bushy, 1-3 ft tall or taller, in 1-3 gal pots. Get an opportunity to inhale the heady aroma of fresh osmanthus flowers, one of the true delights of the Earth!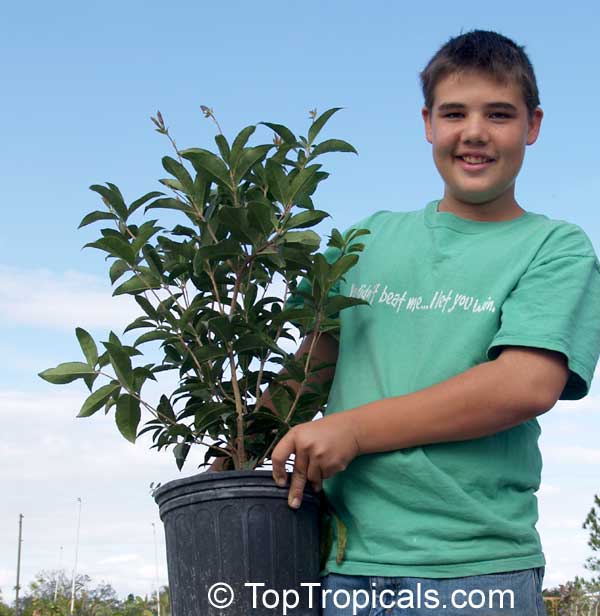 Actual plant for sale
2/05/07
---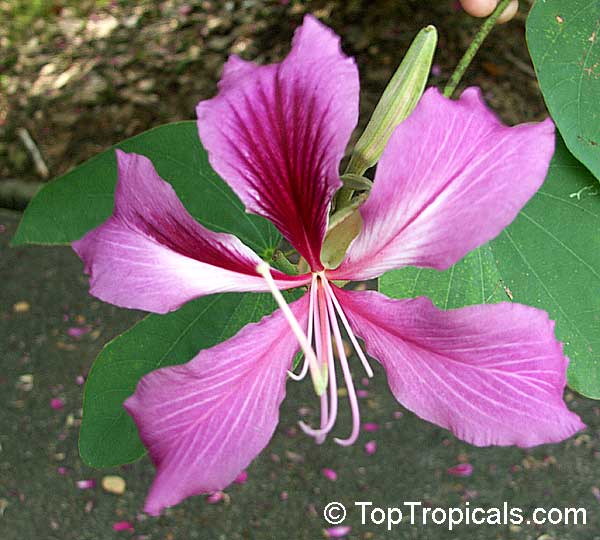 2/01/07
Bauhinia blakeana: Spectacular Hong Kong Orchid Tree - Eye Candy and "Clever Leaf". Certainly seeing flowering Bauhinia blakeana is one of the best things you will love about winter. It truly is the most beautiful orchid tree! Having the longest flowering season of all bauhinias, the plant is fast growing, easy in cultivation and drought tolerant. In Hong Kong, it is a symbol of cleverness and called "clever leaf": the leaves are used by local people to make bookmarks to assist them to study well. It is the floral emblem of Hong Kong and appears on its flag.
The plants are ready to bloom (some with flowers and/or buds), large and bushy, 1-2 ft tall or taller, in 3 gal pots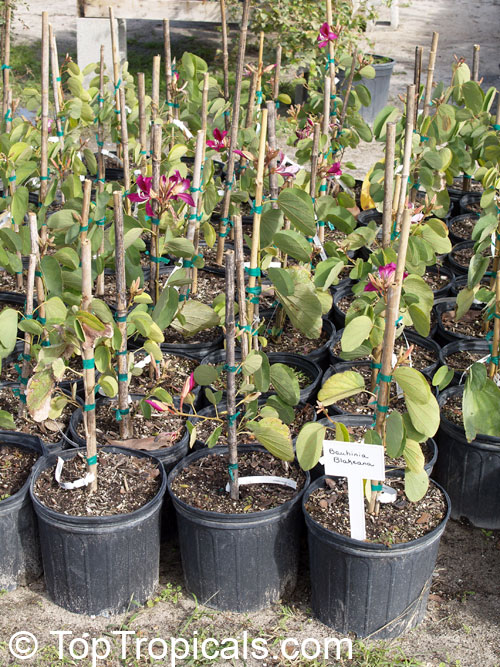 Actual plants for sale
2/01/07
---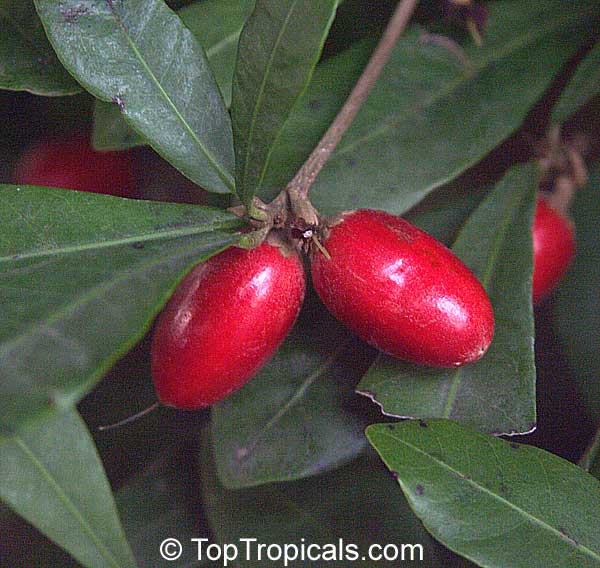 1/23/07
Synsepalum dulcificum - Miracle Fruit. It is one of the strangest tropical fruits with a unique effect: anything one eats that is sour gets a sweet flavor. It's fun to have this plant for everyday miracle perfomance and surprising your friends.
Features of this plant:
- slow growing, compact shape
- prefers filtered light, good indoor plant
- perfect container plant; requires acid soil, should be kept in a pot
- fruits year around
- very hard to find, especially in fruiting size due to its slow growth rate
- a conversation piece. Everyone wants to taste the fruit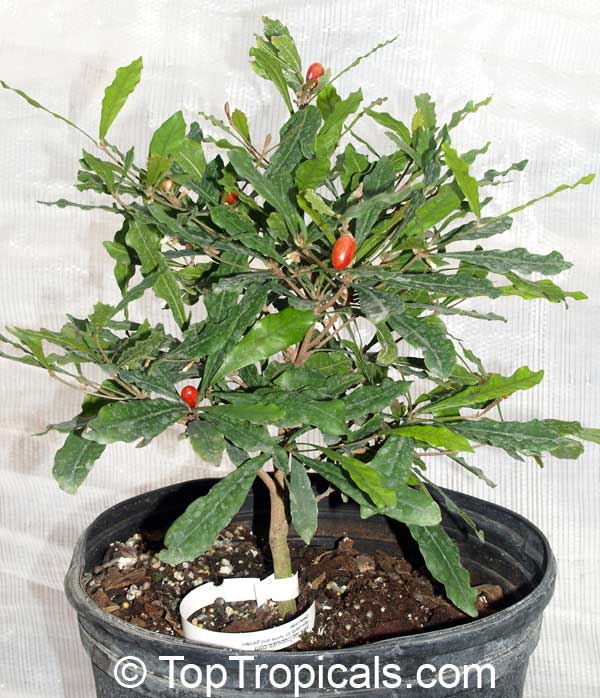 1/23/07
---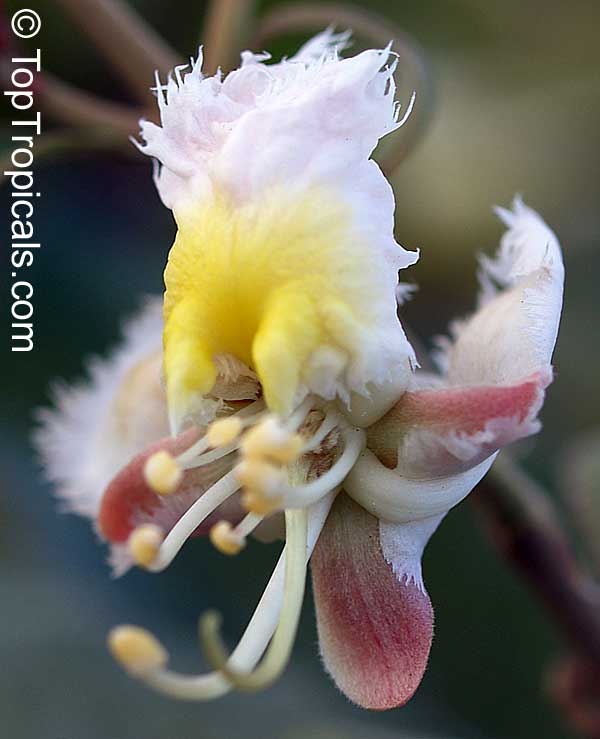 1/16/07
Hiptage benghalensis - Helicopter Flower or Madhavi, the Spring Herald. It is an amazing fragrant woody vine as beautiful as a legend about it...
The fragrance resembles a fine fruity perfume; this legendary flower is said to improve sensuality and emotional comfort.
Easy to grow, can be trained as vine or shrub, takes sun and shade, hardy and fast-growing. Today in bloom or with buds, large plants in 3 gal pots.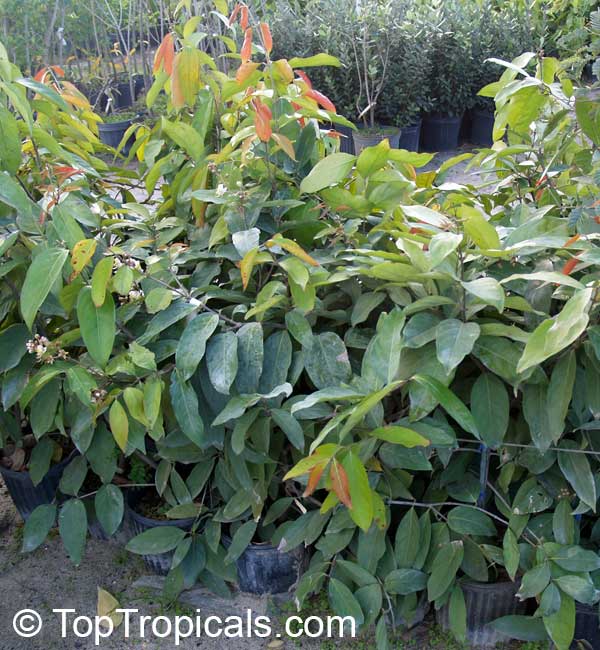 Actual plants for sale
1/16/07