Date: 5 Jan 2021, Entry id: 1609835761-2
People of TopTropicals. Dog of the Year: Tilda, the Assistant Photographer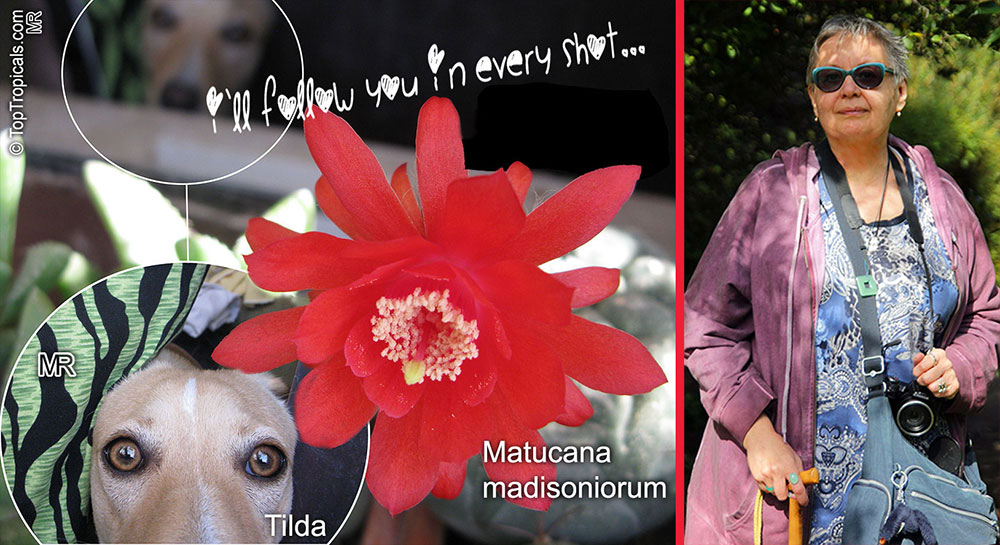 Today is a sad day. Our Editor and Photographer assistant Tilda left us for her last trip to Eternity... to the Dog's Paradise. For many years, Tilda has been helping Top Tropicals Editor and Plant Expert Marina Rybka to take pictures of beautiful plants from all over the world. We can often see Tilda's tail, paws, ears or eyes in many photos of our plant catalog. With Marina's and Tilda's help, our catalog today has 4900 tropical plant profiles with 53989 photos!
Tilda, you will always stay with us. You will follow us in every shot you made with your Mom. Thank you for being there for Marina and her TopTropicals. Thank you for making life of tropical gardeners happier! You made the difference. We love you forever.

TopTropicals PeopleCat Club and Zoo
Thank you for supporting us in helping PeopleCat Community!
Make your kind donation today and receive a surprise gift from us! Every little bit helps. Thank you and God bless you and your pets!