Date: 2 May 2019, Entry id: 1556789462-2
Breathtaking Queen's Wreath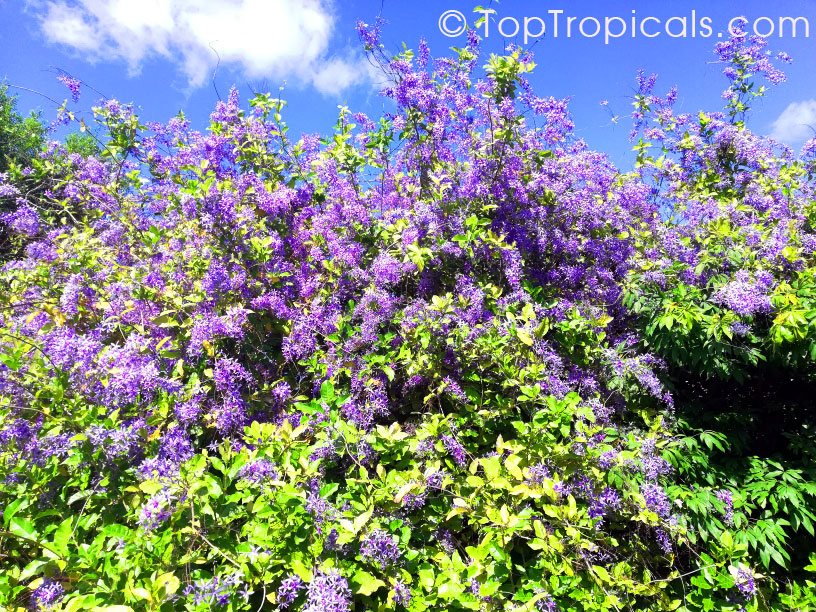 By Onika Amell, tropical flower specialist
Q: I've just moved from Virginia to Sarasota, Florida. I'm looking for a vine similar to Wisteria to grow in my new garden. I've so enjoyed my Wisteria vine and I'm hoping to find something equally spectacular for my FL garden. Truth is, I'm getting older and won't be able to keep up with the hard-core maintenance Wisteria needs to keep it in under control. Is there a similar vine you can recommend that is just as showstopping as Wisteria?
A: The vine that immediately comes to mind is Petrea Volubilis or Queens wreath. It looks similar to Wisteria, and though a fast and strong climber, it's not invasive or destructive at all. An occasional pruning is all it will need to maintain it. Much like Wisteria it gives a glorious show of flowers when spring arrives. Masses of long, mauve flowers will continue to appear on and off in summer with another burst of flowers in the fall. Flowers are up to a foot in length!
Hummingbirds, bees, and butterflies will all be impressed with you for growing this charmer.
Snip off the gorgeous flowers, put them in shallow bowls of water around your home and be the envy of all your friends and house guests!
This vine prefers the warmth of Zone 10 to thrive, but it will survive in areas of Zone 9B when it borders zone 10A, especially if it's placed in a protected area. It grows best in full sun but will tolerate part shade. It's great for coastal gardens and once established, it has good drought tolerance, medium salt tolerance, and good wind tolerance. It has no major pest problems, which is always a bonus.
Grow and shape it as you like: a large bush, a small tree or a breathtaking espalier. Some people plant Petrea vine by a tree to create that much sought-after ethereal wisteria effect. This is no doubt a very charming vine and a must-have for those who are in love with Wisteria but scared of its vigorous growth and ongoing maintenance.
For Wisteria lovers we also recommend its spectacular tropical relative Millettia reticulata - Evergreen Wisteria.