Date: 17 Apr 2019, Entry id: 1555499462-1
Mulberries - biggest, sweetest, and compact...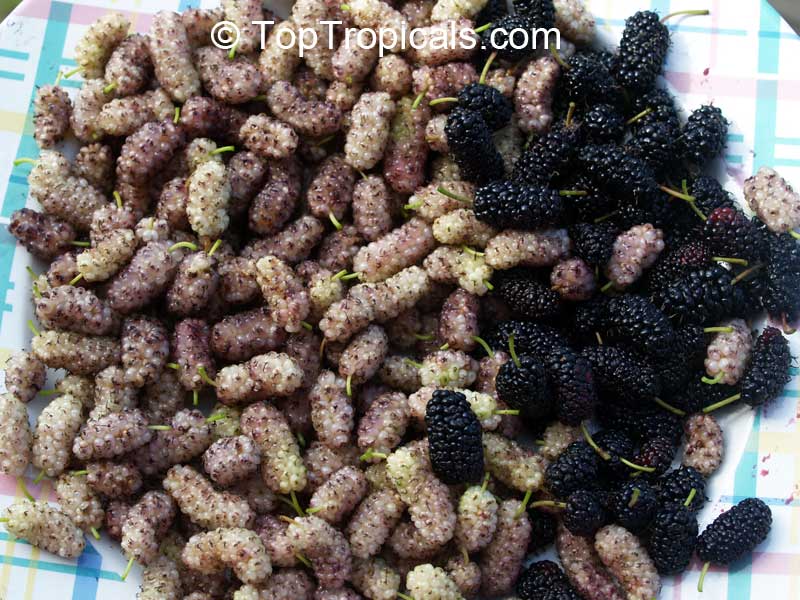 Q: What is the difference between Pakistani and Australian Mulberry plants? Would one be better suited for South Florida backyard? Can one be maintained/pruned to be a tall shrub vs a large tree? Which one has the sweetest fruit? Thank you for the previous plants we've purchased from you. They're all doing great.!
A: These two varieties are very similar indeed. Both fruit are very large. Var. Pakistani fruit is a little longer than var. Australia and the tree is a more vigorous grower, but they both are very sweet, even before the fruit fully ripen. Both trees are a good choice and start fruiting at a young age.
We've had Australia in the ground in our garden for 4 years by now and for some reason, it has been very slow growing which is normally not the case with Mulberries. Maybe it is not fully happy with FL humid conditions.
There are two Mulberry varieties that can be maintained as bushes: Issai and Dwarf Everbearing. However, even vigorous Mulberry trees respond well to pruning and can be kept compact for easy harvesting. Just make sure to prune before the flowering season starts; here in S Florida Mulberries start flowering in March, and fruit start ripening during April-May.
Check out our Mulberry trees.