Date: 19 Feb 2019, Entry id: 1550636165-2
Featured plant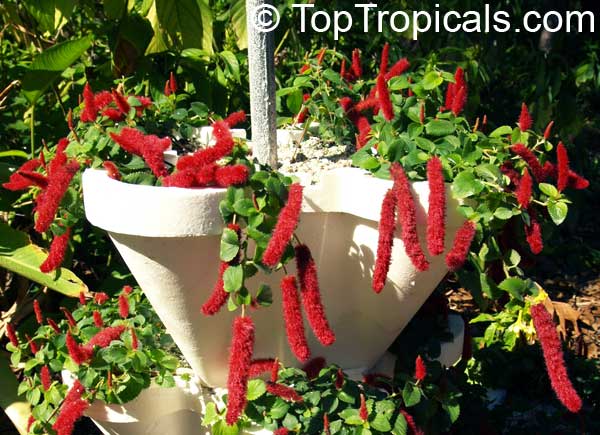 Strawberry Firetails, Dwarf Cat Tails, Kittens Tail...
Everybody wants this plant! Acalypha pendula, Dwarf Chenille Plant gets its common name from the fuzzy plumes of tiny, foxtail-shaped bright red flowers that trail above a thick mound of small, serrated leaves. Given enough light, this plant blooms nearly year-round! The blossoms that begin as wispy buttons and elongate into fuzzy cones. At maturity, they become 3-4" long streamers.
A spectacular plant for a hanging basket, container or ground cover, it is heat tolerant, great for both hot Southern landscapes or as an easy houseplant, providing bright light. Place this unusual house plant on a pedestal stand or pot it in a hanging basket to show off those eye-catching fuzzy blooms.
This is a dwarf plant that stays small and doesn't need pruning. It's naturally bushy, so you don't have to pinch its growing tips to get it to branch out. A favorite with children, and cats too!
Get it from our store with FREE shipping!