Date: 6 Nov 2018, Entry id: 1541496362-1
Elephant Foot Yam seed production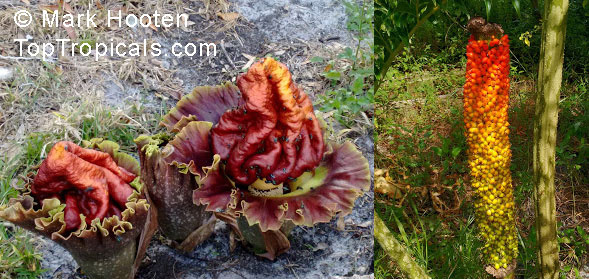 Q: Very interesting information about Amorphophallus in your recent newsletter! (which I always enjoy BTW). I would like to purchase those fresh seeds, and I have a couple of questions. Did you have to hand pollinate that flower? I've heard it is not easy to set a fruit. Also, is this an edible variety?
A: From Mark Hooten, the Garden Whiz. These Elephant Yam seeds were produced as a result of hand pollination between two different Amorphophallus paeoniifolius plants grown from entirely different sources. Both plants over ten years old. One corm originated from a traditional Chinese market here in Ft. Myers, while the other came from a Hindu market in Naples. As both were being sold for eating (the prepared corms of the sweet types are a popular Asian vegetable), we know they are of the "sweet" type, not the acrid type which is the commonest in cultivation. The flowering occurred this last April, with the fruit spike maturing in October which is very fast considering it may take up to a year to mature this fruit!
The flowering image shows three different flowers all emerging from a single clump of the Chinese plant which has developed over the years, each flower being a couple of days apart. This is the plant which made the fruit-spike, one of its flowers having been hand pollinated by the Hindu store plant on the other side of the property. Notice all of the large blue flies swarming the fully mature and very stinky flower!
Check out Fresh seeds of Amorphophallus paeoniifolius. Only a few packs left!