A: After over two decades of being the go-to advice-givers, we thought, "Why not spill the floral beans and share our tropical wisdom?" But where to begin? The jungle of flowering ornamentals is vast, and picking the perfect shrub is like finding the missing piece of a gardening puzzle. So, in our new column "Hedges with Benefits" we're dishing on those not-so-average shrubs that'll not only prettify your patch but also bring some serious practicality. Today's lineup is -
Top Ten Winners:
Fast growing flowering shrubs
Below is the top selection of spectacular flowering shrubs that can create a nice hedge or a natural screen within just a couple of seasons.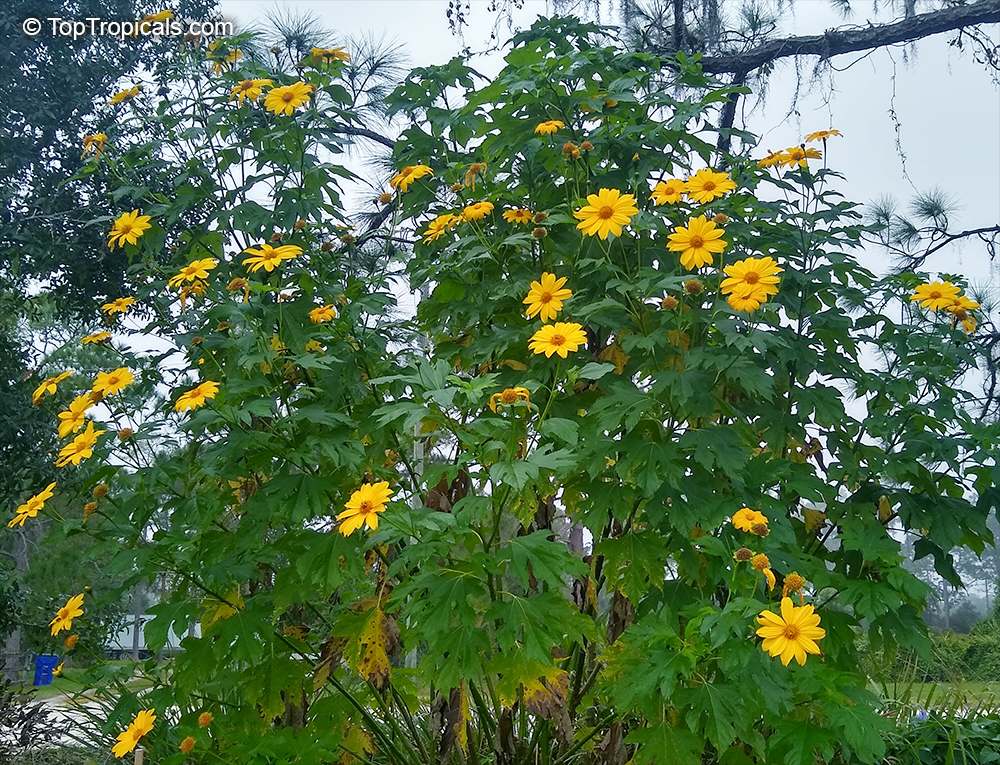 Tithonia diversifolia - Sunflower tree.
Grows super fast to a very tall dense hedge, and starts flowering right away. Full sun, very easy, not fussy about soil or water. Winter bloomer.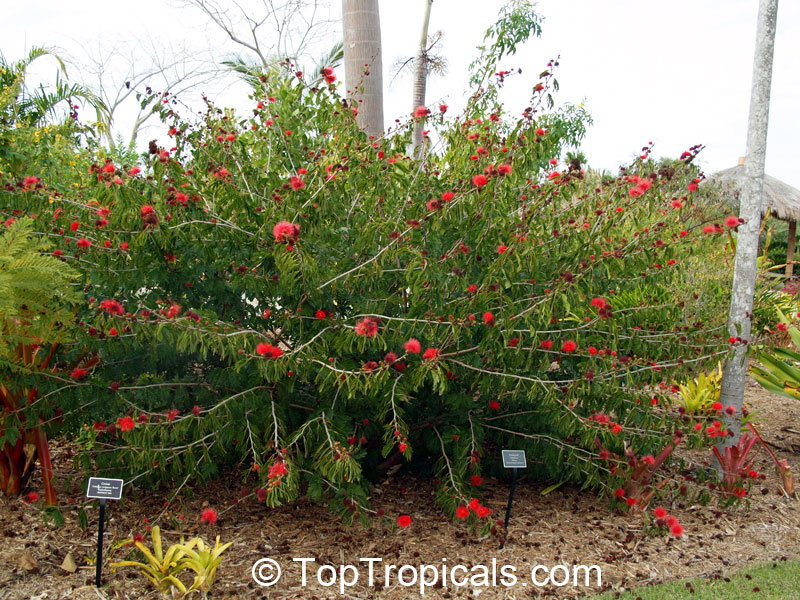 Calliandra surinamensis - Powderpuff.
Pretty pink powderpuffs almost year around! Easy to prune.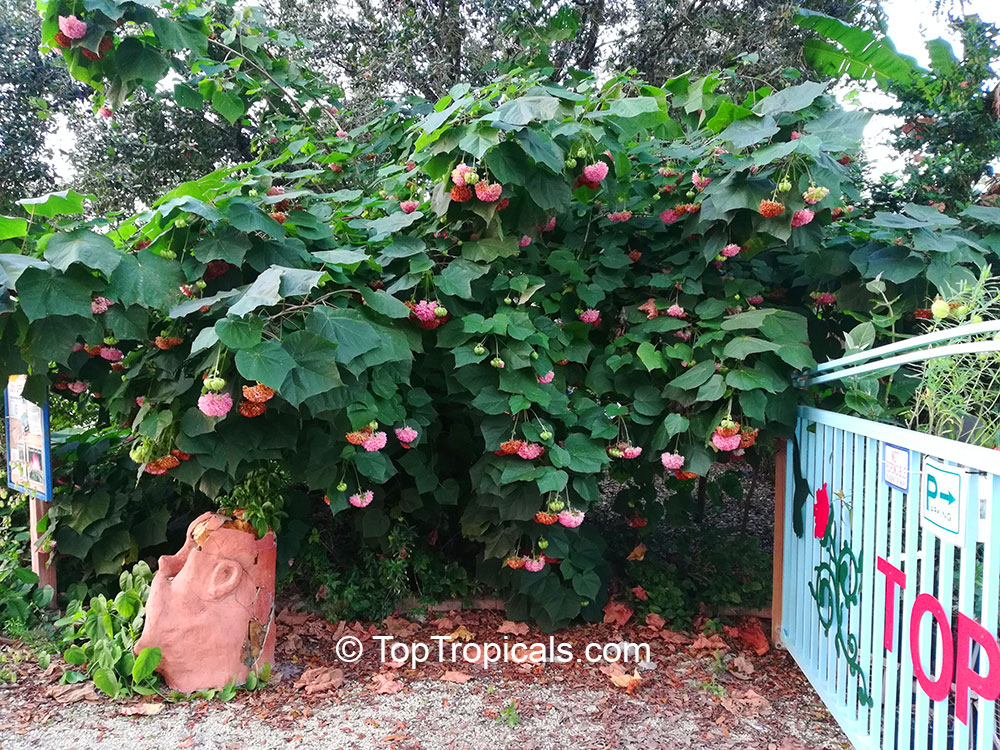 Dombeya x wallichii - Tropical Hydrangea.
You can see this beautiful bush right at Top Tropicals gate. Winter bloomer, large lush leaves and huge, pink hydrangea-like blooms. Very large and fast growing, likes water, tolerates shade.
Acalypha hispida - Cat tail, Chenille plant.
All time favorite, everblooming with red cat tails! Full sun. Easy to control.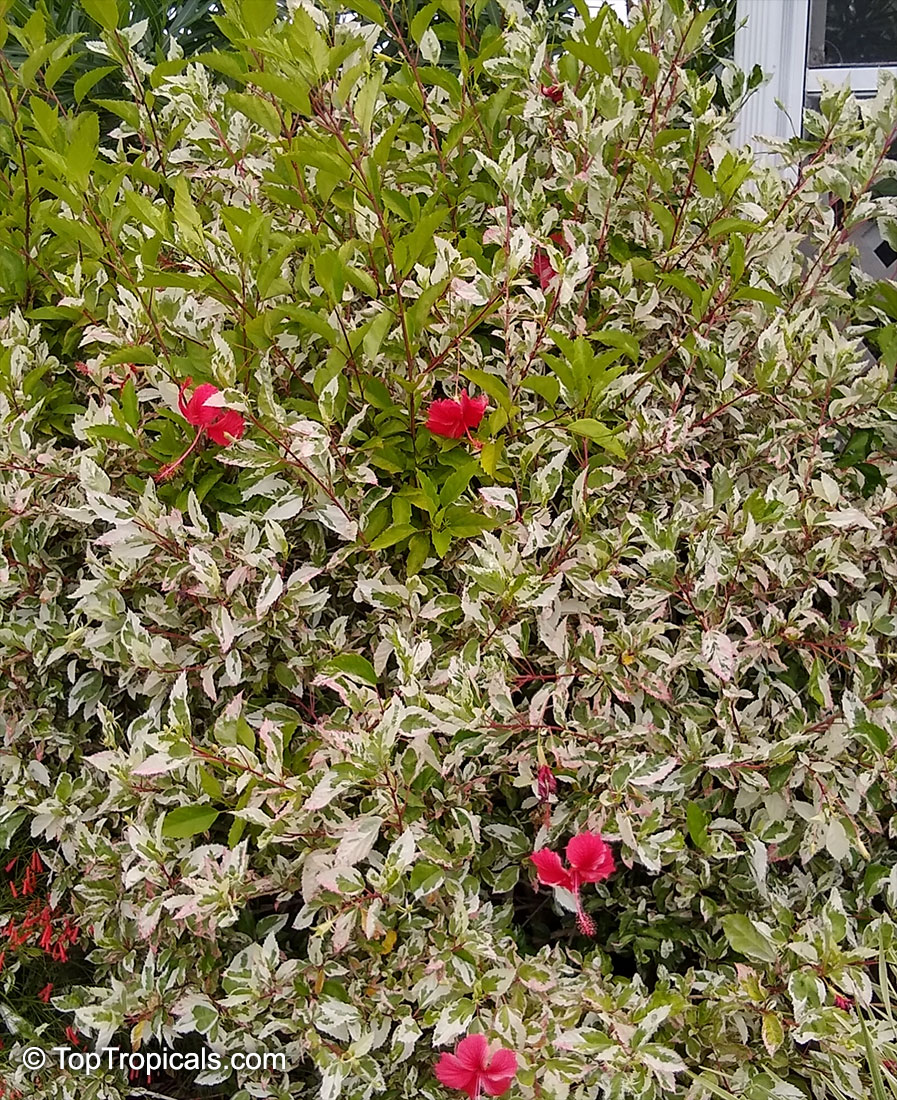 Hibiscus variegated Snow Queen.
Popular landscape bush with unusual look, red flowers over snow white variegation, very showy! Responds well to pruning. Full sun.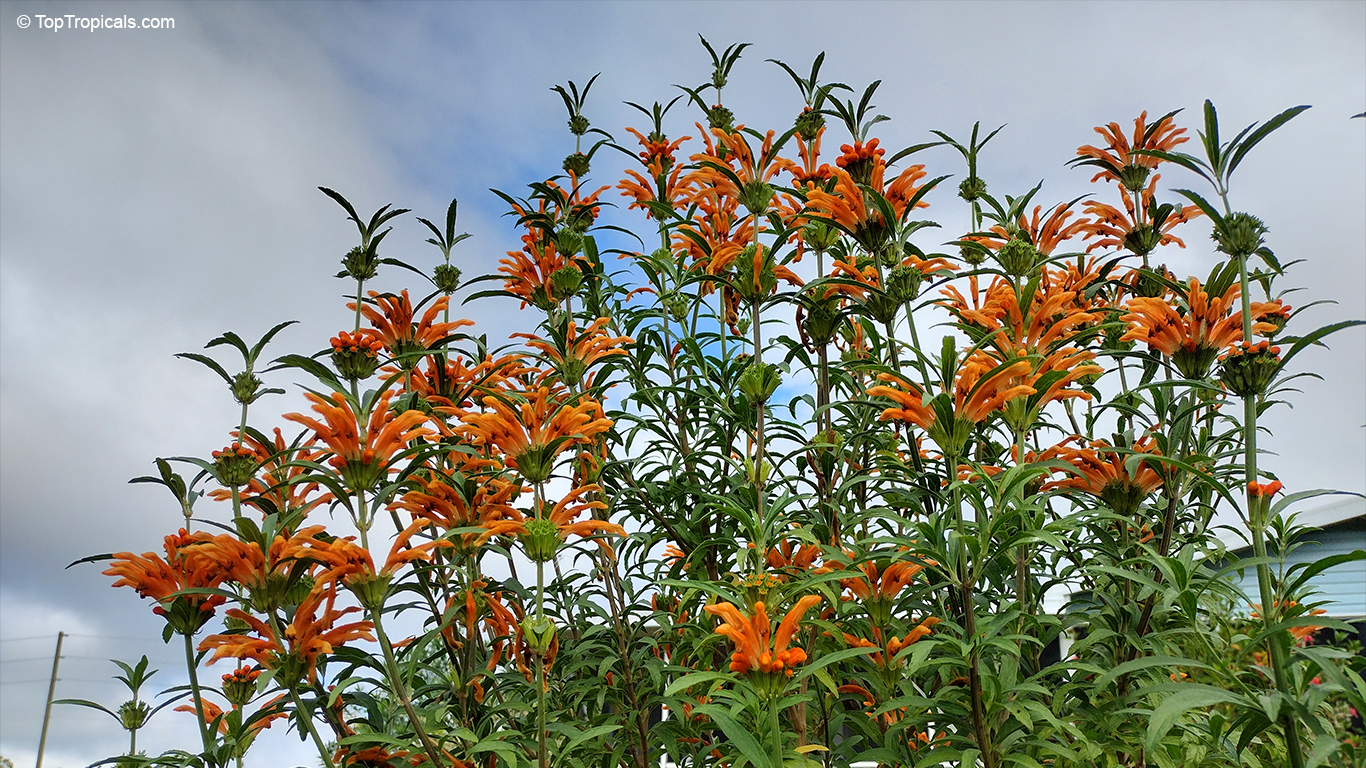 Leonotis leonurus - Lions Ears.
Winter bloomer, great for low hedges. Covered with bright orange curious flowers, medium sized, easy to control at 3-4 ft. Full sun.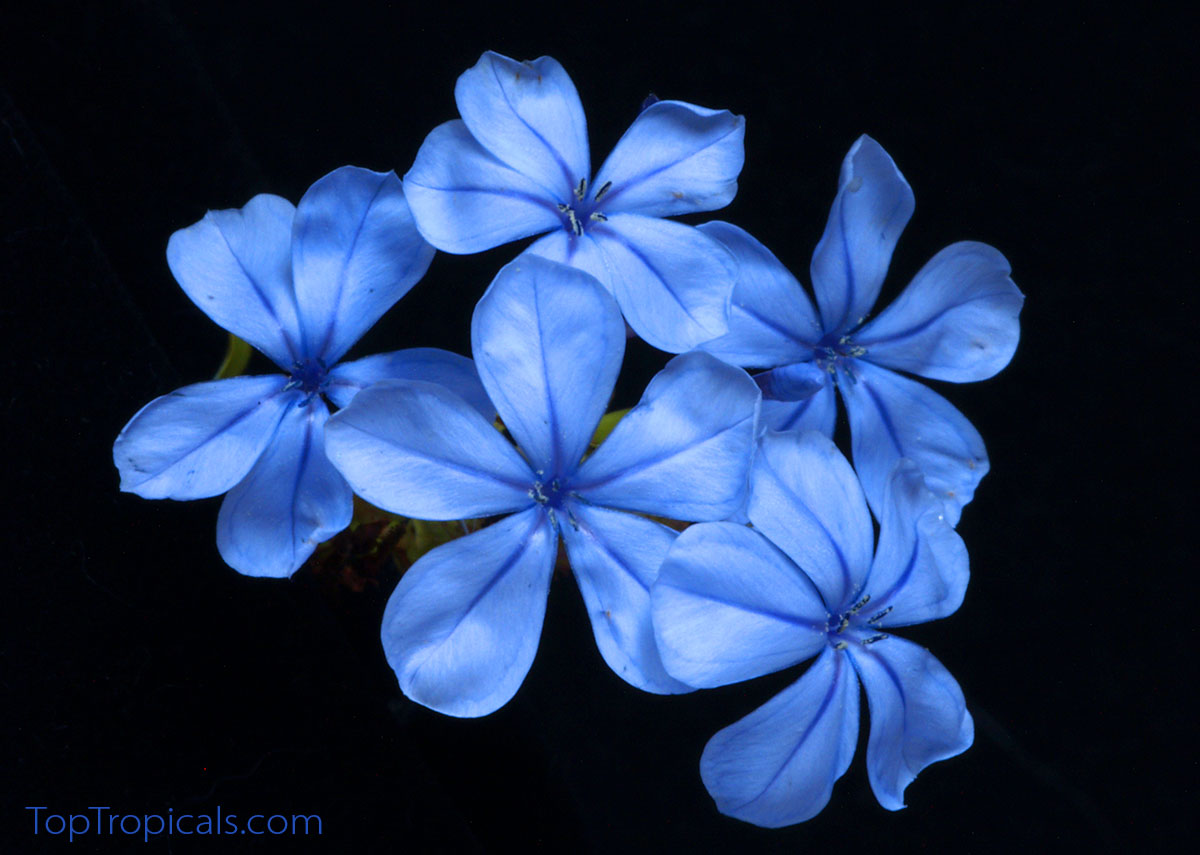 Plumbago auriculata Imperial Blue
One of the most popular Southern hedge plants, everblooming with bright blue flowers, tolerant to drought, heat, and poor soils. Can be maintained short or tall (2-6 ft).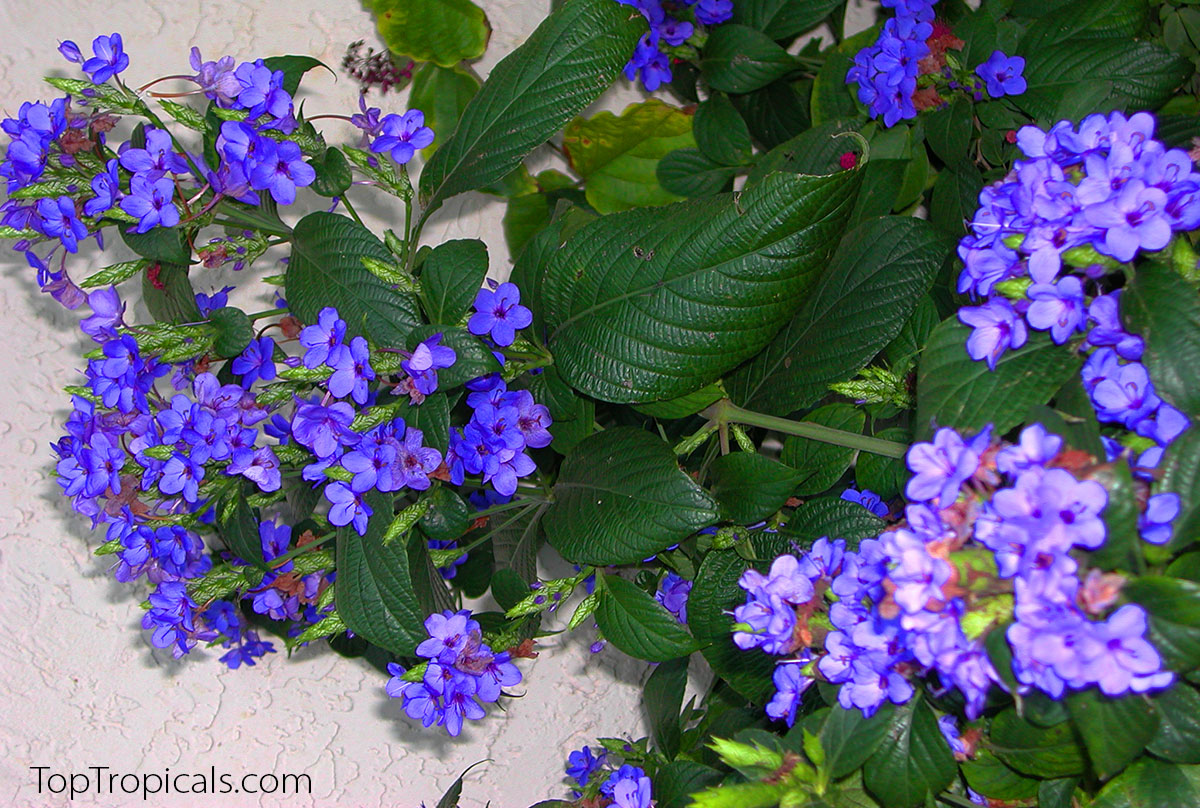 Eranthemum pulchellum - Blue Sage, Lead Flower.
Great for shady spots, winter bloomer with dark green leaves and unusual sky-blue flowers. Can be trimmed if needed. Nice and dense.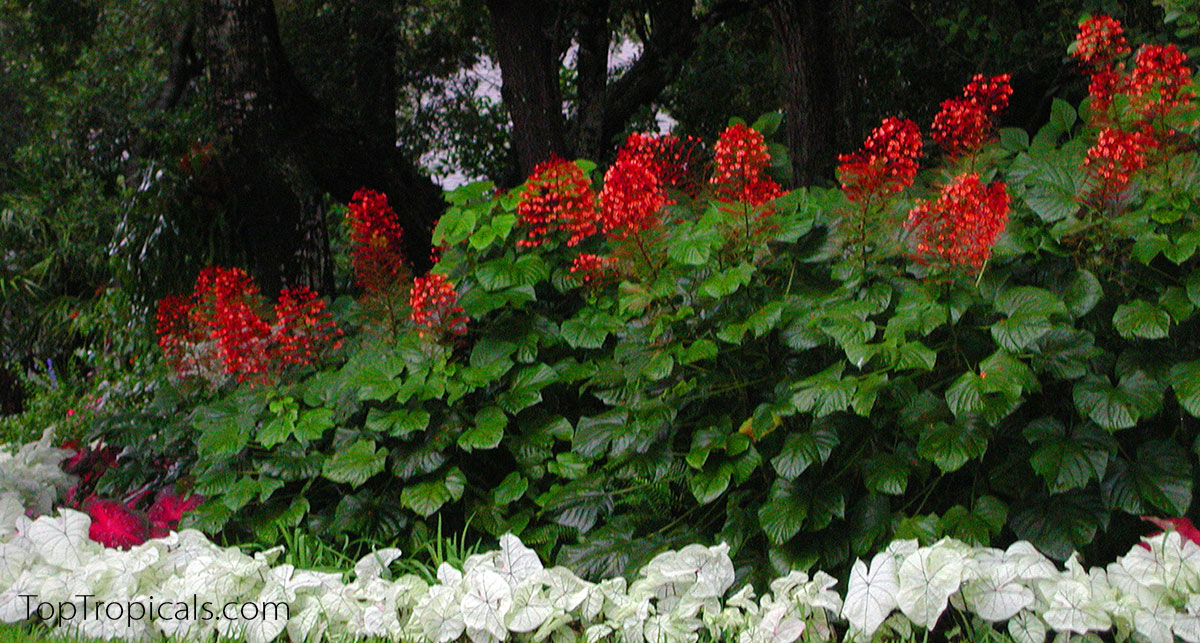 Clerodendrum paniculatum - Pagoda Flower. Happy in the sun or shade, easy plant. Loves water.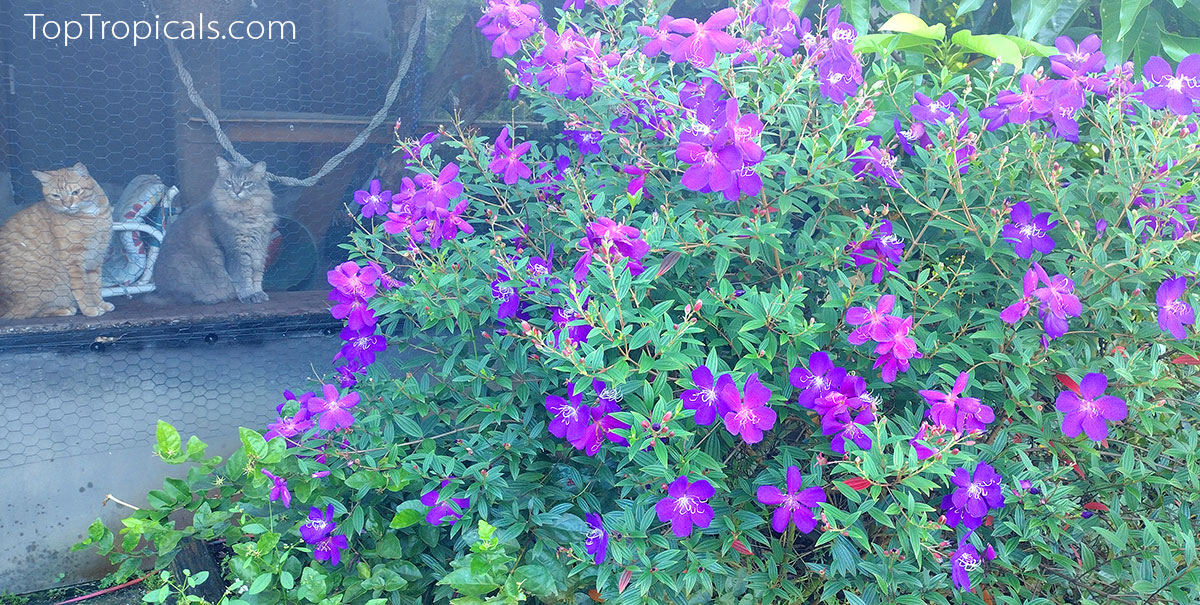 Tibouchina lepidota - Ecuador Princess, Jules Dwarf.
Sun or shade, blooms on and off throughout the year. Beautiful Purple Princess!