Date: 13 Aug 2019, Entry id: 1565685962-1
Caring of Soursop in container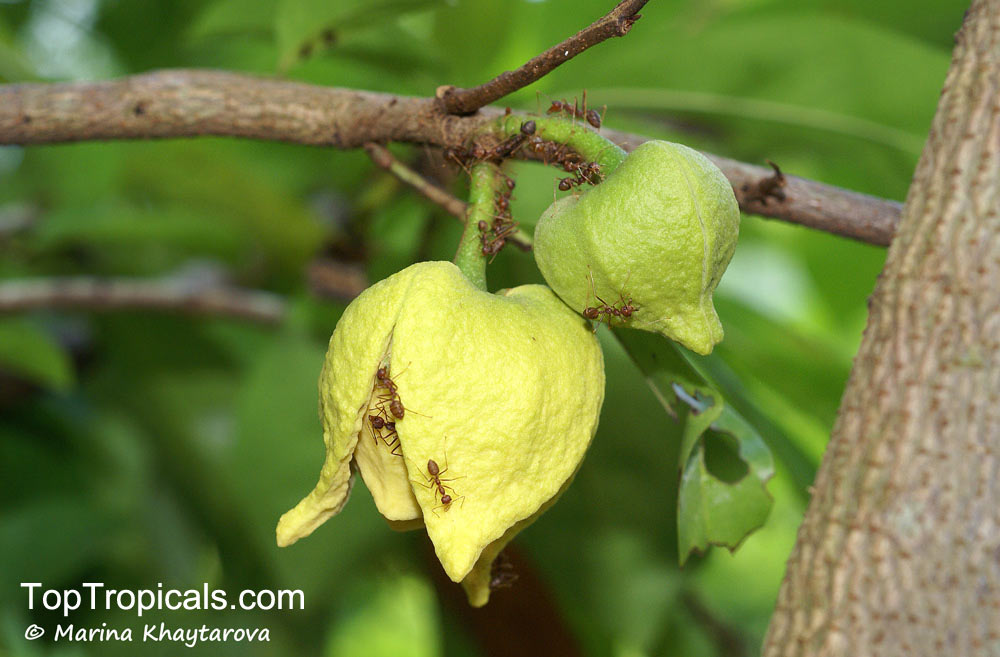 Q: I have ordered dozens of trees from you and have a question about Soursop. I have a Soursop in a container and ants and aphids are under new leaves. Do Soursop like little water? I water almost everyday living in southern Los Angeles it's been around 76-80F. I spray the aphids and ants off with a mist setting on my hose. They come back every day. They're only on new leaves...
A: First of all, you don't have to remove the ants iŠ° they don't bother you. Ants are good insects, they do not harm plants; most likely they are attracted by a sweet sap - aphid by-product. Ants clean up a plant, and they may even take care of some bad insects.
It is not difficult to get rid of aphids. Use a safe treatment: in a small spray bottle, mix 1 cup of warm water, 1 teaspoon of dish soap and 2 tablespoons of any cooking oil (if you have Neem oil or Horticultural oil - even better, but prepare, they are pretty stinky). Spray the leaves with this solution to a dripping point. Repeat in a few days if needed. This simple remedy will take care of the aphids.
Daily water may be ok for the plant during hot weather, as long as the soil is not constantly moist. Let the surface of the soil get a little dry between waterings.
Recommended fertilizers for fruit trees:
Fruit Festival Plant Food - Super Crop Booster
Mango-Food - Smart Release Fruit Tree Booster
SUNSHINE-Honey - for sweeter fruit
SUNSHINE SuperFood - microelement supplement