Date: 25 Jun 2019, Entry id: 1561468562-2
True love of Night Blooming Jasmine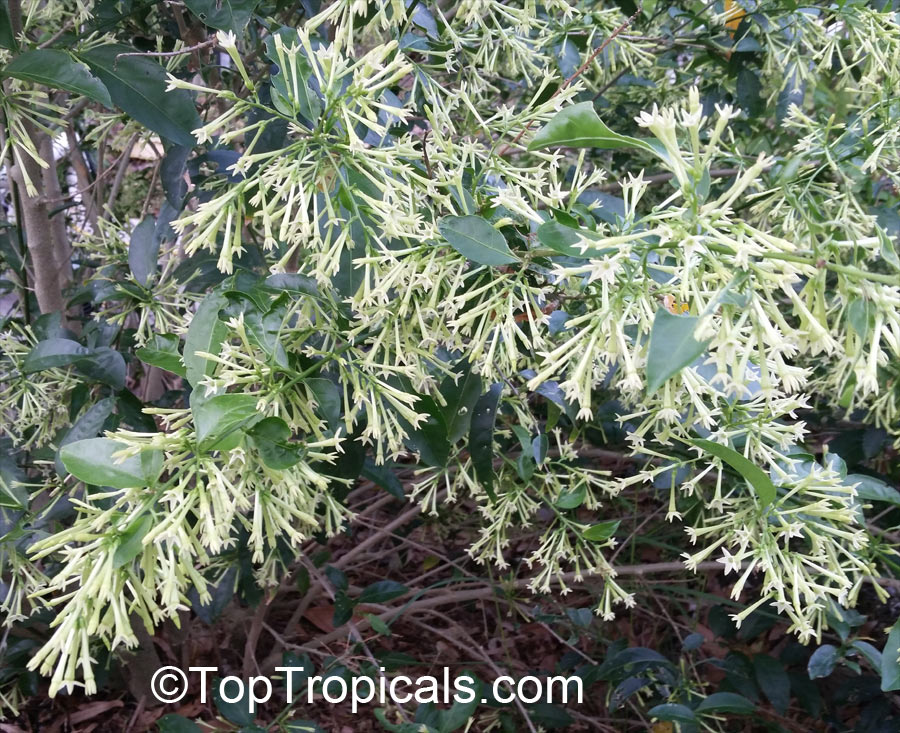 By Onika Amell, tropical plant specialist
Q: I live in New Cumberland, West Virginia. I love the smell of Night-Blooming jasmine. Is it possible to grow it in the northern panhandle of West Virginia? Do I have to plant it every year or do I keep it in a pot and take it inside during the winter months?
A: Technically, Night Blooming Jasmine is not a true jasmine (those plants belong to Oleaceae, or Olive family). Night Blooming Jasmine belongs to the Solanaceae family, also known as the Nightshade or "Potato" family of plants. Yes, this sweet fragrant flower called Jasmine for its perfume is related to potatoes and tomatoes!
Night Blooming Jasmine - Cestrum nocturnum - is loved by many gardeners for its beautiful fragrance at night. It is one of the most fragrant tropical evergreen shrubs available. Cascading clusters of tiny, tubular pale yellow to white flowers open at night and release a heavenly fragrance throughout the garden, especially on warm summer evenings. The fragrance is much lighter during the day. Night Blooming Jasmine is grown year-round in zones 9-11. It is at its happiest in a sunny to a partially sunny spot in your garden in well-drained soil but can be grown in cooler climates as a container or greenhouse plant.
You would absolutely be able to enjoy this plant during the warm months in West Virginia, but it will most certainly not survive outside during the winter. You will have to bring it inside. Take it outside again only once you are confident there is no more possibility of frost. When grown indoors, be sure to give it the sunniest, South facing window in your home. When grown in a container, you will need to re-pot it every two to three years so it doesn't become root-bound.
For those who are lucky to live in frost-free areas, in ideal growing conditions outside, it can easily reach 8 feet with a spread of 5 feet. It has a lovely informal look that can soften a more manicured garden. Add organic matter to the planting hole when you plant to enrich the soil around the root ball. Water well in the summer, but allow them to dry out a bit between watering in the winter. Plant this Jasmine near pools, porches, doors, windows, and walkways where its lovely fragrance can be enjoyed. The shrub is also an excellent plant for privacy hedges and screens. When grown as a hedge, plant 3 feet apart.
Trim lightly after a bloom cycle to shape and then do a hard pruning in fall or spring to control the size of this plant. Fertilize 3 times a year - in spring, summer, and autumn - with a good quality granular fertilizer.
Recommended fertilizers:
Pink N Good Daily Plant Food - Flower Booster
Tropical Allure - Smart-Release Booster
Interesting facts:
Night-blooming jasmine is an excellent mosquito repellent. The powerful scent of the flowers attracts moths and bats that feed on mosquitoes and other small insects.
The flowers of the Night Blooming jasmine are widely used in India and other countries of South Asia for perfumery, medicinal applications and in religious ceremonies.