Date: 21 Jun 2019, Entry id: 1561095062-2
The Flower of Gold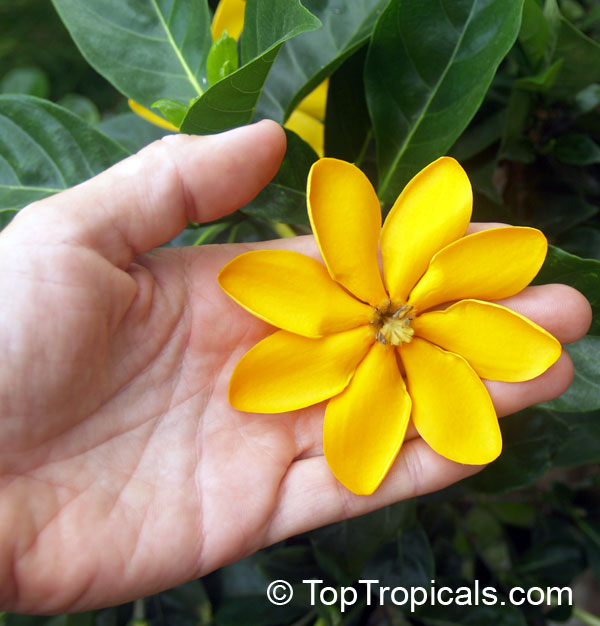 By Onika Amell, tropical plant specialist
Q: I am concentrating on adding more fragrance to my garden. I've had great success growing gardenias and I have many different varieties, but their flowers are all white, and I would like to add some colors to my garden too. Are there any gardenias available in different colors? I live in Waipio Acres, Hawaii.
A: Meet the very rare and highly fragrant, tropical Gardenia tubifera Kula or Golden gardenia. Kula flowers change color as they mature, which is a unique feature! Kula flowers start out as cream, then change to yellow and finally to a beautiful gold. In addition to the spectacular flowers, this gardenia also has beautiful, leathery, deep green foliage.
This is a slow-growing and compact plant. Like all the other members in the Gardenia family, the Golden gardenia will do best in an acidic, well-drained, and fertile soil. It will appreciate a good deal of direct sunlight but will be very happy if provided with midday and afternoon shade. As with with gardenias, the more sunlight the more flowers.
It will eventually grow into a rounded shrub if left unpruned, but also can be trained into a small tree, maintainable to a height of under 7-8 feet. Blooms will appear from spring onward. Prune after flowering, this will encourage more flowers in a few months.
Gardeners living in colder areas, do not fret. Gardenias make perfect container plants and can be grown indoors in colder climates. Just be sure to provide high light when bringing them indoors.
The fragrance and changing colors of a Gardenia Kula is unforgettable. They are most fragrant near sunset and during early evening hours. Plant them near walks and patios where their lovely fragrance can be enjoyed.
This rare tropical Gardenia is sure to be a conversation piece in any garden. Great collector's plant!
Recommended fertilizers:
Pink N Good Daily Plant Food - Flower Booster
Tropical Allure - Smart-Release Booster