Date: 13 Jun 2019, Entry id: 1560414962-1
How to get Strophanthus tree to bloom?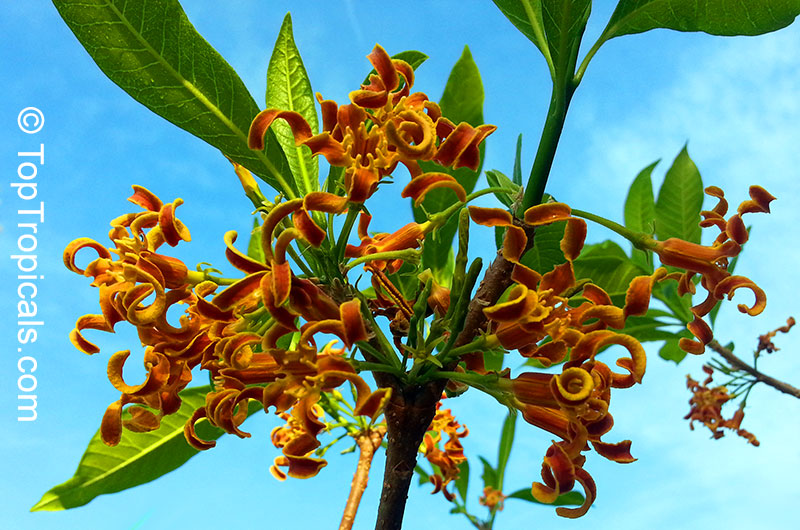 Q: I purchased from you three of these plants - Strophanthus bovinii and I wonder if you could help me. The plants are out of control growing large limbs to the sides and I would like it to grow more upright. Is this possible? Second, it does not flower. What type of fertilizer should I use and how often? How about the watering schedule? I have them in an eastern exposure but possibly they are not getting enough sun? Right in front of them, there is a large tree outside the curb of my house. What should I do about that?
A: Strophanthus bovinii - Wood shaving flower, is quite a unique plant that is very rare in cultivation, this is why very little information is available on its cultivation due to limited experience among gardeners. We have had this plant in our garden for over 12 years and this is what we can advise.
In the nature (Madagascar) it supposedly grows into a large tree, however, from our experience, it tends to be rather bushy, umbrella-like large shrub. Yes, you can train it into a tree by trimming branches growing side-wise, and by removing lower branches. The best time for pruning is early spring when the tree starts new growth and re-leafs (it is semi-deciduous). As far as flowering, the plant is very particular about blooming season, with profuse flowering in Summer (here in SW Florida), however it may produce more flowers sporadically throughout the year.
It thrives in full sun but will tolerate bright filtered light. If a large tree is shading it too much, try to trim some limbs of that large tree to allow more light. Water needs of Strophanthus bovinii are very moderate, so you can rely on your sprinkler system or water once a week for established plants.
You should use 2 types of fertilizers - slow release (once a month) and water-soluble bloom booster (frequent applications are safe):
Pink N Good Daily Plant Food - Flower Booster
Tropical Allure - Smart-Release Booster