Date: 4 Jun 2019, Entry id: 1559643062-2
Pretty in Pink... and Purple Prince for her!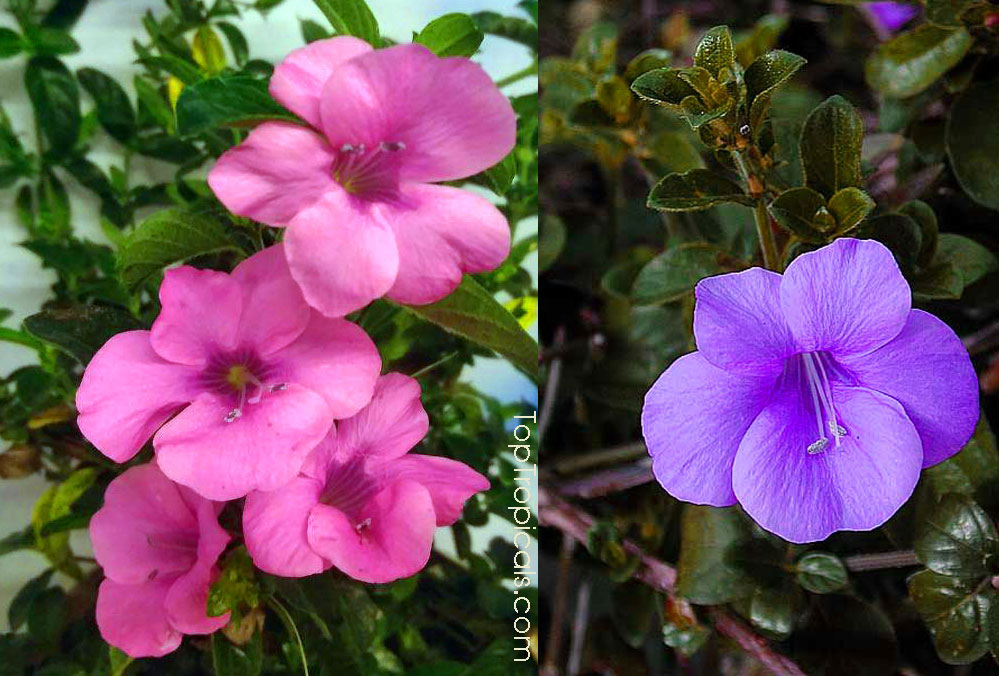 By Onika Amell, tropical plant specialist
Q: I have a bare spot in my front garden, behind a low wall, in part-sun. I'm hoping to find an evergreen, flowering ground cover that will cover it quickly. Any ideas on finding something with the ability to eventually also cascade over that wall? I live on Marco Island, Florida.
A: Barleria Repens - Small Bush Violet, is a tough, fast-growing evergreen that blooms from late spring to autumn. Of the many Barleria we see in the tropics, Pretty in Pink is one of the most striking! The name tells the whole story: pretty and pink. A lot of gardeners enjoy using them as a ground cover. They will quickly cover a large area - their stems root readily as the plant crawls along. They are easily propagated by lifting the rooted runners or using cuttings. They also reseed easily. Flowers are followed by seed pots that explode open when dry, dispersing 4 seeds at a time! But perhaps best liked by many gardeners, is their habit to cascade. It will be well suited for covering the bare area in your garden and spilling over that wall beautifully.
When used as a ground cover, remember to pinch out young shoots to encourage bushiness and prune the plant back hard after flowering to keep it neat.
Barleria repens will also adapt to different situations in a garden if you need them to. Although they usually form a rounded to spreading bushy shrub, 2 ft high by 3 ft wide, they will climb when you give them support. They are often allowed to lean into nearby trees and shrubs.
Hardy to 28F, Barleria repens is pest-free and fairly frost-tolerant. They love sun and part shade, as well as well-drained soil and plenty of organic material. Avoid planting it in deep shade as it will get leggy and reluctant to flower.
They will thrive when fed with a slow release fertilizer at intervals of 6-8 weeks, throughout the growing season.
There is another cultivar of this exact variety that has blue-purple flowers, it is called Purple Prince! It couples perfectly with Pretty in Pink! :)
See all Barlerias from our store
Recommended fertilizers:
Pink N Good Daily Plant Food Flower Booster
Tropical Allure Smart-Release Booster