Forget the gym and get to gardening?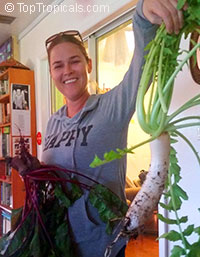 Fun workout? We never have enough time to go to the gym or do an exercise so it's good to know that just doing something that you love can give you a workout. We all know that when we are out in the garden it gives us a bit of exercise but we do not realize how much exactly. Research says that three hours of gardening can have the same effect as an intense 1-hour gym session. The study was carried out with a group of 100 gardeners who were asked to monitor the amount of time spent doing a series of common gardening tasks over a four week period. Gardening tasks that were monitored included weeding, digging, mowing the lawn, hedge trimming, trimming shrubs and trees, raking, planting shrubs, and moving garden waste using a wheel barrow. Here are some facts and numbers:
- Just doing half an hour weeding can burn up to 150 calories and tasks that handle heavy electrical equipment such as hedge trimming will give you a good workout burning 400 calories per hour.
- Spending a day or five hours each week in the garden will burn up to around 700 calories
- Over a gardening season that works out at 20,000 calories per year, equivalent to running seven marathons
- The gardening hobby could help burn a million calories over a lifetime.
Calories burned with only 1 hour of:
340 cal - Chopping wood, splitting logs, gardening with heavy power tools, tilling a garden, chain saw. Mowing lawn, walk, hand mower. Shoveling by hand.
272 cal - Carrying, loading or stacking wood, loading/unloading or carrying lumber, digging, spading, filling garden, composting, laying crushed rock or sod. Clearing land, hauling branches, wheelbarrow chores.
238 cal - Operating blower, walking. Planting seedlings, shrubs, trees, trimming shrubs or trees, manual cutter. Weeding, cultivating garden.
224 cal - Raking lawn, sacking grass and leaves
136 cal - Picking fruit off trees, picking up yard, picking flowers or vegetables. Walking, gathering gardening tools.
102 cal - Walking, applying fertilizer or seeding a lawn
34 cal - Watering lawn or garden, standing or walking

Radio Top Tropicals Live Webcast upcoming event: Saturday May 20, at 11 am EST.
Topic: Come Ride My Peninsula! Discusses the REAL Florida. Our plants, the Everglades, how all of the wonderful plants Top Tropicals has to offer are grown in South Florida. Our Host Robert Riefer - Internationally Certified Crop Adviser and Weed Scientist - answering all your gardening questions.
Listen to Radio Top Tropicals, every Saturday, at 11 am EST! You may use our website radio player DURING AIR TIME. To ask questions using live chat, you need to log in at Mixlr.com or simply call our office 239-887-3323 during air time!
If you missed a live webcast, you may listen to recording by following Showreel item link.
Check out our upcoming radio shows and get your gardening questions ready!