Date: 24 Jun 2018, Entry id: 1529839765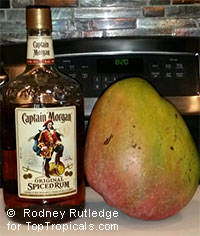 We can ID plants for you! Even Mango Elephant...
Q: I had a mango tree, the fruit was very large and no one knew the name of it. Can you please tell me the name of it or something about it? I have never seen this variety before. It weighed in at 7 lbs, it smells a little like bubble gum, its flesh is fiberless and the taste is watery with a little sweet. And do you have it for sale? I don't have the tree anymore. My pictures are about a year or two old, lighting struck the tree and it died so I have been trying ever since then to find another tree but I don't know what kind it is. I originally bought the tree on side of the road cause I always wanted a mango tree so I didn't care at the time what kind it was so I bought it but I was shocked at how big the mango was. However I collected rotten mangoes off the ground and planted the seeds. Only one germinated.
A: This mango is called Elephant. We will try to find this grafted variety and let you know when we have it. Unfortunately seedlings take many years to fruit (8-15 for mango) and usually do not come trues to seed.
The closest variety by fruit size is Lancetilla, it is a giant 5 lb fruit, of a very good quality. And the best tasting and the most popular - Nam Doc Mai!

Remember at Top Tropicals, we can help you to identify plants for you! Just send us a picture. Close up of leaves and/or flowers/fruit will be always helpful. Top Tropicals plant experts are always here to help!