Date: 24 Jun 2018, Entry id: 1529838060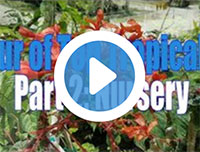 Tour of Top Tropicals - Part 2 - Nursery
Visit Top Tropicals nursery and see spectacular flowering plants and tropical fruit trees in pots that we ship to you.
This is the second video of a 3-part story about Top Tropicals. The First Part showed some of our garden specials.
Make sure to get back soon to see -
Part 3: Meet customer service team and shipping department crew...
Stay updated with TopTropicals Videos by subscribing to our channel at YouTube.com/TopTropicals and get our latest video news of what is fruiting and blooming!