Date: 28 Sep 2016, Entry id: 1475070302
Helping plants to survive winter:
SUNSHINE BOOSTERS - FROM SUNSHINE STATE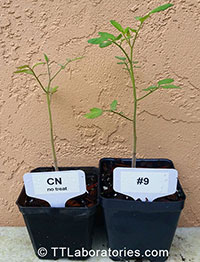 A magic plant hormone so wanted by gardeners, is finally here! When people purchase plants and trees either on-line, or from their local nursery, expectation and anticipation for their new find is high. Many times, however, disappointment is encountered due to a variety of reasons. These reasons include changes in light, temperature, water, soil conditions and transportation; just to name a few. So how can the stress on newly transported and transplanted plants be mitigated? Easy! There are plant stimulators able to reduce the shock encountered.

One such plant stimulator, produced at TT Laboratories is SUNSHINE, a revolutionary, broad spectrum, plant stress reliever. Extracted initially from plant pollen, SUNSHINE can bring back and keep the vigor to stressed plants in both the home and garden. Sunshine is indeed a plant stimulator on the cutting edge of plant care technology. Reasonably priced, and easy to use, SUNSHINE will be your plants' best friend, next to yourself, of course.

SUNSHINE will help your plants:
- recover from stress
- dramatically increase growth rate
- get profuse flowering and fruiting
- improve disease resistance, cold hardiness, and heat resistance
- promote seed germination and root cuttings easily

Great for indoor plants and improving cold tolerance!

Line of products:
SUNSHINE-E - general plant booster, growth stimulator and immune booster
SUNSHINE-BC - Bonsai and Caudex developer
SUNSHINE-S - seeds and cuttings pre-treatment
SUNSHINE-T - Thermo-protection for overwintering tropical plants
SUNSHINE-Micro - ultimate micro-element mix from TT Laboratories

On the photo: Tomato seedlings, with and without Sunshine-E treatment; 1 week after treatment, 09-01-2016. Continue reading...