Date: 24 Aug 2016, Entry id: 1472037002
More useful information on Grow Lights!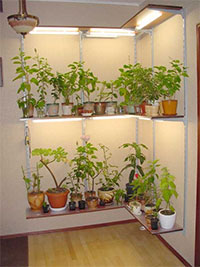 By Michael Aiton, FL: When I was taking classes at Palm Beach State College for my AA degree in Horticulture, what we used in the lab for 'grow lights' was a combination of incandescent and florescent lights to get the full spectrum of red/blue/green light. I saw it as a tried and true method, and cheaper than going out and buying 'grow lights', although they are making incandescent lights harder and harder to get anymore...

Fluorescent lights are by far the most economical and easy choice for houseplants. They come in tubes or compact bulbs (CFL) that screw into regular lamp sockets, and they're cool enough to put close to plant foliage. Generic fluorescent tubes and bulbs are higher in blue wavelengths, so look for "full-spectrum" or include a mix of "cool" and "warm" bulbs. When in doubt, buy "cool white" products, since white light contains the full spectrum of wavelengths. For maximum effect, position fluorescents about a foot away from plant foliage.

Incandescent lights give off a lot of heat and should be placed farther away from plant foliage. Incandescent bulbs give off more red wavelengths, so they can be used to supplement fluorescent light and balance out the spectrum, especially if you're trying to encourage plants to bloom. If you want to mix the two, try using a ratio of about one-third incandescent and two-thirds fluorescent by wattage.