Date: 12 Aug 2016, Entry id: 1470981002
Grow lights overview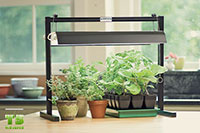 By Benjamin Thorton. If you are an avid gardener living in a place where there are distinct seasons, then you probably know the feeling of dread that sets in when summer ends, because that means that soon you will have to harvest what has grown and put gardening on hold until next spring. However, there is a way how you can continue gardening even when it is cold and snowy outside, and that is to use grow lights to create an indoors garden. So if you want to find out more about what are grow lights and how to use them, then keep on reading...

For more information on grow lights, visit T5fixtures.com, a website that provides all the latest information on indoors gardening and lighting, that you can use to facilitate plant growth. Have this information as a guide to growing healthy, big-yielding plants without having to leave your house.

This week only, 20% OFF on all plants well suitable for indoor culture. Most tropical plants can be grown in containers and many of them indoors, but this selection is the best for beginners, check them out!