TopTropicals news, sales and updates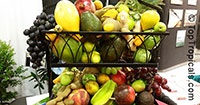 Extended sale 15% off on all fruit trees! Take advantage of our "Spring is coming!" fruit tree sale extension 15% off on all fruit trees and spices, including mango new exclusive varieties. No minimum order required. Hurry up, sale extension ends on Saturday, Feb 25.

Radio Top Tropicals Live Webcast upcoming event: Saturday February 25, at 11 am EST.
Topic: GROW YOUR OWN! DUDE!
1) Herbs, both annual and perennial.
2) Fruit trees.
3) Foods once thought to be only ornamental.
Our Host Robert Riefer - Internationally Certified Crop Adviser - answering all your questions.

Listen to Radio Top Tropicals, every Saturday, at 11 am EST! You may use our website radio player DURING AIR TIME and see the pictures of plants we are talking about. To ask questions using live chat, you need to log in at Mixlr.com or simply call our office 239-887-3323 during air time!
If you missed a live webcast, you may listen to recording by following Showreel item link.

Check out our upcoming radio shows and get your gardening questions ready!
Pisces Zodiac lucky plants

Pisces- 2/19 - 3/20. As a WATER sign ruled by both Jupiter and Moon (and Neptune, that was not discovered until 1846, after the plant correspondences were established; Neptune is considered a "higher octave" of the Moon), Pisces plants are often large but hard to find, and may grow near the ocean. The most healing plants for Pisces are those that strengthen the immune system or have an antibacterial effect. Pisces plants may also catalyze expanded states of awareness and be helpful in dream work.
Herbs connected to Pisces are ruled by its former ruler, the Moon (Neptune, the current ruler, was not discovered until 1846, after the plant correspondences were established; Neptune is considered a "higher octave" of the Moon). Diseases of Pisces have traditionally included psychotic disorders, various forms of substance addiction, lung diseases such as tuberculosis, and ailments of the foot; contemporary herbalists also add immune system diseases. Pisces is strengthened by rosemary's ability to promote an aura of centered grounding. This protective herb helps strengthen boundaries and cultivate a closer connection to the physical realm.
Pisces Zodiac lucky plants: Water lily, Lotus, Clematis, Wisteria, Lisianthus, Brunfelsia, Echinacea, English Lavender, Rosemary, Coconut palm, Cranberry, Clove, Coccoloba, Sea Oats, Mangroves, Ochrosia, Aquatic plants, Colocasia, Alocasia, Aralia, Ficus trees, Banyan, Peepal, Banana, Mango, Mimosa, Olive, Anise, Vilca and Yopo, Kava-kava, Nutmeg, Anthuriums, Eucalyptus, Bauhinia, Clusia, Caesalpinia, Callistemon, Bucida, Cassia fistula, Cordia, Calabash, Lipstick palm , Delonix, Elaeocarpus, Erythrina, Fatsia, Guaiacum, Mahoe, Koelreuteria, Kopsia, Macaranga, Pandanus, Peltophorum, Psychotria,Banesteriopsis, Tabebuia.
For links to these plants and other signs information, see
full Plant Horoscope
.