Date: 20 Feb 2017, Entry id: 1487571905
Flowering plant for a front yard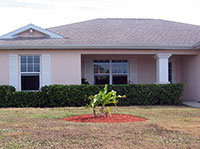 Q: I need your expertise. I had a plant in the front of my house that when I moved in (two years ago) wasn't doing well. It was infested with grasshoppers and snails. I treated it with a pesticide and fertilizer and it flourished. Had beautiful flowerings and was almost the size of the mulch area. Then the property management company hired some terrible grass cutters that I believed destroyed it. I would come home and find the red mulch and leaves from the plant all over the front lawn. And since then it has gone down hill. I am attaching a picture. As of now the larger of the remaining two trunks (out of six that were there) is falling over and it doesn't seem to be doing well. So I was wondering if you can recommend a nice plant that I can replace this one with. Nothing extravagant but nice enough to fill in that area. Also since I only lease here don't want to get to pricey either. Thanks for any advice and plants you have.
A: The plant you have is called Spider Lily. It is one of the easiest landscape plants that doesn't require much care and is great for low maintenance yards. In your case, besides possible damage from the grass cutter, looks like the plant is very old judging by the thick woody stem. It is not a bad idea to replace it with something more pretty rather than trying to baby it. Other suggestions for this location would be something easy and low maintenance, especially if you don't have reliable sprinkler system in that area of your yard and don't want to spend time hand-watering with a house:
Sweet mimosa - grows into very large bush, Pony tail, Dwarf poinciana, Powderpuff, Clusia, Devils backbone (smaller bush 3 ft tall), Cordyline, Ti leaf - these are very colorful.
There are more low maintenance plants you can chose from.
And always remember that traditional "landscapers" that only mow grass, may not be experts on plants. You may always call TopTropicals Garden Doctor and get professional help with keeping your plants healthy. We are always here to help your garden!
Presidents Day Sale. Remember to use discount codes of Presidents Day sale, only one day left!

PRESIDENT15 - 15% off for orders over $100
PRESIDENT20 - 20% off for orders over $150
PRESIDENT25 - 25% off for orders over $200
Not ready to spend over $100? That's okay, just enter the code TENOFF and save 10% just for being a subscriber to our newsletter!
S&H excluded. Offer is valid through end of Monday, February 20. Discounts can't be applied to previous purchases.