Date: 17 Feb 2017, Entry id: 1487340002
Our sales, news and updates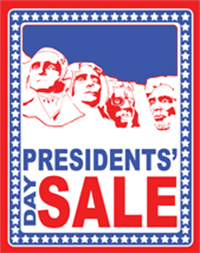 Presidents Day Sale Use these discount codes for Presidents Day sale:

PRESIDENT15 - 15% off for orders over $100
PRESIDENT20 - 20% off for orders over $150
PRESIDENT25 - 25% off for orders over $200
Not ready to spend over $100? That's okay, just enter the code TENOFF and save 10% just for being a subscriber to our newsletter!
S&H excluded. Offer is valid through end of Monday, February 20. Discounts can't be applied to previous purchases.

Radio Top Tropicals Live Webcast upcoming event: Saturday February 18, at 11 am EST.
Topic: WEED OR WONDER PLANT?
We will explore plants considered invasive species, or weeds, here in Florida, and reveal interesting and not-so-well-known facts about them.
1) Schinus terebinthifolius - Brazilian Pepper, or Florida Holly. This species is essential for migratory birds, bears, and other critters. Berries are used in China for medicine. Used as a spice in Italy, as well as here in the US.
2) Phyllanthus amarus - Seed on the leaf. A scourge of nurseries, it may yet lead to the cure of Hepatitis B & C.
3) Melaleuca leucophylla - Punk tree, Paper tree. One of the finest trees for raising of epiphytes. Tiger Balm brand ointment is made from these trees. An excellent timber source as well.
Our Host Robert Riefer - Florida State Certified Crop Adviser, and Weed Specialist - answering all your gardening questions.

Listen to Radio Top Tropicals, every Saturday, at 11 am EST! You may use our website radio player DURING AIR TIME and see the pictures of plants we are talking about. To ask questions using live chat, you need to log in at Mixlr.com or simply call our office 239-887-3323 during air time!
If you missed a live webcast, you may listen to recording by following Showreel item link.

Check out our upcoming radio shows and get your gardening questions ready!
New Article: Aphrodisiacs of the plant world.
Last Saturday, the topic of our Webcast was Plants of Love - Aphrodisiacs (click to listen to recording).
Today, we are introducing an article by Kristi, our Meet the Gardener host - Aphrodisiacs of the plant world.