Date: 13 Feb 2017, Entry id: 1486988104
New Video. Radio Top Tropicals.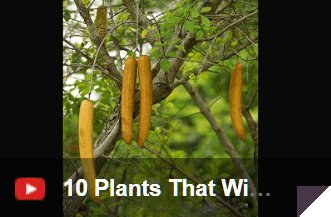 New Video: 10 plants that will make you happy, Plant #2 - Candle Tree.
We continue your series about Ten Plants That Will Make You Happy. Today's story is about Candle Tree... one of the most fascinating ornamental and fruit trees in cultivation. This unusual plant will be a conversation piece of your plant collection. Happy candles will help you to cope with a cold and will definitely make you happy.
Visit our Facebook, YouTube Channel and stay happy!
Check out this video: 10 plants that will make you happy. Plant #2 - Candle Tree.
Stay updated with TopTropicals Videos by subscribing to our channel at YouTube.com/TopTropicals and get our latest video news of what's fruiting and blooming!

Radio Top Tropicals - every Saturday 11 am! Introducing Radio Top Tropicals. Our first live webcast last Saturday was a success.
The topic was Plants of Love - Aphrodisiacs.

The webcast followed our Valentine's Day local sale.
We are extending this sale for 2 days, from local customers, to those who live in other states. Hurry up and take advantage of this generous 25% off on Plants of Love - Aphrodisiacs! Sale ends end of Valentines day, Tuesday, February 14.
Our next air time: Saturday February 18, at 11 am.
Topic: WEED OR WONDER PLANT?
We will explore plants considered invasive species, or weeds, here in Florida, and reveal interesting and not-so-well-known facts about them. Our Host Robert Riefer - State Certified Crop Adviser, and Weed Specialist - answering all your gardening questions.

Listen to Radio Top Tropicals, every Saturday, at 11 am! You may use our website radio player DURING AIR TIME and see the pictures of plants we are talking about. To ask questions using live chat, you need to log in at Mixlr.com or simply call our office 239-689-5745 during air time!

Check out our upcoming radio shows and get your gardening questions ready!