Date: 4 Feb 2017, Entry id: 1486217702
Groundhog Day Feb 2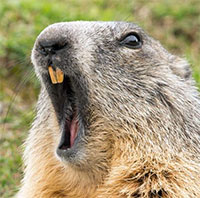 On Groundhog Day Feb 2: Groundhog Punxsutawney Phil saw his shadow on Thursday morning, predicting six more weeks of winter during Groundhog Day festivities at Gobbler's Knob, a small hill just outside Phil's hometown.
According to folklore, if it is cloudy when a groundhog emerges from its burrow on this day, then the spring season will come soon; if it is sunny, the groundhog will supposedly see its shadow and retreat back into its den, and winter weather will persist for six more weeks.
Phil promised long winter, however, we should not cry in despair but starting to get ready for Spring!
Spring Check List:
- Make sure min temperatures are above 45F before you start bringing potted plants outside.
- When active new growth appears from buds, after-winter pruning can be done.
- You may start weekly fertilizing as soon as night temperatures raise above 55F.
- Start planting in the ground as soon as there are no more chances of frost, until then keep newly arrived plants in pots so they get better established.
- Low chill cold hardy fruit trees including Peaches, Nectarines, Plums, Apples, Mulberry, Loquats go in the ground first, so you can enjoy their blooms and early fruit set. Plant Pomegranates, blueberries and cranberries, raspberries and blackberries, grapes.
- Water as needed, still keeping on dry side until afternoons get hot and plants start using more water.
- Start seeds indoors. The sooner the better, to give seedlings more time to establish before planting out in the ground.
Overwintering Magnolia (Michelia)
Michelia alba Question: I have a question about Michelia alba. My Michelia alba leaves turning yellow and losing leaves. When I brought it inside for the winter, after the leaves falling off new one grow back not all of them grow back and now the new the branches start to die. I water once a week.
A: Whenever moving a plant in or out of the home it is always best to do it gradually. Moving a plant all in one day will cause stress to the plant due to environmental changes such as, new humidity levels, new light levels and new watering requirements. Michelias usually loose their leaves once in the spring and once before winter but grow them back right away. Now that your plant is inside with less humidity, light and leaves, you only need to water once the soil as almost dried out. You will need to stick your finger in the soil to see if it is still wet as the top layer dries before the under layer. If the branches are starting to die at the tips this usually means too much water. Move the plant to a bright light window, decrease water and you may want to also use a humidifier.