Date: 31 Jan 2017, Entry id: 1485864604
Plants of Love. TopTropicals Webinars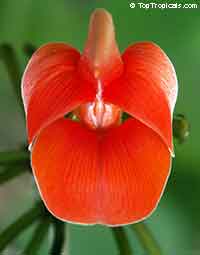 Plants of Love - Valentines Day Sale. For Valentines day, look beyond roses for a plant that will last a lifetime! It is not a surprise that the most popular plants that has been ordered from TopTropicals for Valentines day for the past 3 years, are: Vanilla, Chocolate, Grape, Strawberry tree, Rose apple - all things you get for your Valentines!

This year we are celebrating Valentines day with our special local event - "Aphrodisiacs, or Plants of Love".

When: Saturday, February 11, 2017, from 10 am to 2 pm
Where: Toptropicals Garden Center, 13890 Orange River Blvd, Ft Myers, FL 33905
Agenda:
10:00 am - Explore the grounds: Customers can come in to look through the nursery and guided tours through gardens.
12:00 pm - Aphrodisiac plants. Class on plants used for aphrodisiacs throughout history.
1:00 pm - Plant giveaway. Must be present to win one of the aphrodisiac plants in lecture.
2:00 pm - sale ends.
Special Love Discounts for local visitors! Snacks and drinks.

Just a few examples of the most famous plants of love that we will be talking about -
Coffea arabica - in East Africa and Arabia it was a sacred beverage to African sufis. For aphrodisiac results mix in cardamom and honey.
Banisteriopsis caapi, Ayahuasca - giant liana from tropical Amazon forests psychedelic, ritual inebriant that promotes potency. Drink is made from the bark and is taken in love rituals to revive the mythical past of the tribe.
Areca catechu, Betel Nut - seeds have stimulating effect on the entire body and eros. It's a traditional aphrodosiac in Ayurvedic medicine and is counted among the eight types of pleasure in the Brahmanic tradition. It has magical and religious properties and used as an offering to the Gods.
Theobroma cacao, Chocolate - mild stimulant, beans contain aphrodisiac. Antient Indian "recipe of chocolati" will be shared at the event! Cocoa was considered the "food of gods".
Cinnamon - in Southern Asia used as stimulant, in food or massage oil for erotic stimulation.
Cola nitida, Cola nut - used in love magic, was used as currency in W Africa.
Cananga odorata, Ylang-Ylang - increases eroticism with oil inhaled. Prescribed to treat impotency and frigidity.
Butea monosperma, Flame of The Forest - is traditionally used to manage male sexual disorders.
Mimosa pudica, Sensitive Plant - significantly increases the libido and hormonal levels of testosterone.
Satureja Viminea, Kama Sutra Mint Tree - used for love gel...
- and much more!
TopTropicals Webinars. Welcome to Top Tropicals Webinar! Discover the world of Rare Plants and surround yourself with a Tropical Paradise! Our plant experts will be answering your garden questions. Our next LIVE air time is just before Valentines Day - Saturday February 11, at 2 pm ET, with a topic of... of course, Aphrodisiac Plants! Get your questions ready!