Date: 13 Jan 2017, Entry id: 1484319902
January kaleidoscope: Top Tropicals plants... and cats
Plants in Winter

Q: My plants Mango and Sapodilla (I got from Top Tropicals) got cold frost recently up to the roots recently in a cold wave in NJ. The leaves are dry. The plant was kept in a green house. But the heater was off for a night. During that time the in the pot got frozen. Will the plants survive? Will they come back during spring?
A: Unfortunately, the chances are slim. It is hard to determine now if they will survive. Those plants can take a very short cold. They might survive when the root system was not frozen solid. To ensure your plants cold protection in the future, this is what we recommend:
1) Use temperature alarm. Nowadays they're very cheap, they can send a message to your email or cell phone.
3) Heaters like any other piece of machinery may fail. Redundancy is the keyword. Instead of one large heater use two of smaller capacity. If one fails, then second one will prevent catastrophic failure
4) Insulation. Extra layer of insulation helps greatly.
5) If you leave for vacation, then plan ahead. Have somebody to watch over your greenhouse. Move plants or at least the most sensitive ones inside of your house if possible.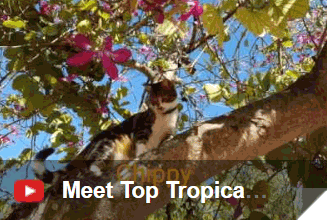 Meet Top Tropicals Team. Part 1 - PeopleCats! Did you know that here at Top Tropicals we care not only about plants, but also animals? Most of our PeopleCats and PeopleDogs either came to us from nowhere in hope of survival, or have been rescued. TopTropicals is proud to support all of our People. A portion of every dollar you spend on a plant purchase goes to our Cat Community maintenance, food and other needs of these Little People. We will keep you updated with more pictures and videos on our PeopleCats (that also includes one dog Bob). They all are members of our Team, helping us to grow plants for you, pack them and send to you from our Shipping Department. Visit our Facebook, YouTube Channel and LIKE all of our People!
Check out this video: Top Tropicals PeopleCats
Stay updated with TopTropicals Videos by subscribing to our channel at YouTube.com/TopTropicals and get our latest video news of what's fruiting and blooming!