Date: 10 Jan 2017, Entry id: 1484057104
New Video: Coffee plant
Top Tropicals Showcase: Coffee plant.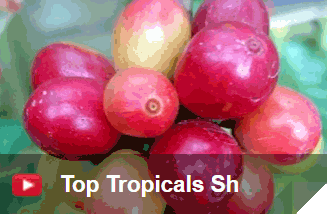 Check out this video: Top Tropicals Showcase: Coffee plant
Most people drink coffee every day but not all of them realize where this delicious drink comes from. It comes from a Coffee tree!
Coffee is the best gift plant and perfect container fruit tree. It grows into a beautiful dark green shrub or small tree. Coffee tree prefers filtered light which makes this plant a perfect house plant.
The white, fragrant, star-shaped flowers are clustered and resemble gardenias to which they are related. The whole fruit is edible, it is a small fleshy berry changing in color from green to yellow to red. The seeds are the actual "coffee beans" as they called, and can easily be dried, roasted and ground at home. The most common coffee is Coffea arabica; related species are Coffea robusta (Robusta Coffee) and Coffea liberica (Liberian Coffee).
Get a Coffee tree and it will keep you happy with the favorite beverage at all times!
Enjoy this video and your morning coffee.


Stay updated with TopTropicals Videos by subscribing to our channel at YouTube.com/TopTropicals and get our latest video news of what's fruiting and blooming!