Date: 3 Nov 2016, Entry id: 1478162707
SUNSHINE boosters for small and large gardens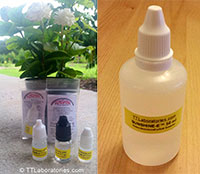 Q: I tried your magic SUNSHINE booster on my Champaca tree and results were amazing. The tree was having a hard time establishing after shipping and didn't want to grow, losing leaves. I almost lost it. Then I sprayed SUNSHINE booster and right after the first application the plant perked up and new leaves grew within a week. Now I want to use this stuff on all my plants. I am a plant collector, with a few hundred pots and almost a hundred plants in the ground, living in California. I wonder if you have bigger size bottles of SUNSHINE so I can use on my flowering plants, and fruit trees, to promote blooming and fruiting. And another question, how often should I spray my plants? Your instructions say once in 20 days, should I spray more often for better results? Should I water through roots too? Do I still need to fertilize plants or SUNSHINE will be enough for their health?
A: Great news! We just added new SUNSHINE items to our store, 50 ml and 100 ml - bigger bottles, they will be great for small and big gardens, as well as small plant nurseries and plant businesses. It is a good idea to start bi-weekly applications to improve your plants tolerance during winter time to cold and low light, especially when it comes to house plants. SUNSHINE improves plant resistance to insects which is a big deal during winter, when we bring tropical species indoors.
SUNSHINE is indeed a wonderful plant stimulant and stress reliever, although it is not a "magic-cure-all" medicine where one can't find its active ingredient. The hormone (epibrassinolide) is well-known and used in different countries along with other hormones for promote growth, fruiting, blooming, rooting, etc. One of the most amazing properties of SUNSHINE is that it works in extremely low dozes. Only a few drops will be enough to make a solution in distilled water, to treat a large size plant. If you want to try it out, one 5 ml bottle will last for several applications.
The formula works through plant metabolism within 2-4 days, repeat application not sooner than in one week. The formula is created for absorption through foliage, not roots, so do not try to water with solution. Plants should be evenly sprayed in clear windless day. Do not spray if rain is expected. Re-spray if it rains within 12 hours.
Remember that SUNSHINE is not a fertilizer and won't replace it. You have to apply fertilizer (except during winter months) and micro-element solution to keep your plants healthy.
See more information about SUNSHINE boosters, and buy them from our store.