Date: 24 Oct 2016, Entry id: 1477357802
Overwintering Adeniums outside of tropics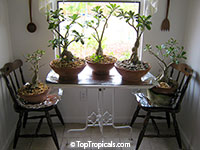 Q: We bought several adenium plants from you. We are moving to the Denver area of Colorado. How can we make sure the plants survive? Should we use a green house?
A: Adeniums are perfect container plants, and house plants. They can be easily grown outside of tropical climate. During winter, Adeniums drop leaves and go into dormancy which makes it easy to keep these plants in a dormant stage in a warm location of your house, or possibly even in well-lit spot of garage (with a window), with temperatures above 50-60F.
Here in South Florida, during time of cold, when chances of freeze are high, we move our own Adenium collection into lanai, with plastic sheet protection around lanai.
In colder climates, Adeniums can be kept indoors as house plants during winter. There are some requirements/tips for you:
Temperature. Move Adeniums indoors when temperature starts dropping below 45F.
SUNSHINE. Use SUNSHINE boosters to improve cold resistance of Adeniums, and essure healthy plant throughout winter. SUNSHINE-BC formula is specifically designed for plants with caudex, and bonsai.
Water. Reduce watering to minimum, especially when plants drop leaves - this means they went into dormancy. Once a week light watering is enough. Water very carefully during cooler months. When it is hot (85-100F), excessive water usually won't harm adeniums: it will be partially used by a plant, and partially will evaporate. Especially be careful with water when temperatures drop below 65F - then tropical plants simply stop growing process and go dormant. Once adeniums start losing leaves, this is a sign to reduce watering to once a week to once a month, and in very small quantity (couple tablespoons per pot).
Light. Bright light is not necessary, but do not keep them in dark either, even if all leaves dropped. Good light is necessary to maintain healthy stems and caudex. Keep in mind, the less light, the less watering too. Ideal spot is a windowsill, however if your space is limited and all windows occupied by other "leafy" plants, location close to window will be enough as long as watering is reduced, to avoid rot. We keep our big collection specimens on a roofed porch during winter, where level of light is very low. Last winter we haven't lost a single plant due to low light. They take shade pretty well considering minimum or no water. However bright light is always better - it creates healthier environment for a plant. We all know about space limitations for our large collections, especially in winter. So if you can afford a bright spot for adenium during winter - the plant will be lucky!
Soil. Use only well drained mix with much higher content of perlite than you would use for most tropical plants. For adeniums, we use mix with 30-40% of perlite in it, while regular mix has 10-15%. Adeniums like alkaline soil, unlike most of tropical plants (hard to say what else likes alkaline... Ficus for sure!). This means, regular mix with high content of peat moss may cause root rot. To increase alkalinity, you may add dolomite. Here in Florida where we have natural supply of shell rock handy, it is easy to add some shell to a potting mix (shell sand, rather than quartz sand). We always add a few large shells on top of a pots with a big specimen. Besides increasing soil pH (making it more alkaline), shells look very decorative.
Fertilizer. No fertilizer until Spring when plants start showing new growth and new leaves.
Move your Adeniums outside in Spring, when chances of freeze are zero. More sunlight and air circulation is beneficial for breaking the dormancy and providing plants with a quick growth start.