Date: 4 Aug 2016, Entry id: 1470324003
Top Tropicals Video: Orchids 101. Part 1.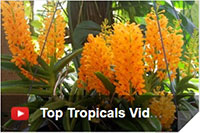 Part 1. What is an orchid? Orchids come in many shapes, sizes and colors. There are approximately between 25,000 species as well as over 250,000 of hybrids. It's one quarter of a million! Learn about these amazing plants from series of Orchid videos with our orchid expert Robert Riefer.
Check out this video: Top Tropicals Orchids 101. Part 1. What is an orchid?...

Stay updated with TopTropicals Videos by subscribing to our channel at YouTube.com/TopTropicals and get our latest video news of what's fruiting and blooming!