Date: 28 Jul 2016, Entry id: 1469701204
Musings of a butterfly gardener about the milkweed bug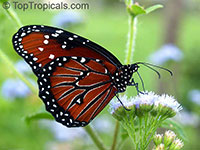 By Kevin Piotrowicz, FL. This spring I was excited! My milkweed was blooming and going to seed. I have 3 healthy clumps of it, each one with seed pods. I counted the seed pods at one time... 22... I had 22 seed pods on 3 plants! Could it be possible? Could I finally have reached the point that I had a sustainable amount of milkweed growing that would not be decimated by monarch caterpillars?

I was telling my friends, "My milkweed is growing great! I may be able to support a population of monarchs!" There were even a couple of them flying around the yard, landing on the milkweed, and frolicking amount the wax myrtle.

With great joy I watched 3 monarch caterpillars munch on my milkweed. The small plant colony even survived as the caterpillars pupated. Not only survived, it expanded! More shoots came out from the bases of the plants! More flowers! More seed pods! All was right with my garden. The zebra longwings and gulf fritillaries had new friends to play with... But what's this??? ... Continue reading...
Click here to see for full list of butterfly attractors currently available for sale, with 15% OFF! See also Complete Alphabetical list of plants that attract butterflies and hummingbirds (very long list).