Date: 20 Jul 2016, Entry id: 1468999205
Forget the gym and get to gardening?
Calories Burned Gardening
Fun workout? We never have enough time to go to the gym or do an exercise so it's good to know that just doing something that you love can give you a workout. We all know that when we are out in the garden it gives us a bit of exercise but we do not realize how much exactly. Working out in the yard is a healthy hobby for many reasons, the high number of calories burned gardening being one of them. When you do this kind of physical labor, you carry out a wide variety of movements that most definitely burn calories, and may even tone. The best part about it in terms of physical activity is that if you enjoy yard work at all, you aren't watching the clock or counting down the minutes until you are done (the way that many people do while they are on a treadmill). You can easily spend a whole afternoon or an entire day working without feeling as though you are putting yourself through a mentally grueling workout. Finding physical activities that you enjoy are key to maintaining a healthy weight throughout your lifetime, and this hobby is a perfect example of that scenario for many people.

Research says that three hours of gardening can have the same effect as an intense 1-hour gym session. The study was carried out with a group of 100 gardeners who were asked to monitor the amount of time spent doing a series of common gardening tasks over a four week period. Gardening tasks that were monitored included weeding, digging, mowing the lawn, hedge trimming, trimming shrubs and trees, raking, planting shrubs, and moving garden waste using a wheel barrow. Here are some facts and numbers:
- Just doing half an hour weeding can burn up to 150 calories and tasks that handle heavy electrical equipment such as hedge trimming will give you a good workout burning 400 calories per hour.
- Spending a day or five hours each week in the garden will burn up to around 700 calories
- Over a gardening season that works out at 18,772 calories per year, equivalent to running seven marathons
- The gardening hobby could help burn a million calories over a lifetime.
Calories burned with only 1 hour of: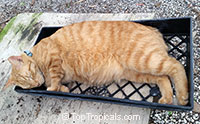 340 cal - Chopping wood, splitting logs, gardening with heavy power tools, tilling a garden, chain saw. Mowing lawn, walk, hand mower. Shoveling by hand.
272 cal - Carrying, loading or stacking wood, loading/unloading or carrying lumber, digging, spading, filling garden, composting, laying crushed rock or sod. Clearing land, hauling branches, wheelbarrow chores.
238 cal - Operating blower, walking. Planting seedlings, shrubs, trees, trimming shrubs or trees, manual cutter. Weeding, cultivating garden.
224 cal - Raking lawn, sacking grass and leaves
136 cal - Picking fruit off trees, picking up yard, picking flowers or vegetables. Walking, gathering gardening tools.
102 cal - Walking, applying fertilizer or seeding a lawn
34 cal - Watering lawn or garden, standing or walking

Sources: DailyMail, CalorieLab, FitnessBlender.