Date: 24 Jun 2016, Entry id: 1466768703
Coastal plants. Suggestions for coastal regions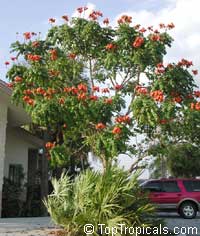 Spathodea campanulata
- African Tulip Tree
Q: I'm looking for a plant to replace a Torrey pine that was sadly cut down. The pine made the soil very acidic and it's already silty, sandy, and salty from being near a coastal marsh. I was thinking of a Kei Apple. However, there are only seeds available on the website and I'd prefer a sapling to get things started faster. Are there other trees you'd suggest for that environment?
A: Here are some fast growing salt tolerant trees that we can suggest, just to name a few: Bucida buceras - Florida Black Olive Tree, Callistemon citrinus - Weeping red Bottlebrush, Capparis cynophallophora - Jamaica Caper, Cassia fistula - Golden Shower Tree, Coccoloba uvifera - Sea Grape, Cordias, Delonix regia - Royal poinciana, Flamboyant, Elaeocarpus grandiflorus - Fairy Petticoats, Ficus lyrata - Fiddle-Leaf Ficus, Ficus religiosa - Bo-Tree, Peepal, Sacred Ficus, Mahoe, Peltophorum pterocarpum - Yellow Poinciana, Plumeria, Spathodea campanulata - African Tulip Tree (shown on right). See full list of salt tolerant plants.
15% on all mango trees! This weekend only. Offer is valid through Sunday, June 26. See all mango varieties available.