Date: 13 Jun 2016, Entry id: 1465820103
Top Tropicals Video and Father's Day
Father's Day discount. A live plant is the most special gift for the Dad!
A fragrant jasmine is the best present ever.

15% off coupon: FATHER2016 (plus usual 5% discount on top of this offer)
Enter discount code in shopping cart and click "recalculate"
Valid through end of the day of Sunday June 19, 2016. Minimum order $100 (excluding S&H). Not valid on previous purchases.
You may also purchase a GIFT CERTIFICATE so he can select his favorite plant!
The most wanted tropical plant. Do you want to know what is the most wanted tropical plant ever? We are revealing a secret, because this plant... was a creator of Top Tropicals. There is the reason why every gardener wants to have this plant! The fragrance is so wonderful, it will attract you like a bee to a honey and make you feel GOOD! This video contains a unique information - a guide to different varieties of this fascinating plant.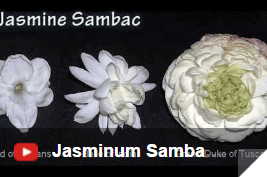 Check out this video: Jasminum Sambac - Absolute Flower.
Stay updated with TopTropicals Videos by subscribing to our channel at YouTube.com/TopTropicals and get our latest video news of what's fruiting and blooming!