Date: 4 Jun 2016, Entry id: 1465034407
Desert rose winter care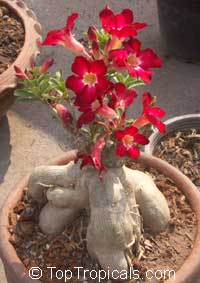 Q: I purchased several pockets of desert rose seeds last year . I now have 45 very healthy seedlings some of them in bud. Almost all of my seeds grew but I lost most of them when I rook them in during winter. I did not water them for a month , kept them in their pots and set them by the window. they either dried up and died or rotted and died. I noticed when you send me grafted specimens that you bareroot them. Is this a better way to keep them inside in winter, bareroot? I hate to lose these plants come winter time. Pls advise me. I live in Houston, Tx. where we get temps below 40 degrees and sometime a day or more of freezing temps.
A: Thank you for your question. Rot is pretty common problem with Desert Roses. We monitor our Adeniums closely and have a special set up of watering environment and schedule, in dedicated greenhouses just for them. Nevertheless - every now and then we see a rotten caudex and can't help it to say "oops! over-watered!" These plants are very sensitive to environment changes, especially when it comes to a combination of water and temperature. These are a few tips that should help you to reduce risk of plant loss to a minimum:
1) Use only well drained mix with much higher content of perlite than you would use for most tropical plants. For adeniums, we use mix with 30-40% of perlite in it, while regular mix has 10-15%.

2) Adeniums like alkaline soil, unlike most of tropical plants (hard to say what else likes alkaline... Ficus for sure!). This means, regular mix with high content of peat moss may cause root rot. To increase alkalinity, you may add dolomite. Here in Florida where we have natural supply of shell rock handy, it is easy to add some shell to a potting mix (shell sand, rather than quartz sand). We always add a few large shells on top of a pots with a big specimen. Besides increasing soil pH (making it more alkaline), shells look very decorative.

3) Water very carefully during cooler months. When it is hot (85-100F), excessive water usually won't harm adeniums: it will be partially used by a plant, and partially will evaporate. Especially be careful with water when temperatures drop below 65F - then tropical plants simply stop growing process and go dormant. Once adeniums start losing leaves, this is a sign to reduce watering to once a week to once a month, and in very small quantity (couple tablespoons per pot).

4) We do not bareroot adeniums for winter storage. They are not bulbs. Barerooting of this plant is recommended only during shipping. Adeniums can stay without soil for up to a week without hardly any stress, sometimes even longer.

5) We keep our big collection specimens on a roofed porch during winter, where level of light is very low. Last winter we haven't lost a single plant due to low light. They take shade pretty well considering minimum or no water. However bright light is always better - it creates healthier environment for a plant. We all know about space limitations for our large collections, especially in winter. So if you can afford a bright spot for adenium during winter - the plant will be lucky!
Adenium Summer Sale: 20% off plants and seeds!