Date: 6 May 2016, Entry id: 1462528204
Taking care of Soursop after shipping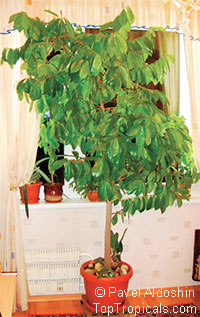 Q: Since I have never grown a soursop tree before I need some pro help. My tree was delivered absolutely beautiful, leaves were a pretty green. I potted it and gave it a good drink of water and put it in a shaded area outside. Then the weather here became cool so I brought it in for a few days until the weather warmed, and it lost all the leaves. Is it in shock and will come around eventually? Will I be able to grow this tree indoors during winter?
A: Soursop - Annona muricata trees are very sensitive to temperature drops. This always causes leaf loss. You seem to be doing everything right. Do not water until soil gets slightly dry; keep it in bright shade. The weather should be good now with high temperatures and humidity rising. No fertilizer until the plant shows active new growth. Be patient with your plant, it should recover soon.

Soursop is an ultra-tropical tree and doesn't take any freeze. If you live in cooler climate, keep the plant in a pot (the good news is, Annonas in general have compact nature and are perfect for container culture). Bring the tree indoors during cold period, providing bright light.

We have very interesting article about growing and fruiting Soursop in apartment. Check out 4534 Tropical Treasures Magazine # 7.