Seeds germination in summer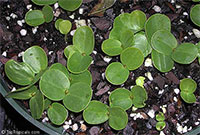 Q: What is the best way to germinate seeds in summer? Should I keep trays indoors or put them outside?
A: Summer is the best growing season for plants, and for their propagation. Seed germination process of tropical plants usually benefits from warm, and even hot temperatures, so keeping pots with seeds outside in full or partial sun can be the best way. However some seeds may be more sensitive than others, or require slightly cooler or higher temperature for germination. These are a few tips that may help:
- For seed germination, use only well drained mixes, containing either peat moss or coconut fiber to retain moisture. Some succulents may require adding sand to the germination mix. You may also try our Professional Formula Seed Germination Mix.
- Large tropical seeds, like palms, or seeds of Fabaceae (Bean) family, can be grown in full sun. Their germination will benefit from higher temperatures (up to 90-95F). Make sure to keep soil moist. Cover them well, with 3/4 to 1 inch of soil.
- Fruit seeds (large size) should be germinated either in individual cells or small pots (3-4" diameter).
- Small to medium size seeds can be grown in so-called community pots. Seedlings can be separated after they establish their first roots.
- Tiny seeds should be planted closer to the surface, covered with only 1/4-1/8 inch of soil; some seeds require bright light for germination, so full sun will be a plus. Some small seeds like Ficus for example, prefer to be broadcasted on the surface, uncovered. Put containers with such seeds in bright shade, as you don't want the surface of the soil to dry out.
- Once your seeds sprouted, move them in filtered light - bright to medium shade depending on tenderness of the species. (Gingers prefer shade, while succulent sprouts can stay in brighter light). Regardless of water/sun needs of the species, all young sprouts and first leaves are sensitive to hot sun and may get burned or even killed. Once a baby plant has a few leaves and well-branched root system, you may start moving trays into a brighter light.
- Do not overwater young seedlings, keep soil slightly moist but not soggy.