Date: 12 Apr 2016, Entry id: 1460517004
Hot novelty plant for hot Arizona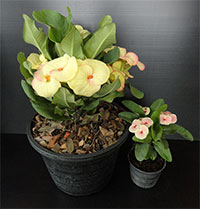 Q: What plants would you recommend for very hot and dry spot in front of my house that gets full sun all day long? I live in AZ, we recently had a couple good rains but this is going to be it for a long time. It gets so hot during the day that every plant I tried didn't make it. We have a few nice orange trees growing well but I would like to plant something compact, colorful and hopefully fragrant if there is such plant.
A: There is a perfect small size plant for you that is extremely fragrant and yet will be thriving in these conditions. It is the famous Jasmine sambac. It will appreciate dry air of Arizona and will bloom profusely for you in full sun or in partial shade. It doesn't mind heat at all.
For colorful accents, a proven winner is Crown of Thorns - Euphorbia millii. New giant size flower varieties were recently selected in Thailand, and we just received a great selection, look at the colors! These plants don't mind hot sunny location at all. The more sun, the better the bloom! Small plants need regular watering until establish, then once they start developing, they will require less water.
Giant Euphorbia flowers from Thailand are 4-5 times bigger than regular flower euphorbia. Diameter of the flower is around 2". Compare giant flower to normal size - picture on the right.