Date: 10 Apr 2016, Entry id: 1460287205
Growing by the sea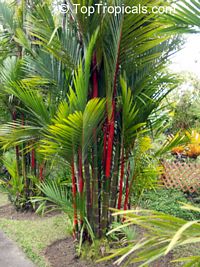 Q: Please recommend me some interesting plants that can grow on my waterfront property and can withstand some salt wind. All my neighbors have Sea Grape trees and bougainvilleas, and I want something different and special. I would love to have some colorful or fragrant flowers, or fruit around my paradise home.
Q: Considering your neighbors successfully grow Sea Grape (Coccoloba), and Bougainvilleas, you have a mild, frost free climate. There is a number of spectacular and useful tropical plants that are salt tolerant. Orchid Trees - Bauhinias, Poincettia - Delonix, and Geiger trees - Cordias, are very showy flowering trees. For large size bushes, try Dwarf Poincianas - Caesalpinias, and Scarlet-Coral Erythrinas. Frangipani - Plumeria, come in different colors and bring you perfume fragrance from Hawaii. And of course, Desert Roses - Adeniums, can be grown and showy specimens anywhere in your yard, both in the ground or as potted bonsai.
Most palms, especially popular Coconut Palm, source of tasty fruit and drink, are highly tolerant to salt breeze. If you are looking for something that nobody has, Lipstick palm, or Sealing wax palm - Cyrtostachys lakka, is definitely the most spectacular palm you can find. It is a stunning feather palm that develops a brilliantly red trunk. Palm is originally from Malaysia, but has been introduced to Costa Rica and other tropical areas of the world. Sealing Wax Palm seeds are very slow to germinate, up to a year, and large specimens are very rare and hard to find even in rare tropical plant nurseries. This palm will require a good overhead light, and constant warmth (above temperature 55F). It is definitely worth an effort to grow this beauty.
You may add more tropical accents to your landscape by the sea with many varieties of showy heliconias.