Date: 20 Mar 2016, Entry id: 1458469204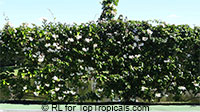 Easter Lily Vine creates a fragrant privacy fence of virtually unlimited size
By Ron, South Florida. Easter Lily Vine (Beaumontia grandiflora) is a magnificent woody evergreen climber of unlimited growth potential. A branch of this vine will grow simply until you cut it. I have branches of up to 30 ft. and longer.
I've used two plants to turn a chain-link fence into a privacy screen that is 40 ft. wide by 10 ft. tall, but even a single plant can cover a much wider space if trained properly.
Easter Lily Vine's growth rate is moderate, so it doesn't require constant pruning to keep under control like other vigorous vines. I bought mine in 7 gallon pots, and planted them in the ground immediately. It took about 2 years to completely cover the fence. Since then, I prune it 3-4 times a year.
Keep in mind that these plants are heavy and require a solid structure as support. They twine by nature, but only around items with 3" diameter or more. Mine twined around a near-by lighting pole!
The absolute key in training Easter Lily Vine is to force it to grow horizontally. I recommend planting a young 3 gallon size vine in the ground diagonally, so it grows horizontally. Tie it no more than a foot above ground and let it grow a single branch until the end of the space you want to cover. Then force it to make a U-turn and let it grow the other way. See the following diagram for illustration..
.
See step-by-step full size pictures and the rest of the article...