You can use your credit card for payment. It's safe and secure. We use Authorize.Net, an InfoSpace service, the global payment-processing service for real-time credit card processing. All credit card transactions are secure using SSL-encryption
You can always check in the Internet Explorer by clicking right mouse button and selecting 'Properties' from the menu. Anyway, you should always check security of the connection when using credit card payment (not only in PayPal but anywhere). The first sign you should avoid entering your credit card number is absence of lock-sign in the right bottom corner or "https" in address line.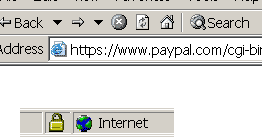 We don't store your credit card numbers. We feel this is the best way. No credit card database on server means no worry about someone hacking it.