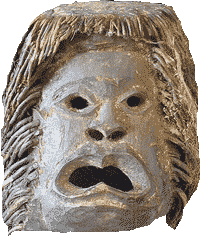 Original ancient Shamen masks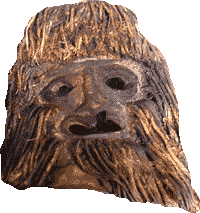 From "Faith Healers in the Himalaya" by Casper J. Miller:
"...Pointing to his dhyangro and using it as a symbol of the jhankri vocation Anirudra says that all of this came from Mahadev, and in the following way Mahadev fell sick and needed someone to blow on him and cure him; so in a dream he gave a mantra and caused a disciple to come down to his aid. Thus Mahadev recovered his health... This first disciple, the one made by Mahadev to cure himself, was a ban-jhankri..."
From "Encounters with Ban Jhankri: Shamanic Initiation" by Abduction in Nepal by Leslie Conton, Fairhaven College
"...The ban jhankri (forest shaman) is both spirit and deity, as well as an accepted reality for most indigenous Nepali ethnic groups. The ban jhankri are said by many to be small creatures, hairy and golden, master healers and teachers of shamans. Those whom are "chosen" by the ban jhankri to be future shamans, are abducted and often taken to caves where the initiates receive shamanic training and instruction. The novice, who is typically young but may be an adult, is later returned to his/her community, several hours, days, or (rarely) weeks after being abducted. At this point, sometimes the initiate finds a human guru (teacher) from whom to continue to learn ritual methods and techniques of accessing spirit (i.e. ecstasy, trance, possession), but sometimes their training continues only through the agency of spirits, including contact with the initiating ban jhankri. Culturally, such experiences of "spontaneous election" are regarded as proof of being "chosen by spirits," and hence, endow these jhankri with special status; those shamans so chosen are themselves referred to as ban jhankri, distinguishing them from other kinds of jhankri. Representative oral texts of the shamans describe individual experiences of consciousness transformation through these encounters with ban jhankri. These spiritual experiences will be examined in light of other cross-cultural shamanic initiatory processes..."