Email:
click on image to enlarge
front yard - ponds and orchids (front patio) - back yard - fruit trees - plants in pots (back patio) - house plants - zoo
Krolik & Udaff
(KrolikUdaff)
Tatiana & Mike

Now it's time for you to know the truth. These two folks that you knew as Tatiana & Mike are actually Krolik and Udaff. Krolik in Russian means "rabbit, bunny" and Udaff is "boa" - big and mean snake... which perfectly match our personalities! Our Russian visitors and customers know us by one solid name - KrolikUdaff, because we are always together.

For all this time you've been browsing the Catalog maybe without knowing that most of the pictures were taken in this garden! Today KrolikUdaff are inviting you to visit their home garden. Not many close-up photos at this time, you may always see them in Catalog. So every time you want to see a close-up picture of a flower - just click on plant's name, you'll see more pics in Catalog in a new window.

Here is our landscaping story... tropical blooming jungle in 2 years!

All you see on these pages was grown in our garden within 2 years.
This is our house when we bought it 2 years ago in March 2002: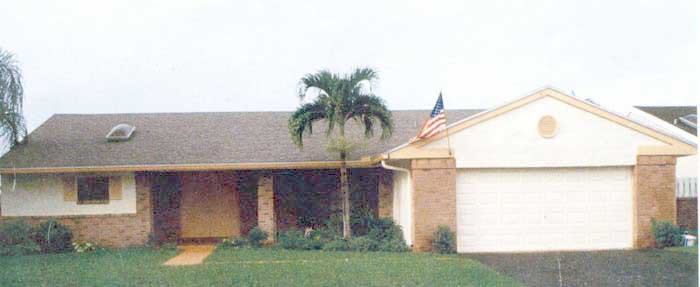 This is a picture of December 2003:

Before we lived in apartment with a balcony full of orchids. We came to the US from snowy cold Russia (Krolik is from Moscow and Udaff is from St Petersburg). When we moved to South Florida, we greatly appreciated its wonderful warm and humid climate, and especially the fact that you can grow anything here outdoors! (well, except stuff like apples - they just like it cool in winter). Very soon we realized that our Balcony couldn't provide enough space for all the wonderful plants we wanted to have and we had to buy a House. At that time we didn't know much about Florida plants, and we had to experiment, make mistakes and re-landscape our yard sometimes. The Crazy Landscaping started with creating a Cacti Hill (see the story here). You can see a small Cacti Oasis on the right picture:
| | |
| --- | --- |
| | Yes, it was challenging to try growing desert plants in humid tropics, but we made it! |
Agave was the most fast growing. In just 2 years it grew in a huge monster and decided to shoot a flower spike!
| | |
| --- | --- |
| Look at this, the blossoms turned into little baby-plants!.. | ...And after we "harvested" the plantlets, the mother plant passed away... |
| | | |
| --- | --- | --- |
| From both sides of garage (where we parked our.... yes, pots, shovels and soil!) we planted Bougainvilleas. | While we were playing with our front yard, neighbors and passer-by stared at Crazy Russians digging and planting all day long... The most of all we were afraid that the Community will give us a notice for braking landscaping rules in the area... Instead of nice smooth grass lawn just in a few months we had a blooming jungle right on the front yard! | Clerodendrum speciosum (right) looks matching along with bougainvillea 'Glabra' (left). |
Chinese Fan palm (Livistonia chinensis) is still small. We replaced grass with beautiful ever-blooming torenia.

We tried to grow roses, but Florida is not really the best place for them: too humid air, too warm winter. They get fungus easily, but of course if you spend day and night spraying with fungicide - you may enjoy their beauty for a while...
| | | |
| --- | --- | --- |
| | These are our first steps... you still can see the front door though! So far... | |
After a while we gave up roses, and only left a few bushes along the driveway - that special "carpet" variety that tolerates our climate. Last spring we also replaced torenia with coleus (Solenostemons cutellarioides) - just to have something different. The purple flowers - is a beautiful Tibouchina tree that grows in 15 gal pot - this way this Beauty at least can have some personal living space in this jungle...
| | | |
| --- | --- | --- |
| | One of our most impressive eye-stoppers is Brugmansia Candida with the longest trumpets you can imagine. It creates a neat hideaway place for the two love birds... Yet the fragrance is not just outstanding, it makes you drunk! | |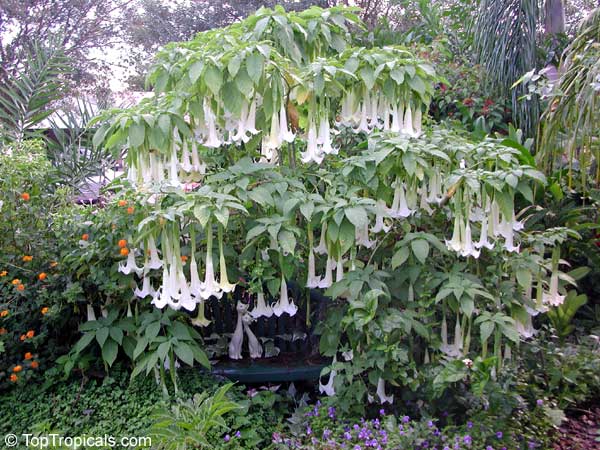 NEXT PAGE
front yard - ponds and orchids (front patio) - back yard - fruit trees - plants in pots (back patio) - house plants - zoo