4350 Abutilon chiappardi - Canary Tree
Sometimes listed as Bakeridesia integerrima, Canary Tree is a showy and handsome small tree growing about 10 ft tall. The flowers are 2-3" across and resemble those of a hibiscus. The five petals are bright yellow, each with a reddish blotch at the base. It is an excellent tree for container culture or for a small garden, doing best with full sun and good drainage. It has a long winter span, and blooms are attractive to bees and butterflies.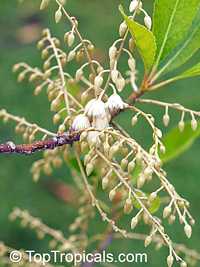 4341 Elaeocarpus decipiens - Japanese Blueberry Tree
Large evergreen shrub with glossy green foliage easily trimmed into a tree form. It's an excellent privacy screen choice. Showy fragrant blooms from summer to fall are followed by black berries in late fall-winter. Very ornamental effect from older leaves, which turn bright red. Tolerant of poor soils and desert sun and heat.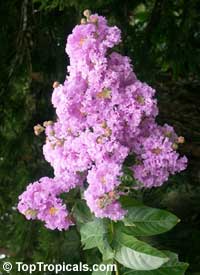 3155 Lagerstroemia speciosa - Queen Crape Myrtle
Gorgeous flowering tree. The flowers are are pink, purple or purplish - pink. Has many medicinal uses.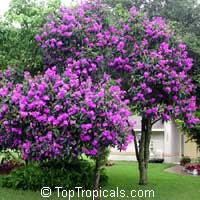 3182 Tibouchina granulosa - Glory tree
Very rare, spectacular blooming tree. Blooms 2-3 times a year, spring to fall. Flowering panicles at branch tips can completely cover the tree with rich, velvet-like blossoms.