2690 Osmanthus fragrans
- Sweet Olive
Tea Olive, Sweet Olive. This is a very popular fragrant plant that is cold-hardy and very easy to grow! Small white flowers in winter and early spring cover the shrub, then it blooms sporadically throughout summer. The apricot-scented fragrance released is powerful and exquisite. This variety blooms on and off year round, with the most profuse blooming from Winter through Spring.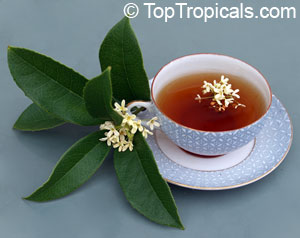 Osmanthus is a famous flower in China and Taiwan. A traditional symbol of Love and Romance, Osmanthus was used in old wedding customs.
Slow growing and easy in cultivation, Osmanthus makes a good container plant. In the ground it can grow into a small tree or shrub that will take a wide range of conditions, from full sun to shade, requires minimum care and is relatively cold hardy at least to zone 8.
Being the same family with a famous Jasminum sambac - "King of Fragrance", Osmanthus fragrans is valued for its delicate fruity-floral apricot aroma. The flower is used in perfumery and foods, such as sweet osmanthus wine, tea, sugar, juices, cakes and sauces.

Pictures of the actual
plants for sale: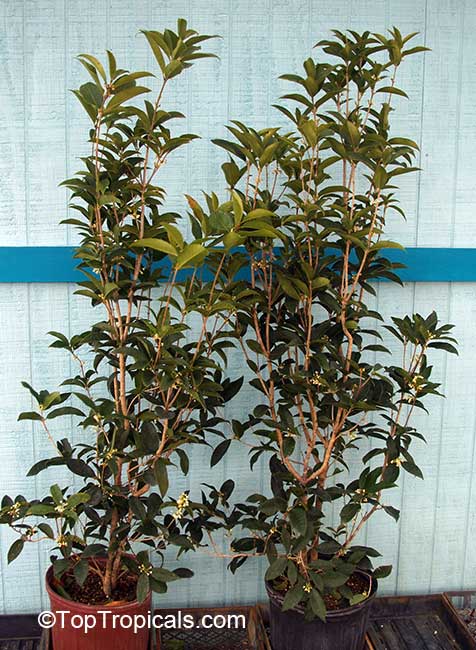 Osmanthus, 3 gal pot, 4-5 ft tall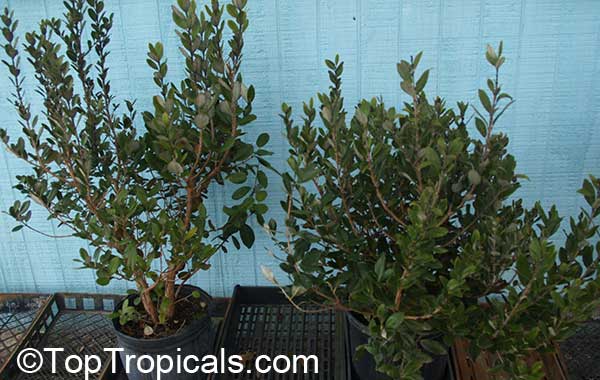 Feijoa, 3 gal pot, large and bushy
Limited stock!
For full list of new arrivals,
please visit this page
10% OFF discount:
Use voucher 509213111973 in your shopping cart and click "recalculate"

HAPPY GARDENING!


2704 Feijoa sellowiana - Pineapple Guava
Feijoa, Pineapple Guava, Guavasteen. The fruit emits a strong long-lasting perfume, even before it is fully ripe. The fruit have the best taste when pulp mixed with sugar - it tastes and smells somewhat like forest strawberries.
Flowers are white tinged with purple on the inside, they are mildly sweet and edible and can make a refreshing addition to spring salads.
Cold-hardy, tolerates freze, nice wind-protection shield for other tropical plants.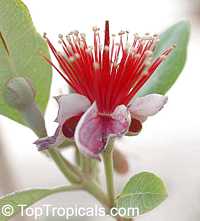 Feijoa prefers cool winters and moderate summers (80 to 90 F), it is cold hardy and will take down to 14 F without serious damage.
Salt tolerance is very good.
Plants grow well in a wide variety of soil types, but prefer slightly acidic conditions. When planted close together, the Feijoa shrubs make a nice hedge, screen, or windbreak.