SAPODILLA NEW VARIETIES: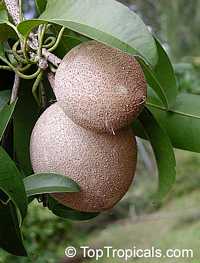 1004 var. Brown Sugar
Originated in Homestead FL. Introduced in 1948. Fruit medium small, 2 to 2-1/2 inches long, nearly round. Skin light, scruffy brown. Flesh is pale brown, fragrant, juicy, very sweet and rich, texture slightly granular. Quality is very good. The tree is tall, bushy. A good, regular, high yielder; handles and keeps well.
4331 var. Prolific, 1 gal
4332 var. Prolific, 3 gal
Variety was originated as a seedling grown at the Agricultural Research and Education Center, Homestead, and released in 1941. It has smooth pinkish-tan flesh when ripe. The fruit are round to conical and are long and broad, they tend to loose much of the furry texture on the skin when they are ripe. Trees are heavy bearers.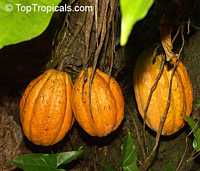 2152 Theobroma cacao - Chocolate tree
This beautiful tree has large dark green leaves that shade the fruit pods which grow directly from the trunk and branches. The flesh is eaten as a dessert, and the seeds are the raw material of chocolate. Hot chocolate can be made by drying the seeds, roasting, grinding, and adding milk.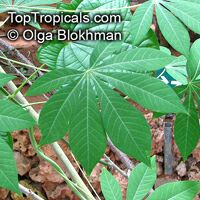 4333 Manihot esculenta
- Yuca Root
Yuca root, Cassava, Manihot, Tapioca, Manioc. A tropical root vegetable, grown as a shrub in temperate zones of Asia, Africa, the Caribbean, and South America, that is harvested for its root and leaves. High in starch, it contains low levels of protein in the root and high levels in the green leaves. Often it is mistakenly referred to as Yucca (with two c), which is a non-edible plant from the Agave plant family.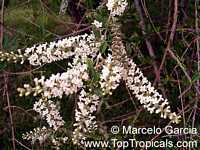 3492 Aloysia virgata -
Almond Bush
White flowers have strong almond scent, attractive to butterflies and bees. This is a honey plant. Low water use, drought- and cold tolerant.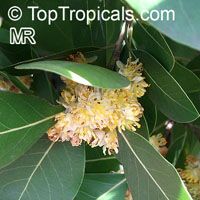 2199 Laurus nobilis - Bay Leaf
Leaves are used in soups, sauces, stews, as seasoning for fish, meat and poultry. Often included as a pickling spice. Slow growing, cold hardy little tree or bush.
For full list of new arrivals,
please visit this page
10% OFF discount:
Use voucher 206312191667 in your shopping cart and click "recalculate"

HAPPY GARDENING!
JACKFRUIT VARIETIES: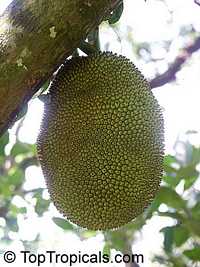 4301 Black Gold x Tabouey
3498 Gold Nugget
4303 Mai-2
4334 Super Thai
ONLY A FEW PLANTS: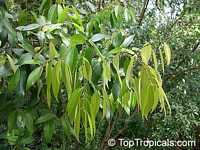 3902 Cinnamomum aromaticum - Cassia Cinnamon
Leaves are highly aromatic as much as bark that is used for commercial cinnamon. Leaves are used as tea. Cinnamon is a very popular culinary spice and is also used in candy, gum, incense, toothpaste and perfumes. The oil is used in medicine and source of cinnamon extract. Cold hardy plant to upper 20's F.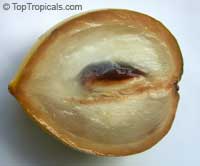 2395 Pouteria caimito - Abiu
Fantastic tropical fruit. Size of medium apple, bright yellow when ripe. Flesh is jelly-like, very juicy, sweet, acid-free, surrounded by somewhat hard thick skin with sticky latex on cut. The taste of fruit resembles one of Caimito.