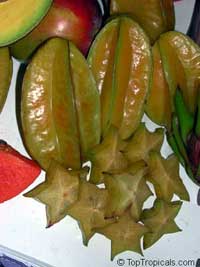 Carambola rare varieties:
4296 Fwang Tong
elongated fruit, 5-8 inches long, with long wings. Pale yellow skin and flesh. Very sweet and juicy. Flesh is firm with few seeds. Fruit ripe, when wing edges are still green.
4297 Hart (Dwarf)
dwarf variety suitable for small backyard or container growing. Fruits are small with pale-yellow, almost white skin. Flesh is sweet and delicious.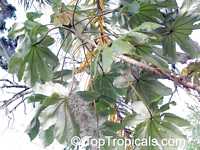 3885 Cecropia peltata
- Yagrumo
Cecropia is a very showy tree with spreading crown and large leaves up to 24 inches wide with silver-white lower surfaces. Cylindrical, soft-flesh fruit are drooping in clusters resembling octopus. They are very tasty - sweet, watery, aromatic.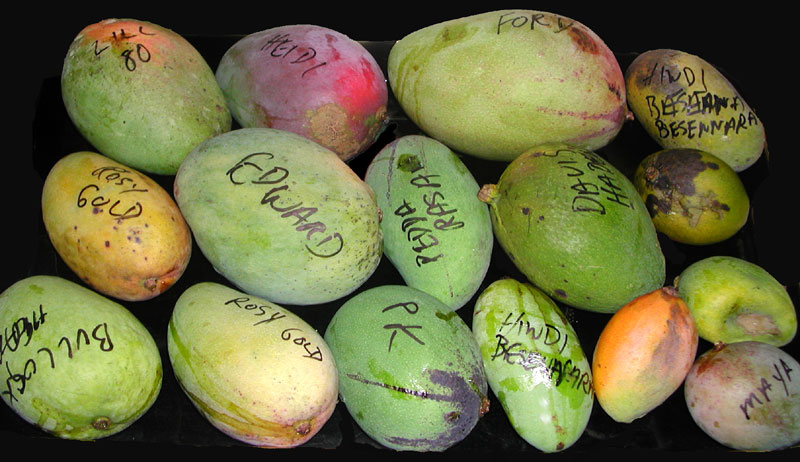 Mango varieties, limited qnty, most in 7 gal pots:
3169 Alphonso
3731 Dominicat
3170 Fairchild
4289 Haden Mango
4290 Ken
3117 Lancetilla
4291 Madame Francis
3136 Mallika
4292 Okrung
3129 Southern Blush
4295 Springfels, 7 gal pot
3710 Thom Pi Kan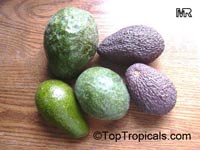 Very hardy Avocado varieties - additional arrivals,
much wanted (3 gal pots):
4276 Brazos Belle
4277 Fantastic
4281 Joey
4278 Lila
4282 Mexicola Grande
4299 Poncho - NEW!
FRAGRANT PLANTS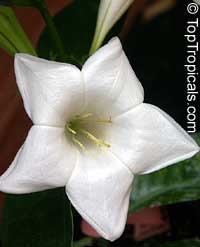 2533 Portlandia latifolia - Dwarf Bell Flower
Dwarf Bell Flower, White horse flower. This variety of Portlandia has a drarf growth habit. The air is filled with their luscious perfume, reminiscent of warm, creamy chocolate.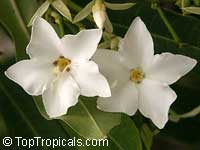 2339 Cerbera odollam - Sea Mango
Chiute, Sea Mango. Endemic to the Mariana Islands. This is a small to medium-sized tree with dark foliage and showy, white fragrant flowers, similar to Plumeria.
ONLY 2 PLANTS!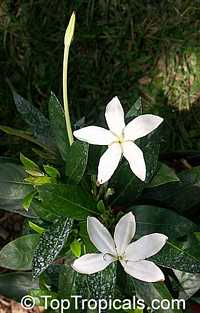 2991 Alibertia sp.
Great choice for those who need to add a short and yet impressive shrub into landscape. The plant stays 2-3 ft tall, easy to prune if needed, with beautiful "shooting" white flowers, slightly fragrant. Very nice landscape exotic shrub for small spaces.
EDIBLES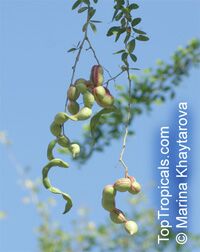 2306 Pithecellobium guatemalensis - Manilla Tamarind
Sweet Tamarind, Manilla Tamarind - sweet pods. Very easy to grow tree, drought tolerant.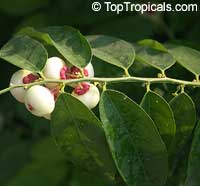 3911 Sauropus androgynus - Katuk, Tropical Asparagus
Katuk, Tropical Asparagus. Delicious young shoots! Can be eaten raw or cooked. It is one of the most popular leaf vegetables in South Asia and Southeast Asia. It is among only a few flora containing vitamin K.
For full list of new arrivals,
please visit this page
10% OFF discount:
Use voucher 615011190953 in your shopping cart and click "recalculate"

FLOWERING PLANTS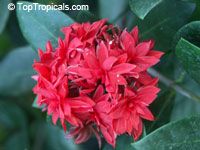 1389 Ixora hybrid
Crimson Star
Crimson Star Ixora, very rare, from Thailand. Triple bright red flowers. The plant is very slow growing. Perfect container plant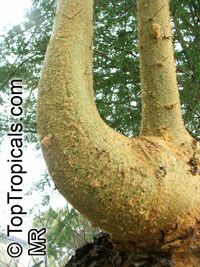 3781 Acacia xanthophloea - Fever tree
VERY RARE! Fever tree. Attractive tree with curious "powdered" bark. If the powdery surface is rubbed away with the finger it will reveal a green bark beneath. It has a slender to spreading, sparse, roundish crown of feathery foliage. ONLY A FEW PLANTS! - from Israel.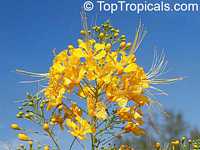 1379 Caesalpinia lutea - Yellow Bird of Paradise
Dwarf poinciana - a showy flowering small tree for a small yard or patio. Drought tolerant.
3201 Barleria lupulina - Hophead Philippine Violet
Medicinal plant from India with showy striped leaves, yellow flowers and thorns. Attracts butterflies. Red-brown branches, flowers bloom in clusters. Traditional and therapeutic use is anti-inflammatory for insect bites, herpes simplex use by its fresh leaves, and roots for anti-inflammatory centipede bites.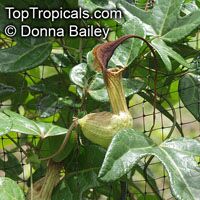 3449 Aristolochia trilobata Birthwort
Dutchman's Pipe, Bejuco de Santiago. Pale green nepenthes shaped flowers striped tan with a long tail. Deeply lobed glossy leaves with light veins. It is quite adaptable and can be grown in subtropical areas, does well in low light conditions and can be grown indoors.