RARE AND UNUSUAL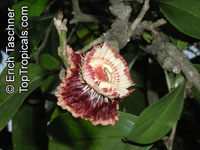 2999 Napoleona imperialis -
Napoleons Hat
Esteemed for the exquisite, vividly colored, saucer shaped flowers that grow from leaf axils, or directly from trunk and stem. The reniform, reddish seeds of this species constitute a false kola, which has a taste closely resembling that of true kola.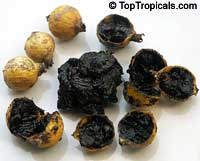 1184 Randia formosa -
Blackberry jam fruit
Blackberry jam fruit, Jasmin de rosa - fragrant white flowers and edible fruit that tastes like blackberry jam! Rare exotic that will fruit in container. Kids love the fruit.

KRATOM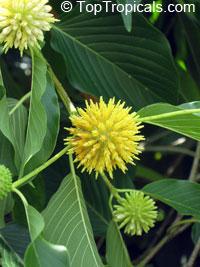 Kratom - Mitragyna speciosa
Rifat Strain: Kratom (Mitragyna speciosa) is a medicinal plant of the same family as the coffee tree. Although using Kratom has been common throughout its native range of Southeast Asia, this plant has remained virtually unknown outside of that area until recently. Its leaves contain mitragynine and are chewed as a stimulant in South-East Asia.
BumbleBee Strain: This strain was originally grown from seed of Vietnamese orgin, making it the only type of Kratom available from Vietnamese descent.
LIMITED QUIANTITY:
4261 Mitragyna speciosa -
Kratom BumbleBee
4260 Mitragyna speciosa -
Kratom Rifat
We sell this plant for ornamental purposes only. Not for human consumption.
For full list of new arrivals,
please visit this page
10% OFF discount:
Use voucher 913610190045 in your shopping cart and click "recalculate"

RARE AND UNUSUAL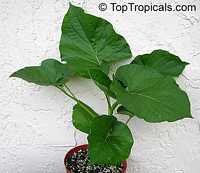 1172 Piper auritum -
Root Beer Plant
Root Beer Plant, False Kava-Kava. Close relative of Piper methysticum (Kava-Kava), and Piper nigrum (Black Pepper), this herb grows as a bush in the South Pacific. Large-leaved perennial, known for its leaves, which are used for their spicy aromatic scent and flavor, some liken to root beer, others to anise-clove. This species is easily identified by its huge leaves which can grow over a foot long in older specimens. The leaves are chopped and used for flavoring, as well as used whole, as wrappings for meats, tamales, etc. P. auritum is very often confused with Piper methysticum (Kava-Kava), and probably has some similar effects.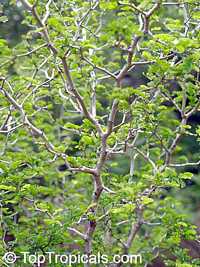 2678 Ebenopsis ebano -
Texas ebony
Texas ebony, Ebony blackbead, Apples earring. Great bonsai plant with tiny leaves and natural shape of a miniature tree.